September 2018
Summer news catchup
Augustana Now
By Lori Roderick, associate vice president of development
Next month, the college will publicly launch Augustana Now: A campaign for success in the world, for the world. Our $125-million fundraising campaign will support the many initiatives now underway, and those yet to be imagined by our donors. 
This campaign takes a different approach. Instead of handing out lists of specific needs to meet our fundraising goals, Augustana Now is built around general goals for endowment, building funds and annual support. It includes conversation with our friends and champions—including all of you—to find out what specific areas of support, within those general goals, excite you the most. 
President Bahls and the advancement team are planning dozens of large and small conversations over the next 26 months to discuss higher education and Augustana's unique value, and to ask, "How would you like to support Augustana students as they prepare for success in the world?" 
While still in the quiet phase, our campaign has been a success, so far. Alumni, friends, corporate donors and foundations have given $75 million to increase affordability and value, prepare students for the workplace, offer innovative learning experiences and promote diversity, equity and inclusion. Looking around campus, you can see some changes made possible by the generosity of early donors: the addition for Hanson Hall of Science; a new vice president of diversity, equity and inclusion; and a new minor in data analytics. Many more changes are behind the scenes: dozens of new Close the Gap Scholarships for students needing a last bit of financial help; several million in support of faculty and program excellence; and more than $7 million to the Augustana Fund for the annual operation of the college. 
We will invite all loyal donors to make a special gift to support what they are most passionate about at Augustana. And we will inspire new donors to take a fresh look at what is happening at the college, and let us know what moves them to give. 
Three days of festivities on the Quad will build momentum for two years of fundraising: On October 11 we host close friends and major supporters at a gala to celebrate the public announcement of Augustana Now. Look for a dance floor to appear near Old Main that week! On October 10 the student body will be invited to learn about the campaign at an evening rehearsal of the next night's event, and on October 12 campus offices will be encouraged to close a little early for a faculty and staff party. 
So mark your calendar to celebrate and hear how you can be part of a campaign that helps our students become the innovators and problem-solvers the world needs. Meanwhile, please ask yourself: What most inspires and thrills you about Augustana College? What can move you to give, or to give more? How would you like to help both build and fulfill the goals of Augustana Now? 
Field Notes
"Field Notes" provides a glimpse into the off-campus work of faculty, staff and students. In this issue, Professor of Geography Reuben Heine talks about his research on flood control, and how that important information is shared with the general public—not just the scientific community. 
As many of you know, rivers and streams are my passion and I care deeply about their functioning and health. Over the years my research has spanned from the smallest headwater streams to continental-scale rivers. While much of my research is written for and read only by fellow scientists, I recently had the opportunity and privilege to collaborate with a team of investigative reporters on a story that has the potential to reach a broader audience. 
About a year ago, reporters Lisa Song and Al Shaw from ProPublica approached me to serve as a scientific consultant for their multi-part story on flood-control by levees. While Lisa and Al conducted countless interviews, my students and I analyzed river gauge records and floodplain topography to provide empirical evidence and spatial models of the impact of levees on floods. Combined together, ProPublica published an online story that uses physical modeling from the University of Minnesota and data analysis from Augustana College to illustrate how levees act to constrict water flow and increase flood levels. 
This story uses many multimedia elements to break down the science and make it accessible to the general public. In addition to the focused levee-impact piece, ProPublica also published a broader article that uses the Valley Park Levee on the Meramec River to provide a critique of current flood-hazard modeling and levee-based flood control. 
Taken together, Lisa Song and Al Shaw masterfully connect national flood policy, changing regional hydrology, and local impacts to residents in order to demonstrate the many social justice issues that are associated with flood control by levees. These ProPublica articles have started a lively debate about the use of engineered structures to manage rivers.
More than anything else, these articles demonstrate a clear need for more liberally-educated scientists and engineers who not only understand hydraulic systems, but also understand societal and environmental needs in our increasingly interconnected and complex world. 
New Face on Campus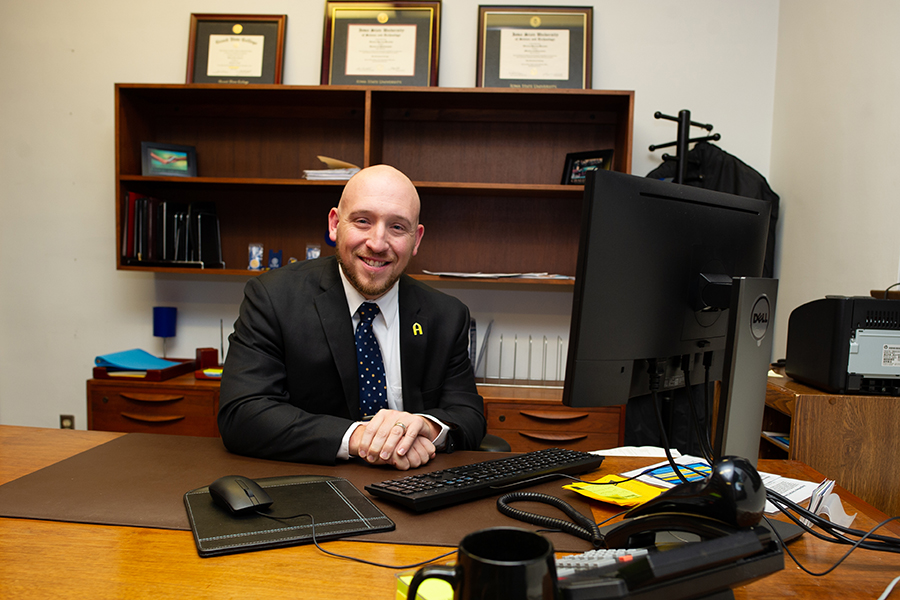 Dr. Wesley Brooks, Vice President and Dean of Student Life
Wes Brooks can't wait to begin making connections as the new dean of students. While he is most excited to work with students, he is quick to add that his job goes beyond just "shooting the breeze"; it's also about helping them grow as people and professionals. His goal? "To create that dynamic student experience, making sure that students feel valued, that students feel like the core of the campus culture and community." 
Wes aims to see this value extend long after students walk across the stage, making sure that he's "working with students with the end goal of 'how are we going to be thriving after we leave Augustana?'" With such a monumental task, he recognizes the importance of collaboration. 
"You surround yourself with great people, which definitely appears to be the case in this area.... You do things in a team setting, rather than try to fix everything or take care of the issues on your own." 
Living in the Quad Cities gives Wes a chance to be closer to his parents. He and his wife Kelly can also raise their sons Wade (5) and Webber (3) in an area he loves.
Students, he added, should be ready to see a lot of his sons, "because I want to engage with the students but I also want time with family. If you can blend both worlds, why not? That's important to me."
The road to Augustana has been an exciting one for Wes. He completed his undergraduate degree in history at Grandview College (also an ELCA institution). There he discovered his passion for higher education and went on to complete a master's degree in the field at Iowa State University while also working as the director of residential life. He completed his Ph.D. in higher education at Iowa State while working as the dean of students and an assistant vice president at Wartburg College. After more dean of students and assistant vice president positions at Iowa-Wesleyan University, he landed at Augustana.
"The reputation of Augustana is extremely strong," Wes explained about his choice. "The ELCA connection is important for me because of the emphasis on vocation and calling, helping students find what makes them come alive, and really the self-awareness and better understanding who 'I' am as a student, as a person." The social justice component of ELCA institutions like Augustana was another significant factor in his choice.
From the Cabinet
President of the College Steve Bahls
We ask our students to learn about Augustana's community principles, and find ways to lift them up both in and out of the classroom. Among them are Care and Responsibility, by which we ask our students, our colleagues and ourselves to develop and express genuine interest in one another, to create an environment where each member of the community can thrive, and to take responsibility for the well-being of our community.
I was thinking about this as I completed the two courses of online training arranged for all of us by our colleagues in Human Resources. Each course—one on our roles as reporters of sexual abuse and domestic violence, and another on protecting minors who come to our campus—gave me new learning on subjects that are critical to creating and sustaining a healthy, safe and welcoming community for each other and for our guests. If you've not already completed the courses, I encourage you to do so soon. All employees are expected to complete the training by October 1.
In fact, I'd like to encourage you to complete the training no later than Thursday, September 27, so you can celebrate with your colleagues at A Day, starting at the PepsiCo Center at 7:30 a.m. We'll be recognizing our Jaeke Award winners and honoring employees for various lengths of service to our community. I hope you'll be part of the fun.
In the Works
Director of Human Resources Laura Ford offers information and wisdom pertaining to being an employee at Augustana College.
Over the summer, the Office of Human Resources began working with Aon Consulting on a review of compensation for non-faculty positions. The Aon team has experts that work exclusively with higher education clients. At the end of this months-long project, we will be able to provide a compensation structure and salary/wage ranges for each non-faculty position at Augustana, taking into account external market data as well as internal equity. 
I can confidently share that no one's salary or wage will be lowered as a result of this study, and we hope the overall plan will allow us to ensure that the pay for our non-faculty positions is competitive with the external market and equitable internally. As this project continues, we'll hold open forums to share findings, and form a task force to assist us in finding ways to clearly communicate this important information.
Seen & Heard
And so as we pause to remember 9/11, it is with great sadness. Sadness as we continue to mourn those who lost their lives on that terrible day. Sadness as we see the animosity that is so widespread today. Sadness when we realize that as a nation we have fallen far short of the ideal of treating all people with respect and dignity.
— Dr. Dan Lee, professor of religion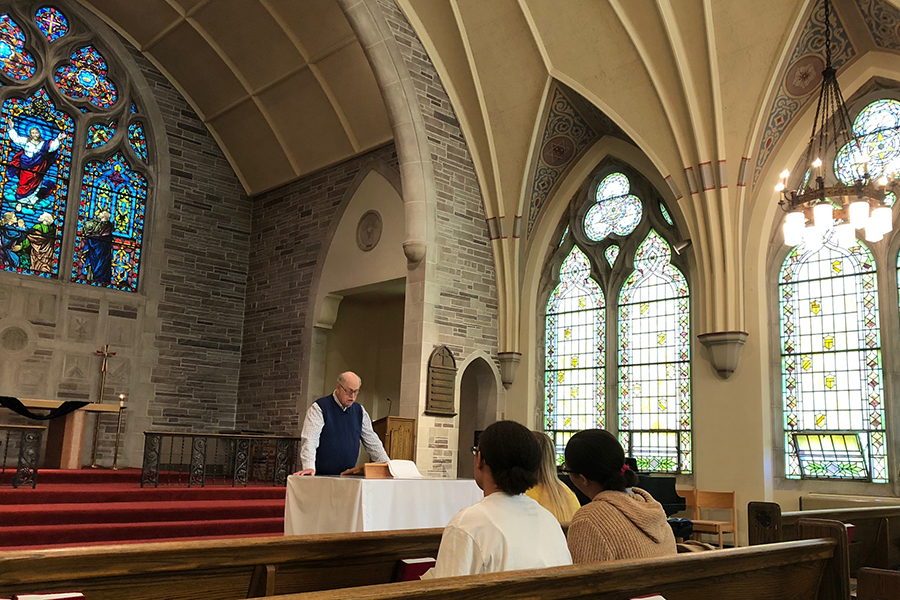 Acknowledge is published by the Office of Communication and Marketing at Augustana College, Rock Island, Illinois. Contact Beth Roberts, editor. "New Face on Campus" is written by Jack Harris '20, Writers Bureau. Photos in this issue are by Beth Roberts and Todd Welvaert.