News
Five Academic All-Americans honored in 2017-2018
Five student-athletes were named Academic All-Americans during the 2017-2018 school year, bringing the total to 175 and securing Augustana's Top 10 ranking among all U.S. colleges and universities. Augustana also leads all Illinois schools and all CCIW schools in number of Academic All-Americans.
"Augustana has been in the Top 10 for Academic All-Americans for years, alongside Nebraska, M.I.T., Notre Dame and Stanford," said Dave Wrath '80, associate director of athletics/media and alumni relations. "That speaks to the kind of hard-working student-athletes who choose Augustana because they know they can compete at a high level here and get a good education."
The coveted national honor is awarded by the College Sports Information Directors of America (CoSIDA) in conjunction with Google Cloud.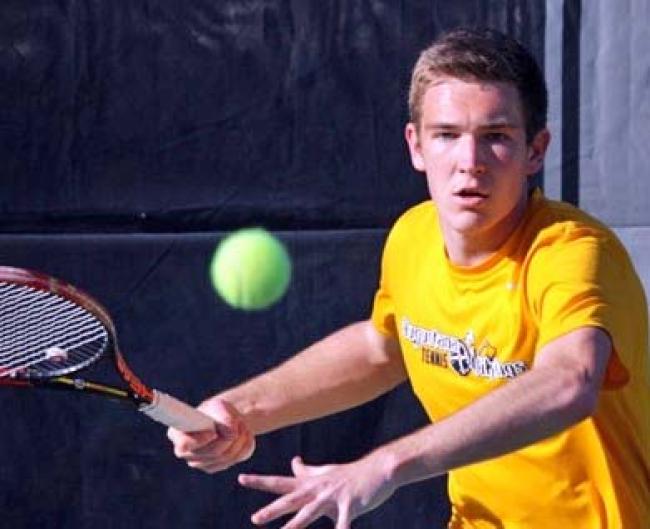 Not since 1997… Samuel Totten '18 is the first Vikings men's tennis player to earn Academic All-American honors since Jon Michel in 1997. The son of Chris and Joe Totten of Normal, Ill., Totten earned a 3.97 GPA while majoring in engineering physics and applied math.
As a senior, Totten helped lead Coach Jon Miedema's Vikings to the program's first CCIW championship since 1985 and its first NCAA Division III Tournament appearance ever. With an 18-10 record, he ranked second on the team in singles victories and led Augustana in doubles wins.
A four-time All-CCIW selection—including first-team honors each of the last three years—Totten finished his career sixth all-time in singles wins and third in doubles victories. His combined record of 138-81 places him third in school history for total wins. He also wrapped up his career as half of the Vikings' most successful doubles combo with Eric Pohl '18.
Totten also received the Jack Swartz Award from the CCIW for his athleticism and academic excellence.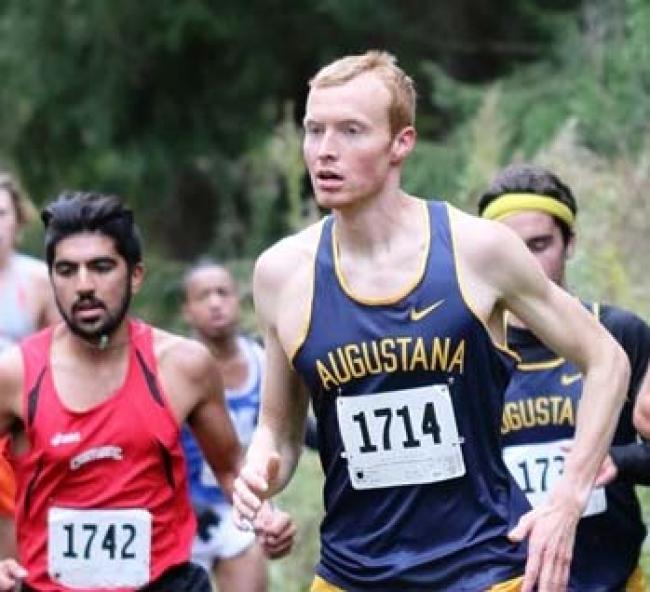 Not once, but twice… Mitch Johnson '18 was selected as an Academic All-America for cross country and track & field for the second straight year. The son of Kimberly and Paul Johnson of New Berlin, Ill., Johnson majored in applied mathematics and business finance and graduated with a 4.0 GPA. He works at Horace Mann Educators Corporation as an actuarial assistant and will continue to take actuarial exams. 
Johnson was a team captain in both cross country and track in Coach Paul Olsen's final seasons. He was MVP for the Vikings in the fall and recorded a ninth-place individual finish at the CCIW Championships. Johnson also anchored a winning Augustana effort in the distance medley relay at the CCIW Indoor Track & Field Championships in 2017.
In addition to his Academic All-America recognition, Johnson is a 12-time Academic All-CCIW honoree and the winner of this year's Knut Erickson Award as the Viking male athlete with the highest cumulative GPA among senior blanket award winners.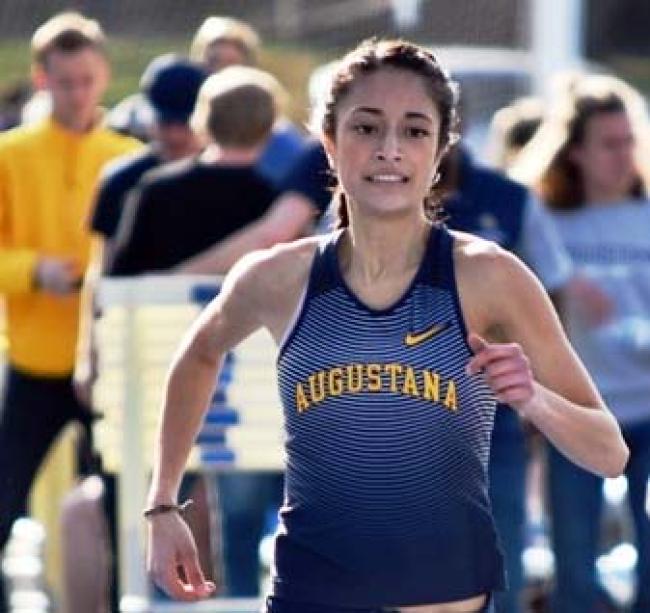 Off to med school… Valeria Melo '18 earned Academic All-American honors with stellar performances in the sciences and on the track. The first in her family to graduate from college, Melo majored in public health and biology with a 3.97 GPA; she will attend medical school at the Mayo Clinic in Rochester, Minn. Melo is the daughter of Martha Melo of Lisle, Ill., and Hermes Melo of Naperville, Ill.,   
A four-year letter winner for Coach David Thompson, Melo ran the third leg of Augustana's 4x400 relay, which won CCIW titles, both indoors and outdoors, and finished 14th at the NCAA Division III Outdoor Track & Field Championships. Melo also ran on the Vikings' 2015 CCIW-champion distance medley relay indoors. Individually, she competed at 200, 400 and 800 meters.
An eight-time Academic All-CCIW honoree, Melo received the Jack Swartz Award from the CCIW for her athleticism and academic excellence. She also collected this year's Knut Erickson Award as the Viking female athlete with the highest GPA among senior blanket award winners.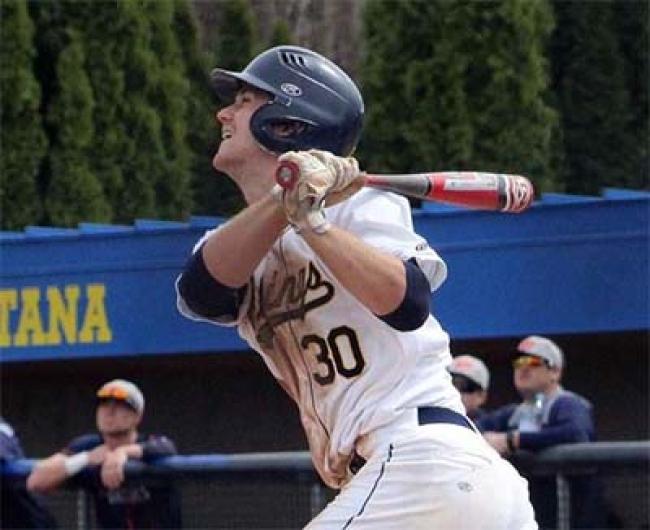 Sheboygan slugger… Hard-hitting right fielder Carter Amundsen '18 was named to this year's Academic All-America first team after earning second team honors in 2017. The son of Mary and Carl Amundsen of Sheboygan, Wis., Amundsen majored in accounting and business administration-finance with a 3.94 GPA.
This spring, Amundsen hit .304 with a homer and 24 RBI and was the Vikings' leader in at-bats (158), runs (44), doubles (15) and hit-by-pitch (13). He sported on-base and slugging percentages of .439 and .418, respectively, and stole eight bases in 10 attempts. He won the team's Outstanding Leadership and Outstanding Teammate awards and shared Outstanding Defensive Player honors.
During his Augustana career, he hit .336 and ranks in Augustana's all-time Top 25 in several categories: on-base percentage (.444), games (126), games started (107), at-bats (429), runs (105), hits (144), doubles (33), walks (59), hit-by-pitch (28) and stolen bases (25).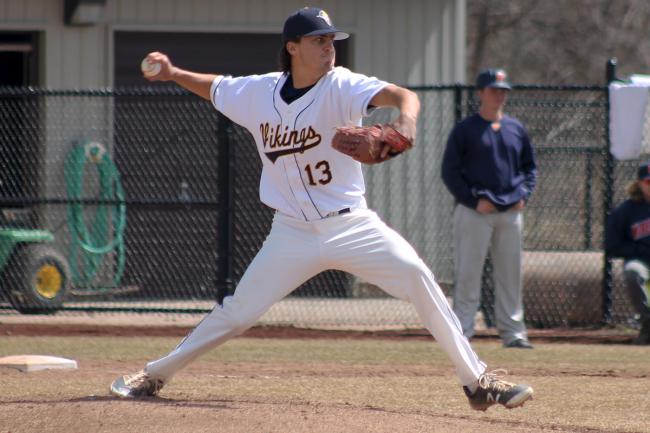 Ace on the mound… The only junior honored this year, Academic All-American Mike Powers '19 carries a GPA of 3.94 with majors in accounting and business administration-management. Powers is the son of Lisa and Michael Powers of Westmont, Ill.
Assuming the role of ace after pre-season injuries to the Viking pitching staff, Powers thrived, earning first team All-CCIW and second team ABCA/Rawlings All-Region honors. He finished the year 7-3 with an ERA of 2.22 and led the team in wins, ERA, starts (12), complete games (three), shutouts (one), innings pitched (81) and strikeouts (60). He walked just eight batters, an average of 0.89 per nine innings, which ranks second-best in a single season at Augustana.
Powers will enter his senior season with a 14-7 career record—tied for 21st all-time in wins for the Vikings. He also currently ranks 20th in program history in innings pitched (174 1/3), 21st in strikeouts (130) and tied for 24th in starts (23).