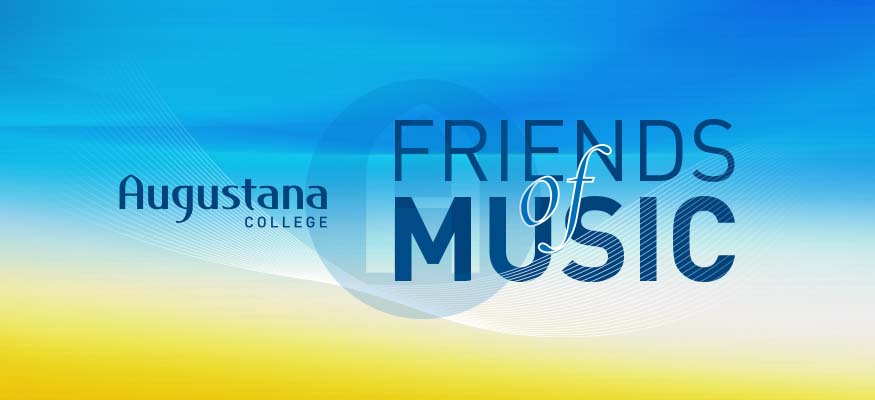 Friends of Music is an annual membership club dedicated to investing in Augustana's 500 student musicians.
Members empower and support students by funding scholarships and renovations to the Bergendoff Hall of Fine Arts, and assisting with the cost of ensemble tours. For more information, contact Evan Sammons '20, 309-794-7575.
Here are the details: 
→ Join Friends of Music with a gift of $50 or more.
→ Gifts to any area in the music department count toward membership. Scholarships, Bergendoff renovations and ensemble tours are popular choices. 
Overture Circle: $50-$99
• Invitations to exclusive Friends of Music events
• Insider news from the music department through the Friends of Music newsletter
• Exclusive Friends of Music sticker
Performer Circle: $100-$249
• All the above benefits, plus early access to Christmas at Augustana ticket sales and a digital recording of Lessons and Carols.
Conductor Circle: $250-$499
• All the above benefits, plus reserved seats at Lessons and Carols
Encore Circle: $500
• All the above benefits, plus an exclusive Augustana note card pack.
Friends of Music is an exciting and new way to organize the already strong support that alumni, parents and friends of Augustana music have shown for decades.
The impact of giving
Bergendoff Hall of Fine Arts
Enriching the student experience through gifts to Bergendoff Hall of Fine Arts project is one of the ways that members of Friends of Music make an impact.
Renovations began in the summer of 2021; the northwest corner of the second floor will become new offices for the music education faculty. Other key parts of the long-awaited re-creation of Bergendoff are projected for December.
Constructed in the mid-1950s, Bergendoff Hall is home to Augustana's music and art history programs and includes Centennial Hall, the college's largest auditorium, with seating for 1,500 people.
The re-creation of the venerable space will be completed in three phases at an estimated cost of at $12-$13 million.
Phase I will include a new music education suite, rehearsal space, offices and classrooms, seminar room and the Julie Hamann '82 Elliott Performance Hall. The area that served as "backstage" to Potter Theatre will be transformed into a 2½-story performance and recital space for 50-60 patrons. The expected completion date is December 2021.
Ensemble tours
Established in 1931, the Augustana Choir has performed at Orchestra Hall in Chicago, Alice Tully Hall in Lincoln Center and Carnegie Hall in New York City, as well as many major cathedrals and concert venues in Sweden, Norway, China, Germany, Italy, Austria, Japan, Korea, Spain and France. 
Its 2022 tour included six concerts in Germany and the Czech Republic.
The Augustana Symphonic Band has toured 32 states, the United Kingdom, Italy, Japan and Spain. In 2018, the Symphonic Band toured southern California. 
The Augustana Symphony Orchestra took its first-ever tour in 2017, performing concerts in the Chicago area.