Visiting Augustana
Get to know our vibrant and supportive community. Whether you visit us virtually or in person, you'll be inspired by our beautiful, ever-evolving campus and the creativity you see in our students and classrooms. 
A visit is your chance to ask big questions, explore the vast opportunities before you and learn about the ways we empower all students to become the very best versions of themselves. 
Wherever you are on your journey to find the right college, we have a customized visit just for you. We can't wait to show you this place we call our home away from home.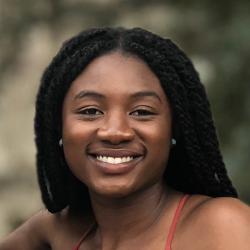 Ruth Nwatu '20 | Public health, neuroscience
"I chose Augustana because of the community atmosphere. The first time I visited Augie, everyone I interacted with was welcoming and seemed genuine. . .During my visit, I sat in to observe a psychology class and watched the way students were able to ask questions and engage in class discussions. At that moment, I knew that Augie was the perfect school for me."
Read Ruth's Augustana story
Where to begin
The college search can be overwhelming, and you may not know where to begin. At Augustana, you don't have to have everything figured out. Come for a visit (or check out a virtual event or on-demand experience) and you'll see what we mean.
We want to empower you to bring your future dreams to life and seek out unexpected connections. So go ahead and check out athletics and music, biology and English, art and neuroscience! We want to know what makes you unique and connect you with our campus in ways that are most meaningful to you. 
If you're just beginning your college exploration, start by taking an on-campus tour, or attending a virtual information session. 
Visit question? Call 309-794-7341.

Hours: 8:30 a.m.-4:30 p.m. weekdays