Office of International Student and Scholar Services

The Office of International Student and Scholar Services is dedicated to supporting and empowering international students and students who are internationally inclined.
OISSS is also committed to the holistic development and growth of students. The office seeks to engage the hearts and minds of individuals by providing academic, social, emotional and transitional support.
Augustana College welcomes students from around the world. Augustana's friendly Midwestern campus makes it a great choice for international students seeking a top education in the United States.
The Office of International Student and Scholar Services works with F-1 visa holders (degree seeking), J-1 visa holders (non-degree), as well as students who are dual citizens with the United States, and U.S. citizens who live abroad.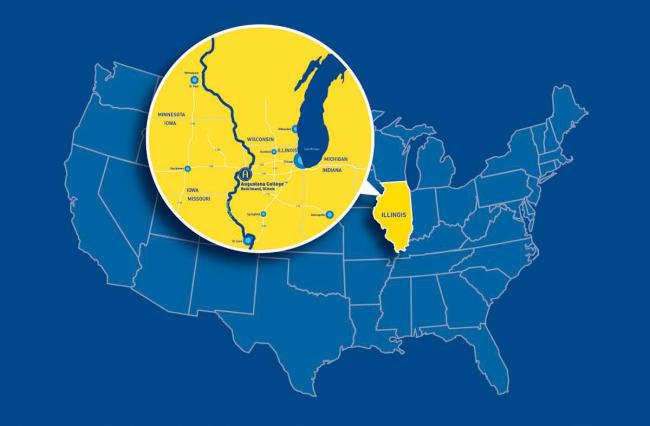 Where exactly is Augustana College?
Augustana College is located in Rock Island, Illinois, which is in the Midwestern region of the United States map. Rock Island is one of the Quad Cities. When students come to Augustana, resources from all four cities are at their disposal.
Still have questions?
Our viewbook also has lots of helpful information to show international students what Augustana College has to offer them.
The academic calendar is available for students to consult in making travel arrangements.
Office location: Room 402 ("Gävle 4") on the fourth floor of The Gerber Center for Student Life
Global Ambassadors offer student support
Augustana's Global Ambassadors work closely with the Office of International Student and Scholar Services to support incoming international students. Many of them are international students, or have lived or studied abroad and often in multiple countries.  
The Global Ambassadors lead sessions during International Student Orientation, pick students up at the airport, mentor first-year international students, and plan programming throughout the year.
They help new students adjust to life on campus and in the Quad Cities.
Student groups
The Office of International Student and Scholar Services sponsors student organizations that are open to all students. Some of the groups that may be of particular interest to international students are listed below.
Global Engagement Team

African Student Association

Amnesty International

Multicultural Programming Board

Black Student Union

Latinx Unidos

Asian Student Organization

South Asian Student Association

Vietnamese Student Association

 

Multicultural Club Council

Global Affect

Majestic Hearts

NAACP

The Order of the Phoenix and Ladies of Vital Essence (multicultural social groups)

UNYK Multicultural Dance Troupe

Religious groups (Hillel, Muslim Student Association, Augie Catholic, Interfaith Understanding)

Circle K International