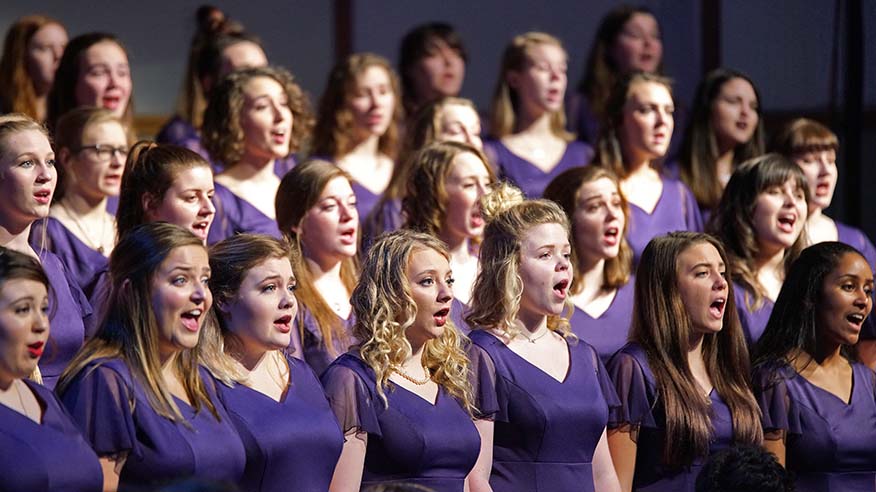 Jenny Lind Vocal Ensemble touring in May
Augustana's Jenny Lind Vocal Ensemble will tour in Illinois and at two locations in Montreal in May.
The ensemble performs concerts on campus each term, at community events and on its annual tour. The tour theme is "My Song."
Schedule
Tuesday, May 21, 7 p.m.
Gloria Dei Lutheran Church, 1133 Pfingsten Road Northbrook, Ill.
Wednesday, May 22, 8 p.m.
Christ Church Cathedral, 635 Saint-Catherine St W, Montreal, QC H3A 2B8, Canada.
Friday, May 24, 4 p.m.
Notre-Dame Basilica/La Basilique de Notre-Dame, 110 Notre-Dame St W, Montreal, QC H2Y 1T2, Canada
Jenny Lind is a select treble ensemble for those who wish to develop advanced choral skills and a better understanding of various styles of choral music composed for sopranos and altos. The ensemble's chosen repertoire — from folk to contemporary, ancient to modern— focuses on moving forward and upward, overcoming challenges and celebrating compassion.
Dr. Michael Zemek directs the Jenny Lind Vocal Ensemble.
The ensemble is named after Jenny Lind (1820-1887), a Swedish opera singer known as the "Swedish Nightingale" and considered the finest coloratura of her day.  
The ensemble's last tour was a three-day, three-performance tour, "Yonder Come Day," in Indiana and Ohio.