Estimating costs
How families pay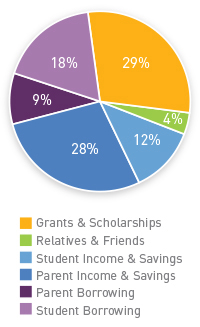 Augustana College provides two online tools meant to help families talk with us about the cost and value of an education at Augustana. We encourage you to read the information below before completing the Merit Scholarship Estimator or the federally mandated Net Price Calculator.
The Merit Scholarship Estimator is a tool for students and families to estimate academic scholarships.
The federally mandated Net Price Calculator is a tool for students and families which provides an early estimate of what they may expect to pay to attend Augustana. This tool provides estimates for both merit scholarships and need-based assistance.
Neither calculator is an official application for financial aid, and both are only estimates.
Net Price Calculator
The federally mandated Net Price Calculator (NPC) can be useful for initial cost comparisons. It is divided into two parts: one to estimate scholarships and another to estimate financial need.
Student test scores, class rank and GPA are needed for the first part. The financial aid section requires information about family income and assets. Students must be eligible to file the Free Application for Federal Student Aid (FAFSA) to use the NPC.
The NPC is only an early estimate of possible assistance. The best way to learn  more is to visit campus and speak with a counselor.
NPC drawbacks
Does not take into account special circumstances the financial aid office may consider with an official application)
Can dissuade the user from conversations with college employees who can clarify and help, especially if the results are incorrect
Cannot describe the overall value of that education to a student's personal and professional goals
Implies that price is the only consideration when selecting a college
Does not take into account all possible funding available (for example, Augustana talent-based awards such as art, music, theatre and debate scholarships, or federal parent loans for which a family may be eligible)
NPC benefits
Gives some early insight into college costs
Shows immediate results
Can begin the conversation with admissions and financial assistance advisors, especially if you bring a printout to your college visit
Provides a starting point for families unfamiliar with the college search process
To discuss the NPC or Merit Scholarship Estimator with an admissions counselor or to arrange a campus visit, email admissions@augustana.edu or call 309-794-7341.