Student Counseling Services
Crisis lines for immediate help
Where to start
Counselors recommend that you complete the Counseling Center Assessment of Psychological Symptoms screening tool.
This gives you a snapshot of your areas of concern. It is private and confidential. The snapshot is helpful when you use it to choose services on campus.
Using the screening tool and the information in "Find mental health supports that work for you," you should match your areas of concern with treatment recommendations, and pick the best resources.
For a complete picture of all services, see The counseling process.
Making an appointment
Located on the second floor of Founders Hall in office 206, Student Counseling Services provides in-person and virtual counseling sessions every academic day. To schedule an appointment, email Cheri Mizaur, call 309-794-7357, or walk-in during our business hours: 8 a.m.-5 p.m. Monday-Friday.
Well-being in the time of COVID-19
TimelyCare
TimelyCare provides Augustana students access to free 24/7 medical and mental health support.
Students have access to medical urgent care through TimelyCare, including treatment for diseases like the common cold, sinus infections, or the flu. Physicians also may prescribe medication through the platform.
Students also can receive immediate mental health support through TalkNow, or they can schedule virtual counseling visits through the platform.
To use TimelyCare:
Desktop users should follow the sign-up prompts at TimelyCare.
Mobile users may download the TimelyCare app and follow the setup. 
TAO Connect
TAO Connect provides an array of mental health resources and education. All students, alumni, staff, and faculty with an "@augustana.edu" email address can sign up and access this service. It is available all year.
It includes:
• The mindfulness library
• The daily practice and journaling
• Mental health educational modules.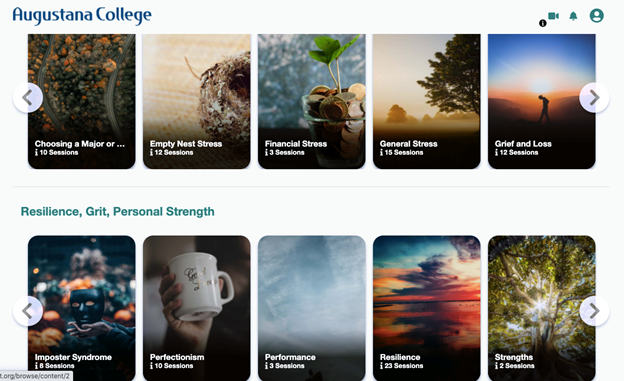 TAO Connect is 100% anonymous and confidential. To access TAO Connect, click on "Sign Up in Self-Help with an Institution" on TAO Connect.