Office of the President
Steven C. Bahls is the eighth president of Augustana College. He joined the college in the summer of 2003 and was installed as president in October of that year. He has written extensively about a wide range of higher education topics, from shared governance to teaching financial literacy. His writings have been published in numerous journals such as Trusteeship, Huffington Post, Inside Higher Education, the Chronicle of Higher Education and Intersections -- The Journal of Lutheran Higher Education.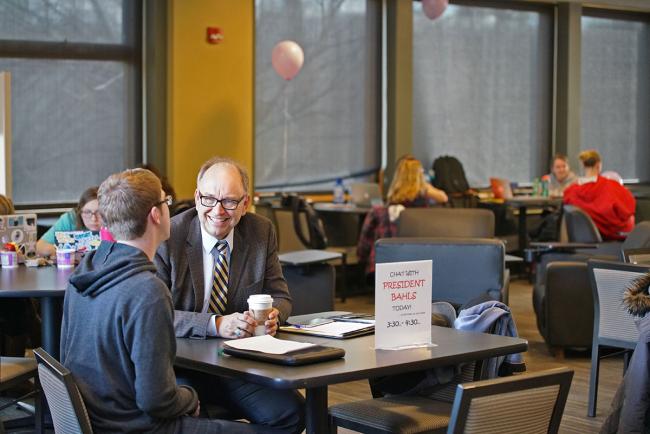 He holds open office hours, often in the Brew by the Slough, the coffee house in Augustana's Center for Student Life. Most evenings and weekends, you'll find him at Augustana's music, cultural and athletic events.
Steven Bahls was born in Des Moines in 1954. He and his wife, Jane, were married in 1977. Steve and Jane have three children: Daniel, a Williams College and Boston University Law School graduate, is a lawyer in Massachusetts; Timothy, a graduate of Middlebury College and the University of Wisconsin-Madison Graduate School, is a computer scientist in Wisconsin; and Angela, an Augustana alumna, is a graduate of the speech language pathology program at the University of Arizona, and is now practicing in Indiana. Steve and Jane also are the proud grandparents of five grandchildren. 
A letter from the president
Read a letter from President Bahls to incoming Augustana students and explore his vision for the college and student experiences. 
Experience, Publications & Awards
Prior to joining Augustana College, President Bahls was dean at Capital University Law School, the only law school in the nation affiliated with the Evangelical Lutheran Church in America. Prior to joining Capital's law program, he served as associate dean and professor at the University of Montana School of Law. From 1979 through 1985, he practiced corporate law with the Milwaukee firm of Frisch, Dudek and Slattery. He is a CPA and a lawyer.
Five Faith Commitments
The Five Faith Commitments of Augustana College were unanimously adopted by the Augustana College Board of Trustees in May of 2004. They represent Augustana College's commitment to honor its roots as the college of the Augustana Lutheran Church, but in a way that meets today's students where they are.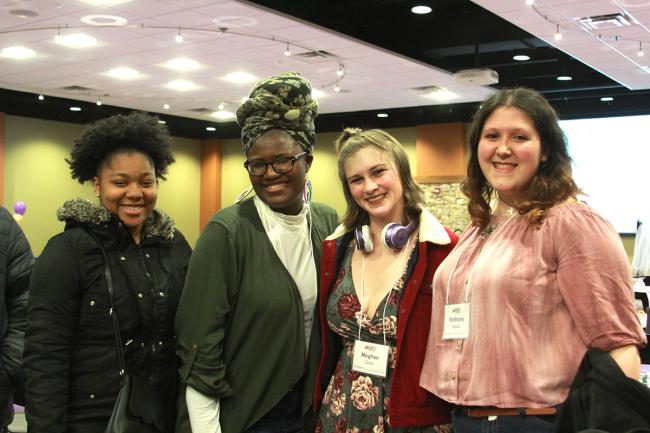 Statement on Diversity
As a learning community, we owe it to our students, faculty and staff to be part of the national conversation on race and inclusion. Doing so helps us provide our students with the opportunity, throughout their lives, to develop thriving communities with others, even when they come from different backgrounds.
Speeches and Statements
President Bahls is a frequent speaker on and off campus, touching on topics of diversity, freedom of expression, politics, religion, social media and more. 
On the liberal arts
Augustana, and the tradition of critical thinking and inquiry that has allowed it not only to survive but thrive in this new environment of higher education, is alive and well. Still, liberal arts colleges roundly feel under siege; we are doing something about it. 
On shared governance
When much of the country was reeling from the Great Recession of 2008, Augustana was no different. In a truly challenging moment in our institution's history, our faculty, administration, and board came together to engage in that most delicate and important practice of institutional responsibility -- shared governance.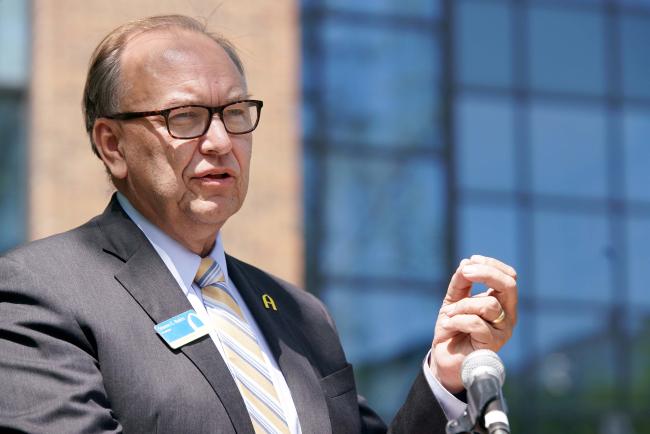 On LEAN management
If you've ever heard the words "cost containment" and felt a prick of fear in your heart, you're not alone. It was with that thought in mind that we at Augustana undertook an analysis of our cost structure in 2015. The resulting report was not unexpected: we needed to become leaner and more efficient in our management practices, to bend the cost curve, if you will.
On faith as a foundation and a commitment
Fifteen years ago, while being interviewed for the presidency of Augustana College, I was asked what it meant to be a college that is related to the Evangelical Lutheran Church in America. Then, if you had asked 20 different people that question, you'd have gotten 20 different answers.
On community service
At Augustana, we consider service to be part of our mission to help students grow in mind, body, and spirit to find their vocational calling in life. It is a commitment, not a mandate, rooted in gratitude . .  and we believe that is vital to the health of our community. 
On being an Augustana parent
Augustana College was my first presidency, and my daughter Angela is my only daughter. Just as my life would never be the same after she was born, my presidency was unalterably changed the moment Angie enrolled as a freshman, 10 years ago. 
Philosophy of Giving
For my wife, Jane, and me, charitable giving isn't an afterthought or an occasional response to a random request for funds. It's a fundamental part of who we are: part of the DNA of our marriage and family