Augustana College strategic plan 2023
Members of the Augustana campus community, welcome.
In the resources you can explore here, I hope you will find some of our shared language — the values, challenges and aspirations we hold in common with fellow members of this community.  You will also see emerging ideas and suggestions about how to shape our strategic goals. Most importantly, you will find the basis for robust conversations and debates about how we advance the mission of this institution with both full attention to the legacy of our past and creativity about the progress of our future.  
I'm grateful to all those who've contributed so far, including listening session participants, members of the S.O.A.R. team, and especially those members of our community who have stepped forward as members of the Strategic Planning Commission.
Please keep in mind that what you'll find here is not the strategic plan itself; rather, these are resources considered and created by those who are engaged in the process that will lead to our next strategic plan. There will be time and space for the community to engage in discussion, debate, and feedback, so these resources will be revised and adapted as we go. As such, we ask that you not share what you find here, in hopes of encouraging discourse that's candid and robust.
We will be assisted in this process by Academic Leadership Associates. If you'd like more information about that firm and its role, please visit the ALA website.
Thank you for taking the time to be part of this important endeavor.
Andrea
Andrea Kathryn Talentino
President, Augustana College
112 Bahls Campus Leadership Center
♦ ♦ ♦ 
As new information about the strategic planning process at Augustana becomes available, it will be added here. 
The current strategic planning process began in 2022, shortly after the arrival of President Andrea Talentino, as the college's ninth president. A true collaborator, President Talentino is committed to building upon the previous plans and incorporating voices from stakeholders across campus and beyond.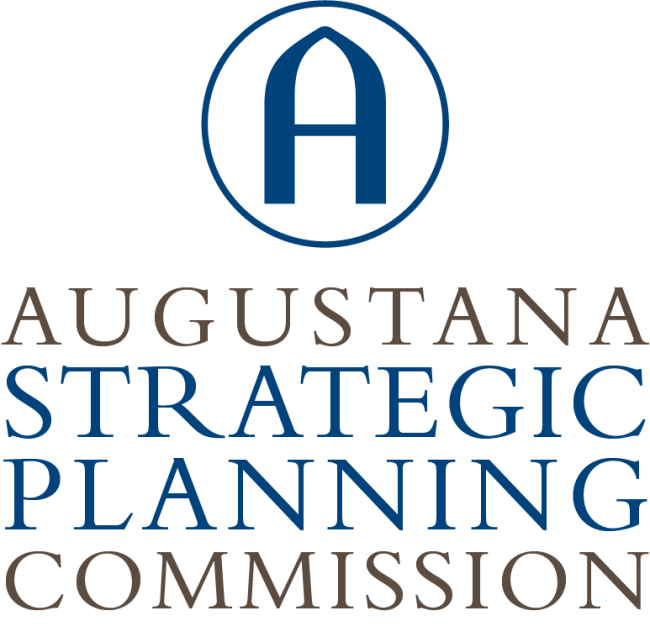 President Talentino took nominations for the Strategic Planning Commission, and she since has appointed and charged a Strategic Planning Commission to oversee the process.
Members of the commission include:
Ashley Allen
Jacob Bobbitt, tri-chair
Anna Castro
Jennie Hemingway
Wendy Kelley
Dan Lloyd
Pastor Melinda Pupillo
Evan Sammons
Laura Schnack
Mindy Zumdome
Jacob Bancks
Shelley Cooper
Nathan Frank
Lauren Hammond
Kiki Kosnick
Douglas Parvin
Michael Reisner
Nadia Schwartz
David Thornblad, tri-chair
Xiaowen Zhang
Addison Larson
Alvin Theccanat
Charles Kim
Tom Weigand, tri-chair
W. Kent Barnds
The commission is committed to ensuring their work is inclusive and transparent, and they will promote broad participation across campus.
Input from members of the Augustana College community, on and off campus, will help ensure the strategic plan will reflect a shared vision, common goals, and actionable strategies to guide Augustana in the years to come.
IMPORTANT: The documents linked here are exclusively for members of the Augustana community, and they should not be shared outside the campus community.