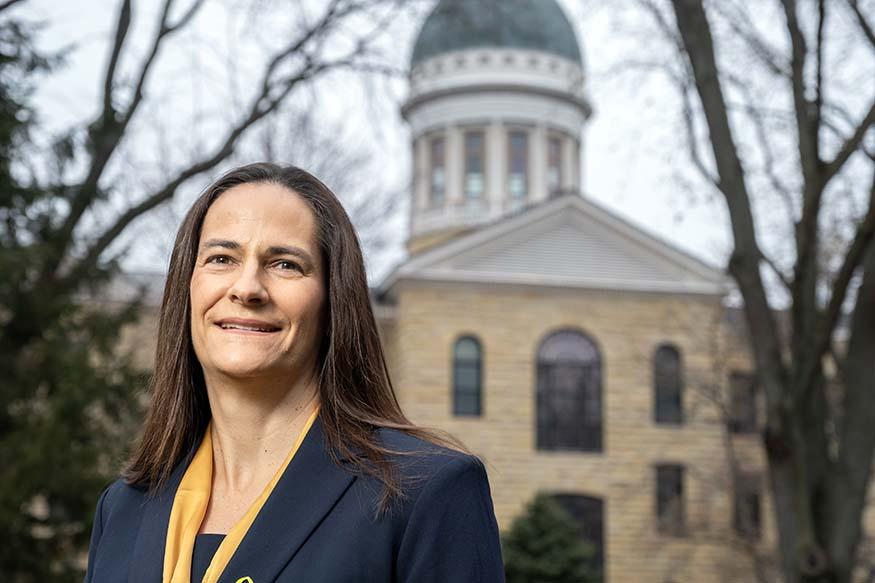 News
Dr. Andrea Talentino named Augustana's next president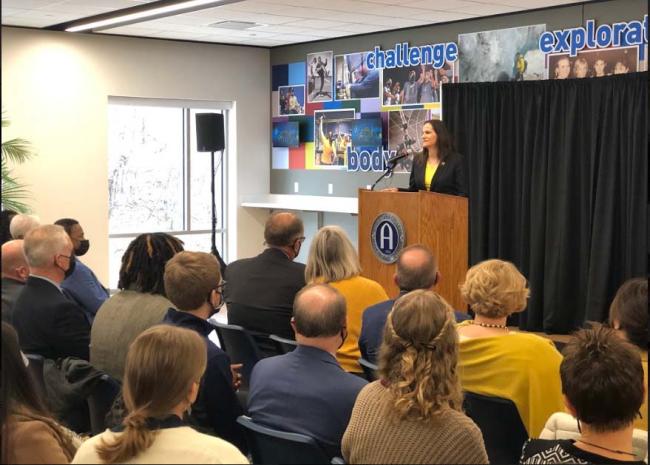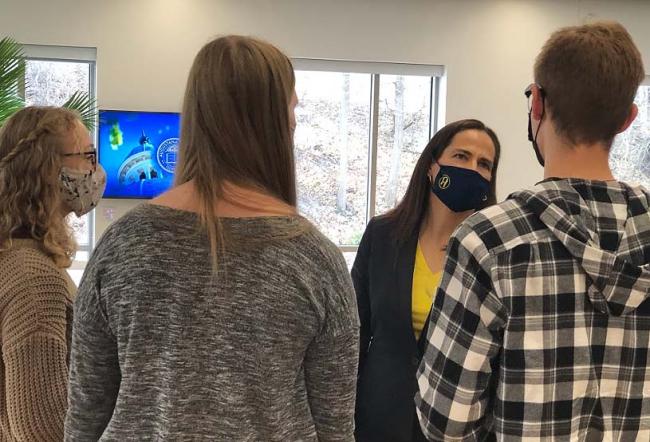 The Augustana College Board of Trustees today announced Dr. Andrea Talentino, provost of Nazareth College in Rochester, N.Y., as the next president of Augustana College. She will be the ninth president in the college's 161-year history, effective July 1, 2022.
"We are proud to present Dr. Andrea Talentino as our next president," said John Murabito '80, chair of the board who led the national search. "She will embrace the values, principles and beautiful traditions of Augustana, while fully understanding the challenges of private colleges in 2021.
"Dr. Talentino is a scholar, a teacher and mentor for students; an advocate for diversity, equity and inclusion; and an innovator and engaged citizen. She is looking forward to connecting with the Augustana community, including alumni around the world." 
Before arriving at Nazareth, Dr. Talentino served as the dean of the College of Liberal Arts at Norwich University in Vermont. Prior to that, she was an associate dean at Drew University in New Jersey. She also held a faculty position at Tulane University and did a postdoc at Princeton University.
"Augustana's mission and vision reflect what I most care about," Dr. Talentino said. "I've focused on creating an inclusive, holistic, challenging, integrated student experience that offers a real transformational opportunity. Any institution can have internships, study abroad, opportunities for research, but it's how you put them together, how you create natural connections and meaning between all of them that makes the difference in what's outstanding and what is 'just fine,' and Augustana is committed to being outstanding."
Dr. Talentino earned a bachelor's degree in political science at Yale University, then completed a master's and doctorate in political science from UCLA. While serving as dean at Norwich, she earned an MBA with a concentration in organizational leadership.
Early in her 22-year career in higher education, she was honored twice for excellence in undergraduate teaching at Tulane University. Since then, even as she rose within the administrative ranks at the institutions she served, she has continued to teach.
"Everything I've ever done is about being a teacher, even when I'm in administration," Dr. Talentino said. "An institution is not going to move forward if you're not also developing the people, and the people aren't going to be motivated and excited if you're not moving the institution forward." 
Candidates surpassed expectations
Dr. Talentino unanimously was recommended to the Board of Trustees by Augustana's 13-member presidential search committee, which included trustees, faculty, alumni and a student representative. Beginning in February 2021, committee members worked with an executive search firm, Academic Search, to identify exceptionally qualified candidates. 
The search committee reviewed materials from more than 100 candidates and conducted 50 interviews — some in-person, some virtually. 
"We expected a large amount of interest, but we were blown away by the quality leaders this position attracted," Murabito said. "Because Augustana College is a leader among private colleges in this country, and especially in the Midwest, the number and quality of interested candidates surpassed typical expectations."
Political science professor Dr. Mariano Magalhães was one of four faculty members who served on the search committee. 
"One of the many things that impresses me about Dr. Talentino is her dedication to and focus on students, from the several programs she helped develop to increase student retention and bolster academic performance at Nazareth College to her commitment to teaching one course a year despite extensive administrative responsibilities," he said.
"I think she combines a deep understanding of the traditions and importance of a liberal arts education with a strong commitment and demonstrated ability to innovate and lead the college in a vastly changing 21st-century higher education landscape." 
The search committee's student representative, Lauren Hall '22, also was impressed with Dr. Talentino's student-centered focus. "Dr. Talentino will fit in great with the Augustana community because in her mind the students come first on campus, and their well-being. She wants students to have a voice and be proud about that voice, and she will support them when they share it."
One of the many things that impresses me about Dr. Talentino is her dedication to and focus on students.
Taking Augustana into the future
Dr. Talentino succeeds Steve Bahls, who announced his retirement earlier this year. He has served as Augustana's president since 2003, strengthening the college's financial position by helping to raise $300 million and more than doubling the endowment. Nearly $120 million has been invested in campus construction/renovation since 2003 to support new academic programs, athletics and the arts. His strategic plans aimed to advance campus diversity and equitable access. 
"I know Augustana's best days are ahead," President Bahls said. "I am confident that Dr. Talentino is the ideal person to take Augustana into the future. I know this in large part because the search committee worked tirelessly to find the best candidate to lead Augustana College as president." 
Among her many achievements at Nazareth, Dr. Talentino is most proud of the creation of the Institute for Technology, Artificial Intelligence, and Innovation and three degree programs in ethical data science; business, AI and intelligence; and technology, AI and society.
"It's very important for the world and for our nation to think about the ethical application of technology," she said. "But I have to add that this was very different for Nazareth. Getting people to think about it in terms of how it fit the Nazareth mission and vision was fun because, although not so obvious, it truly is consistent with why we were founded."
Dr. Talentino's two research specializations are military intervention and civil conflict, and the Olympics in relation to international politics. She has published extensively, including two books: "Military Intervention After the Cold War: The Evolution of Theory and Practice" and "Sporting Boundaries, Sporting Events and Commodification." 
In the spring of 2020, she was scheduled to do research for a third book at the International Olympic Committee's historical archives in Lausanne, Switzerland, but the trip was canceled due to COVID-19.
On a personal note
Born in Binghamton, N.Y., Andrea Talentino grew up in nearby Cortland, N.Y. Her mother, Winifred Eisenhauer Talentino, was a public health nurse, and her father, Arnold Talentino, taught English at SUNY Cortland. Her brother is Justin Talentino, a captain in the Austin (Texas) Fire Department. 
Dr. Talentino is married to Thomas Tarnow, a public interest attorney, and they have two children: Lucien, 14, and Julia, 10.
Contact: