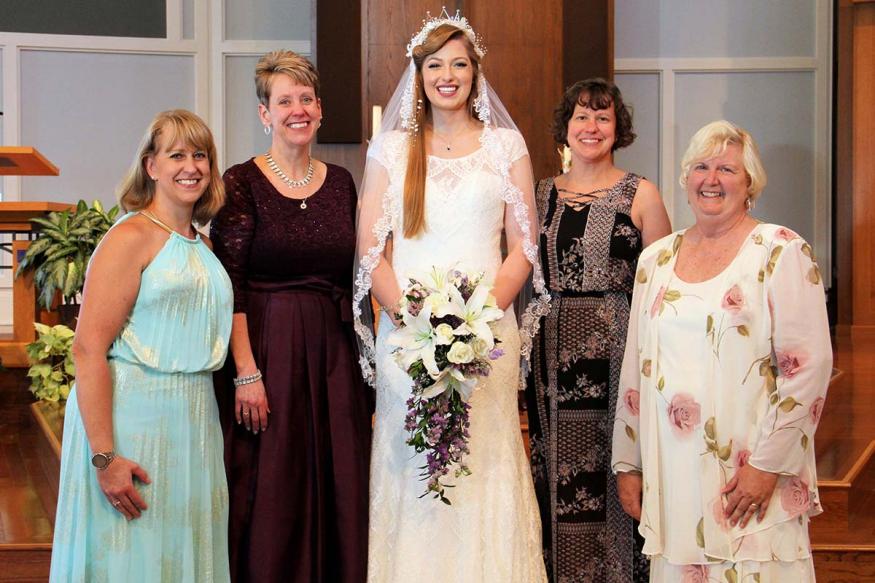 News
The crown: Augie brides get the royal treatment
For more than 50 years, Augustana has kept two crowns secure in a vault on campus. The Swedish bridal crowns — one silver and one gold — only come out for the wedding of a graduate or student.
They may borrow either crown to wear at their weddings. But the crowns must be picked up and returned in person — the crowns are never mailed to a wedding location. (See some brides wearing the crowns in the photo album below.)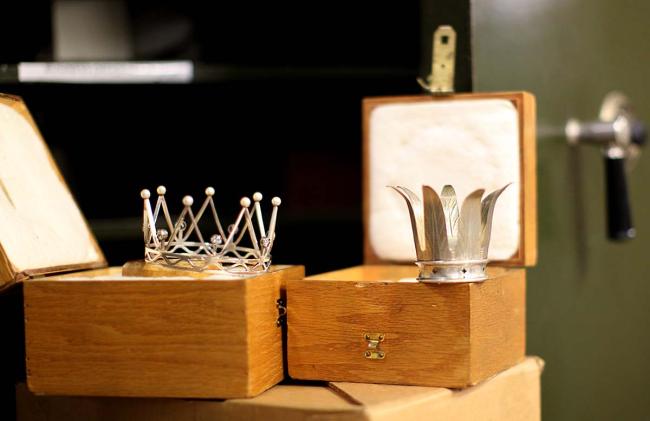 In Sweden, the custom of wearing a bridal crown began as early as the Middle Ages. Rules regarding the wearing of bridal crowns reportedly can be found in church records as long ago as the 16th century. It is considered an honor for a woman in Sweden to wear a crown when she recites her nuptial vows.
For some graduates, wearing an Augustana bridal crown is a family tradition. When Rebecca Knapper '16 Wells wore the silver Swedish crown at her wedding last summer, she was the fifth bride in her extended family to wear the same crown.
"Throughout my life, my mom would always answer questions with 'Well, when you go to Augustana...,' and the rest would normally follow, 'you can sing in the Augustana Choir' or 'you can learn Swedish' or 'you can wear the Swedish crown on your wedding day,' so I was happy to know it was in my future," Wells said.
Wells' grandmother, who saw her niece, three daughters and four of her grandchildren attend Augustana, fell gravely ill at the end of Wells' sophomore year and died during her junior year at Augie. 
"She embraced family, heritage, tradition, Augustana and Swedishness so much so that it is truly a part of who we are," Wells said. "Wearing Augie's Swedish bridal crown on your wedding day was important to her and to all of us."  
Knowing her grandmother was not going to make it to any of her granddaughters' weddings, Wells and her cousins visited Augustana to try on the crown and take photos. "We sat down with her, showed her the pictures, and shared with her exactly what we imagined for our wedding days," Wells said. "Although she could not physically be with me on my wedding day, through the Swedish crown, I felt her presence."
Shari Holmer '72 Lewis wore Augustana's gold crown when she was married in 1981. Her daughter, Rachel Lewis '09, wore the same crown at her own wedding last fall.
"My mother died 10 months before my wedding day," Lewis said. "Wearing the same crown as my mother was important to me even before her death, but it took on added significance after she died. Putting the crown on my head, knowing she had done the same on her wedding day, removed some of the sting from her not being there."
A generous jeweler
Augustana's gold Swedish bridal crown arrived on campus in 1962, the result of a chance meeting between an enterprising alumna and a generous Stockholm jewelry store owner. Gretchen Holm '60 was visiting relatives in Stockholm when she saw bridal crowns in the window of Torndahls Jewelers. The crowns were expensive and usually sold to churches for their members to wear.
In talking with the jeweler, Holm shared the story of Augustana's Swedish roots and the fact that many people of Swedish ancestry lived in the Quad-Cities area. After checking with a bishop in Sweden who knew Holm and Augustana, the jeweler decided to give the college a crown as a gift. 
Holm chose a hand-tooled gold crown two inches in diameter at the base and slightly more than three inches high with seven gold leaves extending from the base and flaring out at the top. Upon her return to Rock Island, Holm presented the crown to the college's president, Dr. Conrad Bergendoff.
The first bride to wear Augustana's gold Swedish bridal crown was Marilyn Vollrath, who married Kent Carlander on Aug. 17, 1962, in Ascension Chapel. Carlander was enrolled at the Augustana Theological Seminary at the time. 
On Dec. 27, 1964, Holm was the 33rd bride to wear the gold Swedish crown she had presented to the college two years earlier.
A second crown arrives
That same year, Adele Heilborn, managing director of The Sweden-American Foundation in Stockholm, was invited to campus to receive an honorary degree in recognition of her service in Swedish-American relations. During her visit, she saw the gold Swedish crown and was quite impressed that the centuries-old tradition was continuing at the college. 
After returning to Sweden, Heilborn informed college administrators that she wanted to give the school a second Swedish crown. In 1965, a sterling silver Swedish bridal crown was delivered to campus. Approximately 3.75 inches in diameter at the base, the crown is a little more than two inches high and is designed with seven points. Each point is adorned with a cultured pearl and white spinel.
Less than a week after it arrived on campus, the silver crown was worn by Kristin Magnuson '65 when she married Russell Wheeler '65 on June 5, 1965, in Ascension Chapel.
Alumni, former students and current students interested in continuing the tradition and reserving one of the bridal crowns for their wedding days may contact Kelly Read '02 Noack, 309-794-7474.
The crown gallery