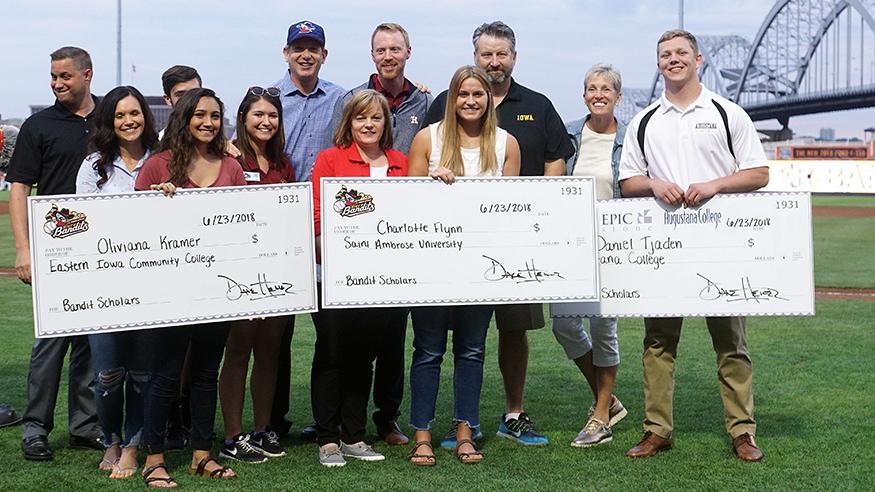 News
Bandits Scholars score for the home team
Augustana students' success is due in part to the college's location in the Quad Cities metropolitan area, which provides a wide range of profitable opportunities for hands-on learning. One example is the Quad Cities River Bandits, a Class A minor league baseball team that rewards area college students every year for their excellence.
The Bandits Scholars program was established in 2009 by Dave Heller, owner of the Quad City River Bandits, to improve the Quad-Cities region by supporting local students in higher education. The scholars program seeks the "brightest future leaders and gives them the opportunity to complete a year of study with no tuition costs." The winner of the scholarship is also awarded a paid internship with the River Bandits.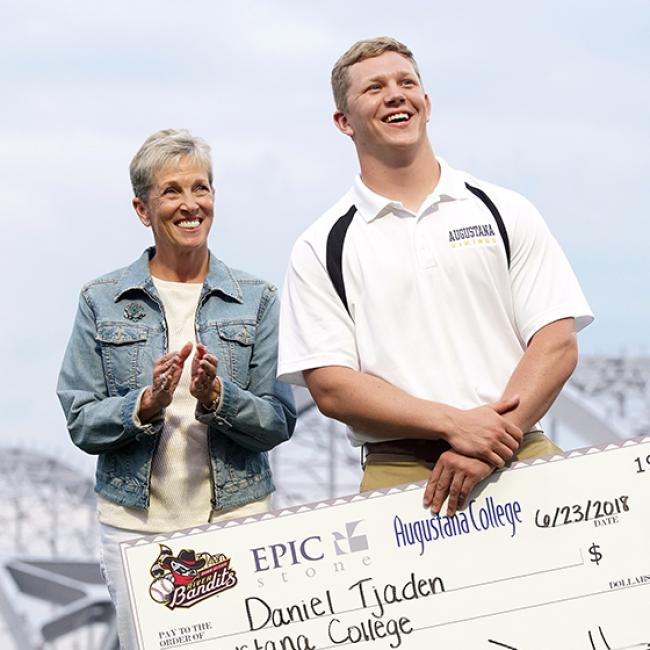 The program reaches out to five institutions of higher learning: Augustana College, Black Hawk College, St. Ambrose University, and Scott County and Muscatine County Community Colleges. Daniel Tjaden '20, this year's winner from Augustana, said he was "ecstatic" when he got the call that he was receiving the scholarship and internship.
Tjaden studies business marketing and accounting, and plays varsity football. He is heavily involved with athletics, and once he graduates he hopes to find a position within an athletic organization that connects fans with its players.
"Sports are something that I am deeply passionate about, and having the opportunity to work in a capacity that combines sports and business would mean a great deal to me," he said.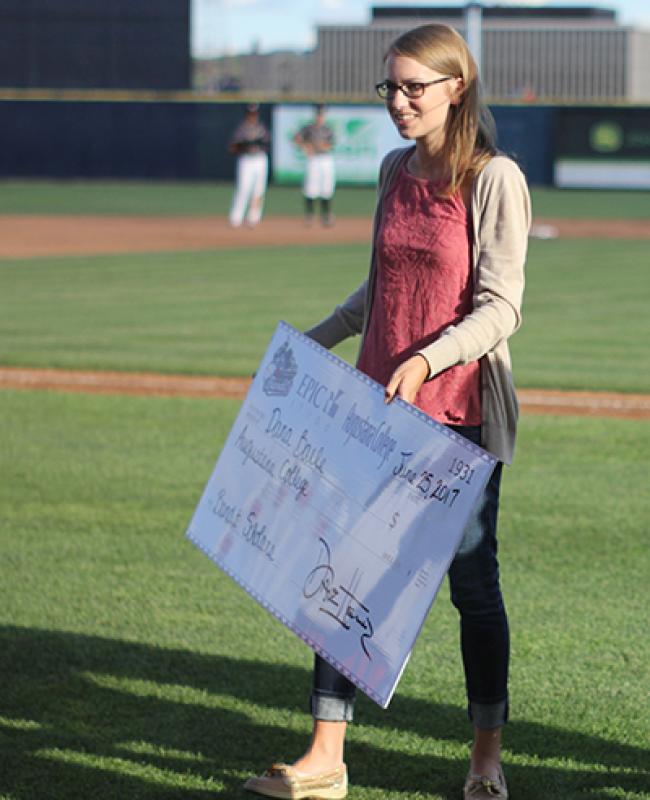 Last year's winner, Dana Baele '19, said she helped with promotions between innings as a River Bandits intern, and enjoyed watching the participants having a good time—whether "wearing a Sumo wrestling outfit or trying to catch ears of corn in a net." 
Baele plans to stay in the Quad Cities to obtain a teaching position. She is a member of Augustana's award-winning chapter of Camp Kesem, a student group that provides a free week of summer camp to children who have been affected by a parent's cancer. This year she served on the coordinating board as Make the Magic co-coordinator.  
Baele and Tjaden are just two examples of how Augustana students not only seek opportunities in their community, but look to improve it, as well. 
By Kordell Benson '19