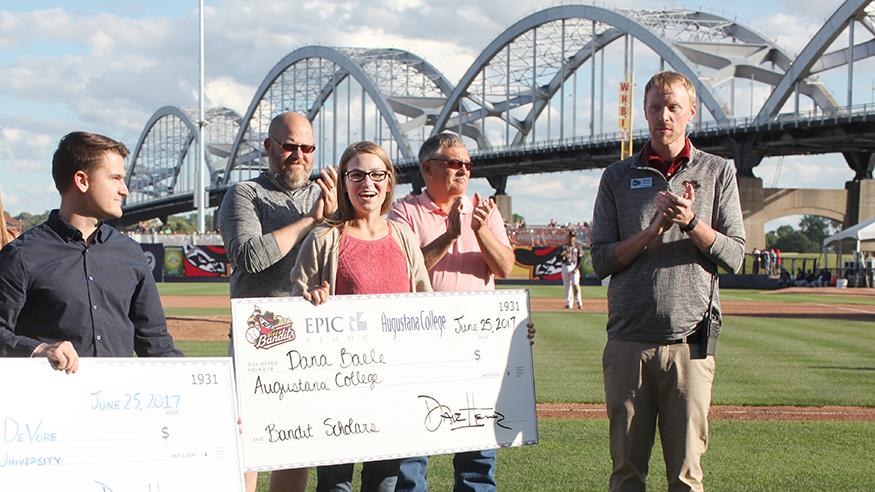 News
Home run for QC Bandits scholars
Two local Augustana students with a passion for sports hit the ball out of the park by scoring $8,000 scholarships and paid sports management internships from the Quad City River Bandits minor league baseball team.
The internships honor their excellence in academics, commitment to sports, and dedication to their home region.
Last year's recipient, Dylan Sortillo '18, is interning with the River Bandits this summer. This year's recipient, Dana Baele '19, will intern next summer. Both are interested in sports management and dedicated to making the Quad Cities a better place to live.
Now in its second year, the River Bandits scholarship is open to students from Augustana and St. Ambrose University of Davenport, Iowa. About a dozen applicants from Augustana qualify each year, and face a rigorous selection process by a committee representing the college and the team, including River Bandits' owner Dave Heller and general manager Andrew Chesser.
"What we really look for are kids willing to give back to the QCA, academic excellence, and an involvement in sports in any way," Chesser said. "Perhaps the most important qualifications of all, however, are a positive attitude and upbeat personality."
Winning personalities
Personality was a primary factor in the 2016 selection of Dylan Sortillo. A junior from Bettendorf, Iowa, Sortillo is majoring in business administration/marketing and communication studies. An athlete for as long as he can remember, Sortillo's interest in sports began watching his dad play professional collegiate volleyball, and he fell in love with basketball next.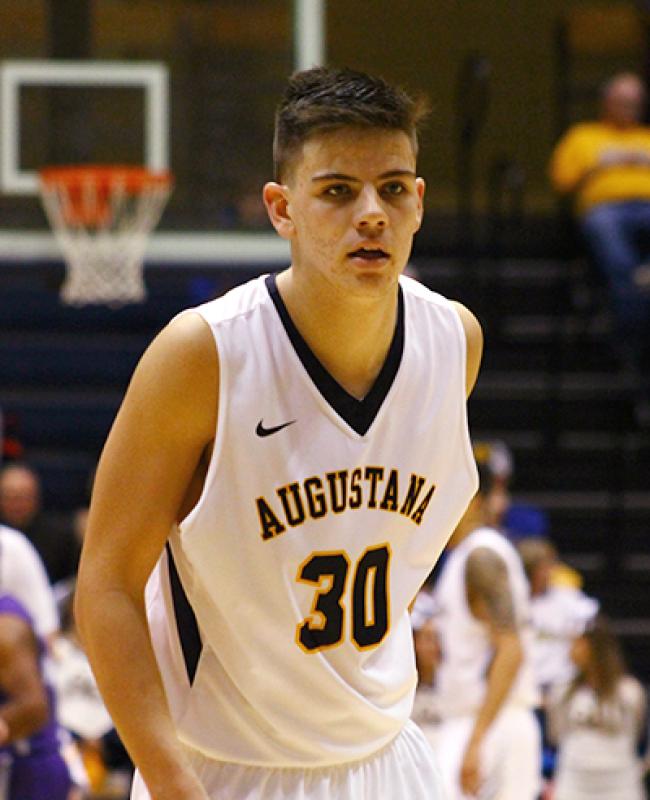 Vikings basketball now takes up most of his time outside of class. He still finds time, however, to work in the Carver gym and volunteer with the Student Athletic Committee, cleaning up campus. He also has helped his grandfather, a former alderman in Davenport, with various projects.
"The Quad Cities means a lot to me," Sortillo said. "I try to help the community the best I can."
Just beginning his internship with the River Bandits, Sortillo said he's still "getting into the flow of things." He looks forward to getting the full experience, through completing a wide assortment of tasks and discovering what it is like to be in a sports organization "behind the scenes."
After Augustana, Sortillo hopes to work on the business side with a sports team. "I really appreciate the River Bandits organization and this opportunity," he said, "and I'm really excited!"
2017 winner Dana Baele is a junior from Annawan, Ill., majoring in elementary education. Baele attended a small high school where "everyone did all the sports."
She also became a member of the National Honor Society, and continues her passion for service as a volunteer for Augustana's award-winning Camp Kesem, which provides free summer camp experiences for children with parents affected by cancer.
Baele hopes to pursue a career as a teacher and coach sports after Augustana.
"I realize the impact that teachers can have on students and I want to be a great teacher that encourages students to learn," she said. "The education department at Augustana has been very influential in educating and shaping me into the kind of teacher I want to be."
"Dana," said Chesser, "won us over with her outgoing and positive personality. (The team) wants every child in the Quad Cities to be able to get to River Bandits games regardless of socioeconomic situation, and Dana's passion for sports and emphasis on elementary education were a great fit."
As interns with the River Bandits, Baele and Sortillo will work as the public face of the baseball team, known as the "Street Team." The interns will ensure fans enjoy the game, hand out T-shirts, organize halftime games for kids on the field, and work production cameras. Over the course of the summer, they will gain a better understanding of how a sports team operates, and have a lot of fun in the process.
According to Chesser, the internship "is intended to whet their appetites, to see if this is something they want to keep doing." If they do enjoy the work, an invitation to work full time with the River Bandits isn't out of the question.
By Christian Elliott '20