Augustana offers a major and minor in accounting.
Careers and internships
Most accounting majors complete internships. Internships include the Big Four accounting firms (Deloitte, Ernst & Young, KPMG, PricewaterhouseCoopers) and other top-10 national and regional firms, including RSM, Plante & Moran and Crowe Horwath.
Students also have internships with small- to mid-size accounting firms and large companies such as Deere & Company, Caterpillar and State Farm Insurance.
Augustana's largest concentration of recruiting is with firms in the Quad Cities and the Chicago area; however, accounting alumni work for firms all over the country.
In past years, some students have obtained prestigious internships with the Governmental Accounting Standards Board (GASB). The GASB internship is highly competitive — Augustana students have successfully competed for these positions with students from other top accounting programs in the U.S.
The majority of internships lead to full-time offers. Many accounting majors have full-time jobs before they graduate.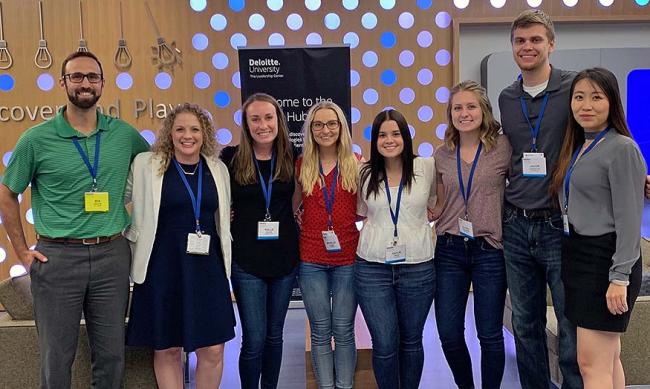 Recent graduates
Here's a sampling of what recent accounting graduates are doing:
Duc Anh Nguyen-Ngoc '18 is a trade promotion analyst with PepsiCo in Chicago.
Claire Herdegen '18 is an accountant with Aon in Chicago.
Michael Hoekstra '17 is an accountant with Marcum LLP in Chicago.
Mollie Magee '18 is a senior auditor with Deloitte in Kansas City.
My Pham '18 earned her master's in business analytics and accounting from the University of Texas at Dallas.
Rafael Rodriguez '18 earned his master's in accounting from the University of Illinois and is a tax consultant with Deloitte.
Distinctions
Augustana graduates work as accountants in public, private, government and non-profit jobs.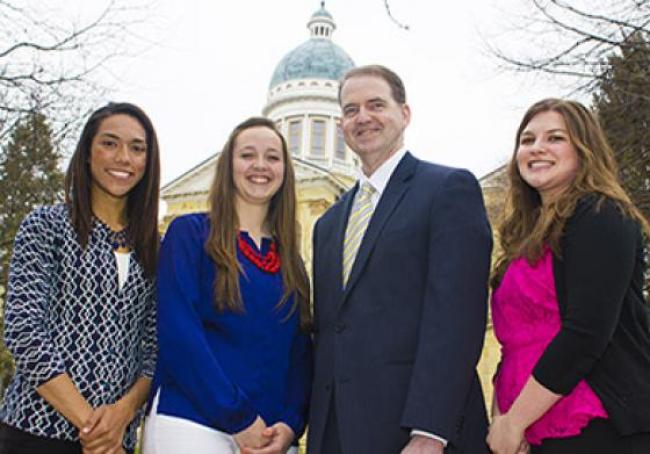 Accounting majors study a core group of courses in accounting, and then each student shapes his or her curriculum depending on career goals. Most students double-major in other disciplines, such as Spanish for Professional Use or Business Administration, to complement their accounting skills.
Augustana focuses on strengthening accounting students' skills in communication. It also stresses business ethics and teaches the subject in a format tailored for accounting professionals.
Accounting students get experience through the Volunteer Income Tax Assistance, a federally approved program designed to help people who cannot afford professional tax preparation. They also gain experience conducting audit projects for local businesses and non-profit organizations. 
Candidates for the CPA exam must have 150 hours of college credit. Through the Accounting Extended Learning Program, Augustana offers coursework beyond the accounting major, at discounted tuition rates, for students planning to take the CPA exam.
What graduates say
Eric Dratnol '14, accounting, applied mathematics and business administration–management information systems
M.S. in accounting, Wake Forest University, full-ride fellowship; CPA; Senior Assurance Associate, Pricewaterhouse-Coopers, Chicago
"Augustana's accounting department allowed me to build the foundational accounting knowledge I have needed. In both internship and graduate school environments, I've relied on that foundation to compete with a growing pool of talented peers from schools across the country. The faculty teaches in a way that allows students to retain information and apply it when new issues arise. Between the opportunities provided at internships and graduate school, and the knowledge I had when I left the program, I can truly say Augustana's accounting department has given me the tools I've needed to confidently enter the wider professional world."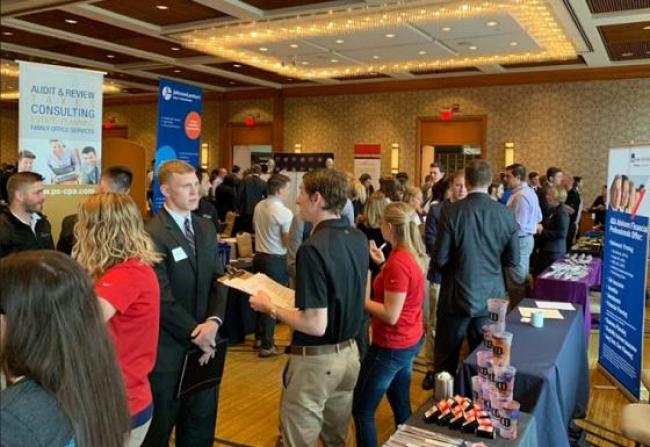 Dana Goggin '17, accounting and business administration–management
Senior Global SOX Compliance Analyst, Aon, Chicago
"I can't help but think about how lucky I was to find this school. I had constant support from my advisor, professors, classmates and my mentor. Through the Augustana accounting mentorship program, I was able to connect with a vice president of an accounting firm in the Chicago suburbs. He helped me set goals and gave me great advice. We still keep in contact and I truly value his support. I am forever grateful for the accounting faculty and staff for their efforts to maintain and develop connections with alumni."
Lauren Goggin '17, accounting and business administration-management
IT-Cybersecurity Consultant, Plante Moran, Chicago
"For a freshman in college, it is difficult to navigate through your education with little direction. Augie and the accounting program gave me the direction and motivation I needed to excel. From internship opportunities, mentorship programs, and strong relationships with faculty and alumni, Augie provides students with the competitive advantage they need to succeed post-graduation."
Nathan Kyes '15, accounting 
CPA.; M.S.A., Wake Forest University, full-ride fellowship; Finance Manager, Interstate Batteries, Dallas
"Being an accounting student at a liberal arts school is a unique experience. Students can accumulate an immense amount of technical knowledge while also immersing themselves in a more holistic experience. The accounting department does a phenomenal job of using the liberal arts approach to create students who are distinctively insightful, relationally driven and globally minded. I can say with full confidence that the Augustana accounting department prepared me well for graduate school, the CPA exam and my career."
Austin Zarbuck '14, accounting and business administration–marketing
Gold Medal on CPA exam; M.S. in accounting, The Ohio State University, full-ride fellowship; Audit Manager with Grant Thornton, Chicago
"The accounting program at Augustana has truly shaped my career path for the better, and I am so proud to call myself an Augie graduate. Starting with the personal attention in the classroom, to setting me up with the right connections, I would not be where I am today without the help of my accounting professors. The curriculum balances the technical knowledge with how to think like successful professionals. The department also has strong ties with a wide array of public accounting firms, private companies and graduate schools, to set students up for that next step. On top of all this, what sticks out most for me about my experience is that the faculty were personally invested in my success and pushed me to reach my full potential."