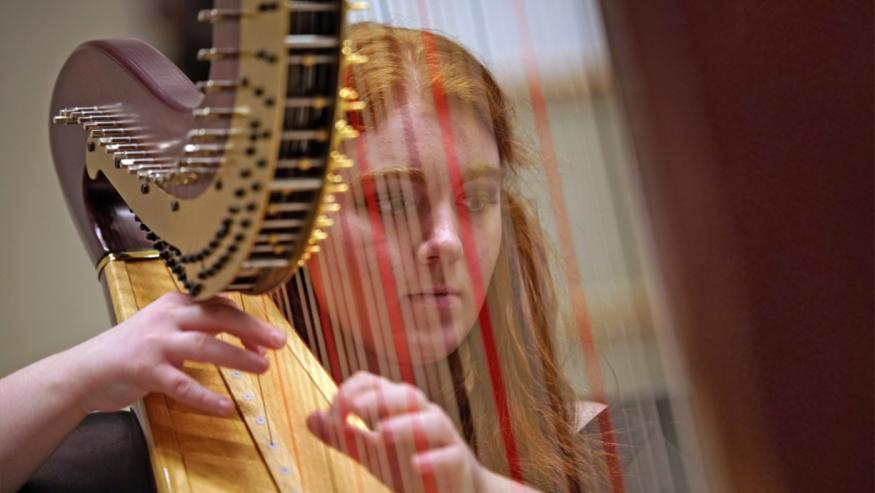 News
Caitlin Thom rocks the harp
When Caitlin Thom '18 decided to pursue the harp, she dreamed of taking the instrument in an uncommon direction: rock. Having recently shared the stage as harpist for the rock band Foreigner, Thom said, "little did I know that I would actually perform with a famous rock group before finishing my undergraduate degree!"
The music performance graduate has accepted a full ride for a master's degree in harp performance at Baylor University in Texas this fall. She credits her studies at Augustana and involvement in the Quad-Cities music scene with opening doors to musical discovery, personal growth and professional networking. 
Thom was offered the gig with Foreigner by Michael Wahlmann '95, a local cellist and the orchestra specialist at Griggs Music in Davenport, where she worked part-time when she first started at Augustana. Looking back on the experience, she noted how it opened her eyes to the professional world of music. 
"In my experience, freelancing musicians are not only some of the most interesting, kind and fun people you will ever meet, but they are also well-versed in a broad variety of musical genres," she said.
She said Augustana's Department of Music helped prepare her by broadening her musical horizons and teaching her styles of music outside the typical harp repertoire.
"At Augustana, I not only played in the Symphonic Band and Orchestra, which are standard ensembles for harp, I was also a member of Kali Yuga, Augustana's free-improvisation ensemble, which was a very different kind of playing for me," she said.
"I really loved playing in Kali Yuga because it pushed me to think deeply about all of the possibilities of sound that I can create on the harp, and since you're spontaneously composing everything on the spot, you really have to project confidence as you perform."
Looking back on her time at Augustana, Thom has some advice for students: "You should make connections with as many people as you can, because you never know what opportunities will come out of those relationships. 
"I also think it's important to strive for excellence in your work," which for Thom means developing her skills to the highest level so she can rise to the occasion of any musical opportunity that comes her way. 
"Augustana has been a great place to continue my musical training these past four years," she said. "My music instructors couldn't have been more supportive. They prepared me for success as a professional musician."