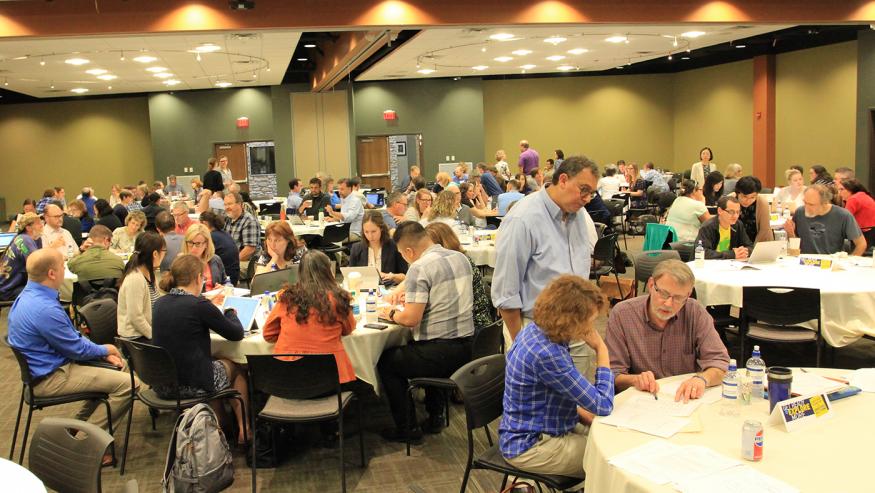 News
On the way to semesters
Commencement weekend was over.  The Quad was quiet. Tadpoles and turtles floated in the Slough. On that Monday, all Augustana faculty members had turned in their grades by noon.  
Then on Tuesday, May 22, 150 professors and several administrators returned to campus and converged in The Gerber Center's large Gävle Room, divided by tables into academic programs. They got back to work. 
It was a half-day faculty workshop focusing on developing course syllabi for Augustana's transition from trimesters to semesters in fall of 2019. The day began with a presentation by Dr. Monica Smith, Augustana's vice president for diversity, equity and inclusion, who spoke on diversity and the curriculum.
Farah Marklevits and Lucas Street of the Reading/Writing Center followed with best practices for using the center's resources. Then Dr. Tim Muir (biology) and Dr. Mike Egan (education) presented on assessment—especially designing assignments so that students can best demonstrate their learning; measuring and evaluating student learning; and using assessment results to keep close track of strengths and areas to improve when supporting learning goals. 
After a brief stretching session led by strengths coach Dr. Pat Shea, the group returned to their tables to work together on their departments' course syllabi for semesters. They put their heads together for a couple hours or more.
Planning an adventure
When they return at the end of the summer for the start of the 2018-19 academic year, academic departments will be that much closer to completing their goals for the calendar transition. Along with advancing teaching and learning practices in the new system, the primary goal for faculty and the college as a whole is to work closely with students for a seamless transition and no loss of academic credits.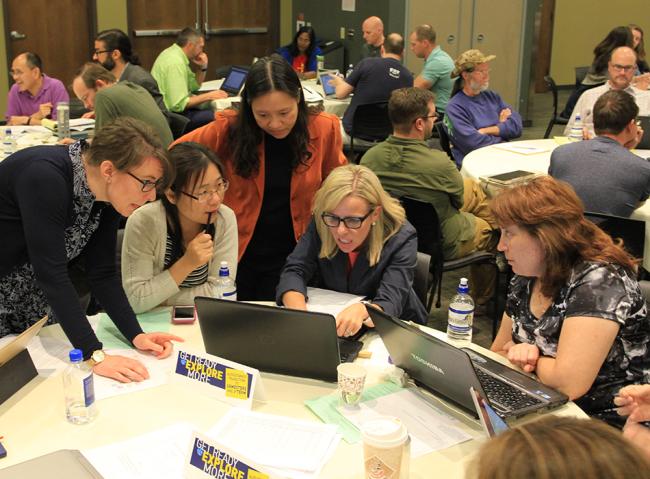 The faculty and administration have been working together on the transition since voting to make the change in 2016. In addition to introducing in-depth learning opportunities such as a J-Term, a semester calendar will allow Augustana to more easily partner with peer academic institutions, most of which also use the semester system, on programs and resources.
Throughout the transition, two faculty members, Gillian Lederman (world languages, literatures and cultures) and Dr. Jayne Rose (psychology), are taking on new roles as transition coordinators. In the midst of all the moving parts, Lederman and Rose see firsthand all the work and consideration that academic departments are giving their curricula and their students as they plan for the future. 
"There are some really exciting changes," they agreed. "It's an adventure."