News
Food fight! What alumni loved the most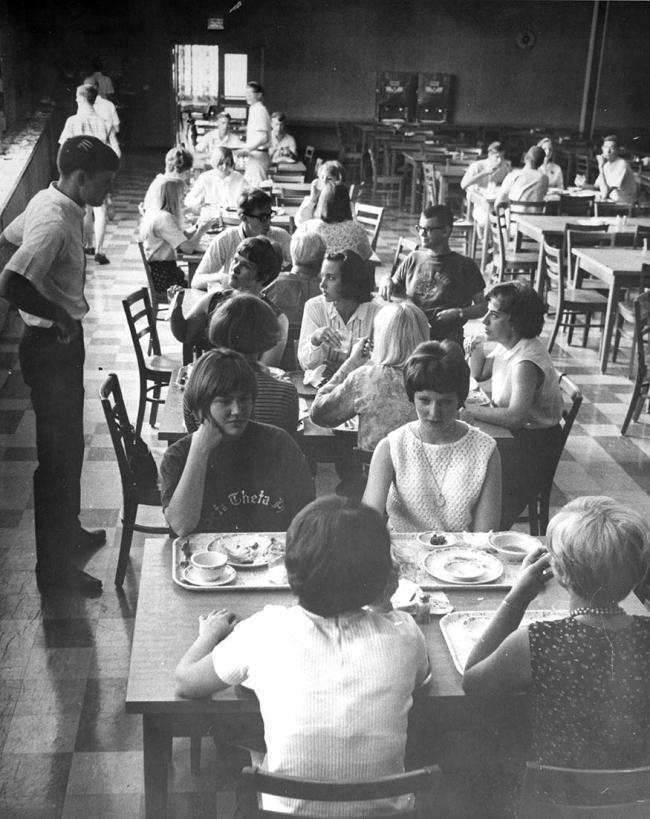 So, tacos.
That's what Augustana alumni liked most as students, according to an unscientific favorite foods poll that ran in the alumni-and-parents newsletter.
Nearly 200 people sent in their taste bud recollections. 
Each graduating class had a slightly different culinary experience but, tacos were the most often-cited and fondly remembered food:
"The taco/nacho bar at Westerlin on Tuesdays and Thursdays! It was a standing date with friends, regardless of whether we lived on upper or lower campus!" — Kelly Schumacher Fuller '07
They also loved taco pizza, taco lasagna and walking tacos.
Not far behind tacos were chocolate chip cookies, salad bar, pasta bar, steaks on Sunday, fruit dip and ice cream.
Followed by a lot of chicken: chicken strips and sandwiches, chicken alfredo, chicken-fried steak, chicken Caesar pita, orange chicken, sweet and sour chicken, chicken stir fry, chicken salad, chicken Kiev, fried chicken, barbequed chicken, Bang Bang Chicken, buffalo chicken and stuffed chicken.
Bosco sticks and Spudnuts
There were some shout-outs for Green Goddess dressing and stuffed mushrooms.
And there were a couple of foods we had to look up:  Bosco sticks and Spudnuts.
Bosco sticks are mozzarella cheese-stuffed breadsticks brushed with butter and parmesan, and one of the hottest foods in cafeterias nationwide, evidently.  Angela Baumgartner '10 and Emily Jacobs '09 remembered them fondly.
Spudnuts are just what you might guess: doughnuts made with potato flour that is said to be lighter. There evidently were a number of Spudnut franchises in the area that supplied the college. (The parent company no longer exists; Potadonut claims to have the original recipe but very few stores are left.) 
At every breakfast on Sundays were Spud Nuts from a local doughnut joint. I still dream of them to this day. — Diane Barnes
Spudnuts — worth getting up for! — Paula Lange '78
Spudnuts (think Krispie Kreme)! — Sharon VanPelt-Adkins '79
Several people mentioned a certain intoxicating fruit dip.
"The old fruit bar in the Westerlin cafeteria with the brown sugar cream cheese dip!" — Christina Gosiewski '16
"I loved the weird fruit dip. Can't even remember what it was called now. I always thought it was funny though how visiting parents would go nuts for it and current students were like, blah, we see and eat that every day." — Lindsey Yeider '13
Off-campus eats
When they ventured off-campus to eat, alumni had their favorites. Not all remain in business but are still remembered fondly. Here they are (starting with the most popular):
Arthur's Garden Deli
La Rancherita
Whitey's Ice Cream
Lee's
Harris Pizza
RIBCO
Village Inn
Lemongrass
Happy Joe's
Checkers
Chi Chi's
Cheddar's
Chipotle
Alfano's Pizza
Blue Cat
Henry's
"The Hilltop drive-in (now the parking lot of Cavenaugh's kitty-corner from the soccer/lacrosse field), frosted mugs sodas, hamburgers and crinkle fries. A weekly treat was a hand-packed pint of chocolate ice cream at Pitchers, 30th Street just north of 18th Avenue." — Wayne Wille '74
More memories
Read on for more memories but be warned: You will feel like having a snack.
And who knew that Baskin and Robbins ice cream pie and lobster tail once were on the menu!
"I don't remember the various menus very well, but what I do remember is grilled cheese sandwiches for lunch at Andreen Cafeteria. I usually ate four to six of them on the day of the week they were served, which I think was Wednesday. My many return trips to the serving line gave much amusement to the serving staff." — Thomas R. Hall '78
"Honestly, my favorite was the "care package" chocolate chip pan cookie that my parents would order and send to me on my birthday so I could share it with friends in celebration of my birthday. I still have the care package note in my Dad's handwriting that accompanied the first one he sent. While there was zero nutritional value, there was immeasurable emotional value — still is whenever I stumble across that little hand-written note from my Dad." — Diane Mrakitsch '81
"Anything with buffalo sauce! My friends and I would always make an effort to go to the CSL when buffalo chicken sandwiches were served." — Robert Nicholas '18
"It was a tie between the frozen yogurt and the mashed potatoes! Frozen yogurt was the new thing to hit the cafe, but my go-to was always mashed potatoes, especially if the frozen yogurt line was too long!" — Mindy Matthews '98
"The manicotti was a definite favorite. There was an extra cheer when the cozy carb was on the menu." — Marcy Youngren '82
"First choice: the square rolls that would be served at the buffets for Easter, Christmas, and Thanksgiving. Second place: chicken-fried steak at brunch on Sunday." — Kimberly Hedlin '11
"Potato soup and chicken sandwiches from Marilyn and Corky at the Cafe!" — Anne Kotleba '04
"As far as school food goes, Augustana was actually pretty decent. I looked forward to mornings over at Westie where I could get a scramble. It was on the hot food line, and yeah, it was probably just leftovers from the week thrown in the pan with some eggs, but it was hands down my favorite thing. Topped it off with a crap ton of crispy bacon (the cafeteria workers knew I was coming and set the extra crispy ones aside.) … I don't think Augie coined this but it was damn good (and a terrible gut bomb.) Pasta Half and Half. Open bar pasta nights saw the disgustingly gut wrenchingly yet deliciously addictive pasta topped with marinara sauce AND Alfredo sauce. I swear to God there were students who licked the plate clean." — Lindsey Yeider '13
"Saturday steak breakfast before the afternoon football game. (Game day team breakfast)" — Bill Gruber '67
"All vegan foods, especially the (1) tomato braised cauliflower (2) "chicken" and garbanzo bean Indian dish (3) vegetable stew." — Parent Scott Jacobs
"The nacho bar! We'd always pile the toppings high and have to walk slowly to our table so as not to spill. There was always something magical about that bright orange cheese sauce. Brain food!" — Meredith (Wachholz) Hodge '07
"I loved to make waffles every morning. I used to mix chocolate chips into the batter so they wouldn't stick to the waffle maker. When the cafeteria moved to the library, there were no more chocolate chip waffles. :( I also loved the ciabatta rolls." — Kaylee Wagner '14
"Breakfast Night! I loved heading to the College Center after jazz band on Tuesdays for French toast. Some of my friends liked the Breakfast Pizza, but I was never that daring :-)" — Paige Tinsman '11
"Three things come to mind: 1. This is where I discovered Green Goddess salad dressing, which I still use today. 2. Rice and curry - thicker than I ever had at home, but tasted wonderful. 3. Salmon at the pre-Messiah banquets, full salmon on the table and you took however much you wanted." — Krista Lane '90
"I guess I'd have to say Brussel sprouts. That's not really true, but they are one of my most vivid memories of the dining hall experience at Andreen in the mid-'60s. If Brussel sprouts were on the menu on Tuesday, and we didn't eat them all (and we never did!), they'd be back on the menu on Wednesday ... and then Thursday ... and then ... until they were gone. My, times certainly have changed, haven't they?" — Gordon Nelson '67
"I liked all the food when we would come to visit! But more than that, was the opportunity on graduation day to eat as a family in the dining hall after the convocation! It was so nice, we had a nice meal and then moved on to the graduation ceremony. I do miss Augustana." — Parent Linda Hallberg
"We have eaten in the dining hall several times last school year with/without our student. Every time there is such a variety that is fresh and flavorful!! The salad bar, soups are my favorite. My husband loves the American Grill section. Keep up the great work Augie Dining Services!" — Parent Janis Kohler
"It has been 60 years since I ate food at Augustana College and all I can remember is that it was all good and nourishing and Becky knew how to fix meals that college students could stomach!" — Ron Bennett '58
"Thursday lunch, which was a delightful selection of delicious sandwiches and soup, frequently tomato soup. (In the '50s I guess we were easy to please.)" — Ken Tillman '54
"Lobster tail was served at select weekend evening dinners in 1968 and 1969. " — Thomas H. Johnson '69
"I haven't the remotest idea! I've tried my best to remember, but I can't. I certainly have positive memories which just means I was well pleased! Since it is now 71 years since I graduated, maybe I can be pardoned by not being able to remember!" — Chuck Bomgren '47
"My freshmen year was nacho Tuesdays and Thursdays but Tuesdays always brought my friends together. My sophomore year it was the dumpling soup. My junior year, chicken salad/tuna salad on a croissant and the soups. My senior year, it was some crazy combination of all the things. I loved the ladies that served us, that rang us up, and always seemed to keep an eye on us." — Sarah Moore '06
"Baskin Robbins ice cream pie, didn't matter which flavor. It helped to ease the freshman year homesickness. I felt like someone cared enough serve such a decadent dessert." — Elizabeth Larsen '90
"Stuffed portabella mushroom caps. They were stuffed with some kind of wild rice mixture. As far as I know, they were only served at the College Center and not served very often. Also the lemon bars. My friend who worked in the College Center kitchen would sometimes smuggle me back a lemon bar in her pocket!" — Jill Zelinski '10
"At that particular age of Augustana's long history, all boys (young men) ate in the dining room of Andreen Hall; girls (young ladies) at W.B. (Women's Building, on 7th Avenue). Becky (am so sorry — for the life of me, I can't recall her last name) was head dietician of every meal no matter which dining facility. Sunday breakfasts were always outstanding: eggs, bacon, sausages, baked sweets, and MILK (my goodness, did guys ever drink so much milk?!). But, WITHOUT A DOUBT, our favorite meal of all was at lunch: SANDWICHES. One could have as many as he or she desired. At Sunday lunch/dinner combination sittings the best fare was roast beef/mashed potatoes and gravy. At certain intervals, roast turkey was offered — right from the bird — no processed kind." — Dave (Fuzzy) Reid '57
"On those rare occasions called "parents or family day"  the food service would put out a wonderful smorgasbord on both Friday and Saturday to include prime rib, roast turkey, smoked salmon etc., etc. And then by Thursday or for sure on Saturday we would have a type of meatloaf or a thick soup to enjoy. Even to this day, I much prefer the meat loaf!" — Scott Lincoln '73
"My freshman year I lived in Andreen Hall. Our Thanksgiving dinner was Rock Cornish hen, something I'd never heard of before, let alone eaten. My favorite food and strongest memory was the cardamom roll and coffee served to me and all the freshmen at 4:00 or 5:00 a.m." — Esther Kaetzel nee Bengtson '70