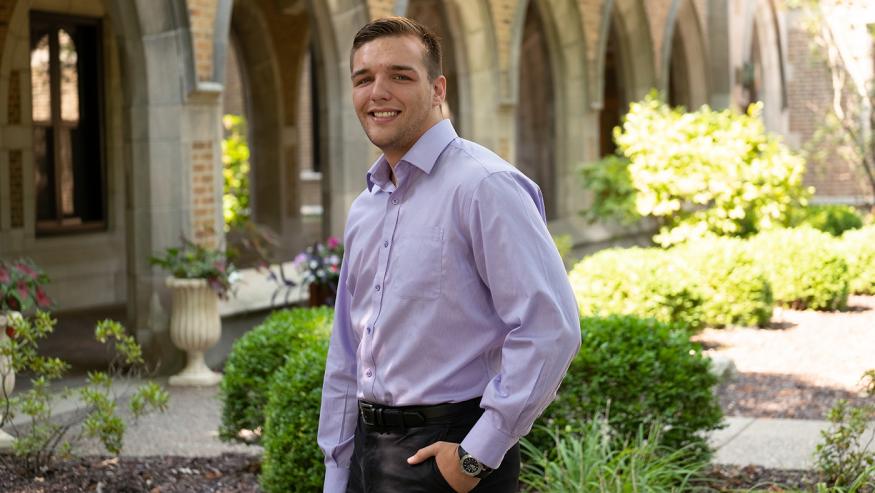 News
Accounting for success
Recent accounting graduate Nick Niles has received a $10,000 scholarship from the Public Company Accounting Oversight Board, which oversees the audits of public companies and broker-dealers. The board established the PCAOB scholarship program to encourage outstanding undergraduate and graduate students to pursue a career in auditing.
"This scholarship helped boost me into grad school," said Niles, who is pursuing a master's of accounting (MSA) at Wake Forest University. 
Because Augustana is considered one of its key schools for recruiting, Wake Forest University offers Augustana students a discounted tuition for its MSA program.
Earning the PCAOB scholarship is no small feat. Niles was nominated by the department head, John Delaney, for his outstanding performance as a student at Augustana. 
"I always like to mention how fortunate Augustana is to have Dr. Delaney," Niles said. 
Augustana's accounting faculty goes above and beyond to help accounting majors find career-building opportunities, both in college and after graduation. In recent years, 80-95% of accounting students have completed at least one internship. The department can boast a near 100% placement for accounting majors after graduation. 
According to Dr. Delaney, a liberal arts education is another reason for graduates' success. Employers want Augustana graduates for their critical thinking, leadership and communication skills, and for their strong grasp of ethical business practices.
By Kordell Benson '19