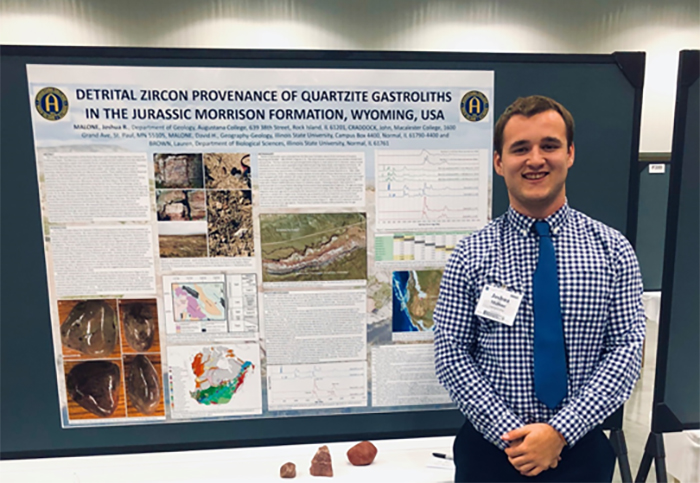 Readers of the New York Times will find Joshua Malone's Senior Inquiry geology project featured! (That's Josh above with his SI poster in 2020.) 
He theorizes that polished stones he found in Wyoming are gastroliths (stones that animals swallow to help digestion), and that dinosaurs carried them out west from Wisconsin. His paper won Best Undergraduate Paper from the Society for Sedimentary Geology in 2018, and his further research has been published in Terra Nova.
Malone is working on his Ph.D. in geological sciences at the University of Texas.
Recognizing our talented faculty, past and present
Have a Dr. Tweet writing prompt to share?
Farah Marklevits '99 of the Reading/Writing Center and English department is collecting memorable writing prompts from the late Dr. Roald Tweet, such as: Write an essay with only one-syllable words. 
Submit a Dr. Tweet prompt to help Marklevits and her colleagues dream up a few projects of their own — à la Tweet.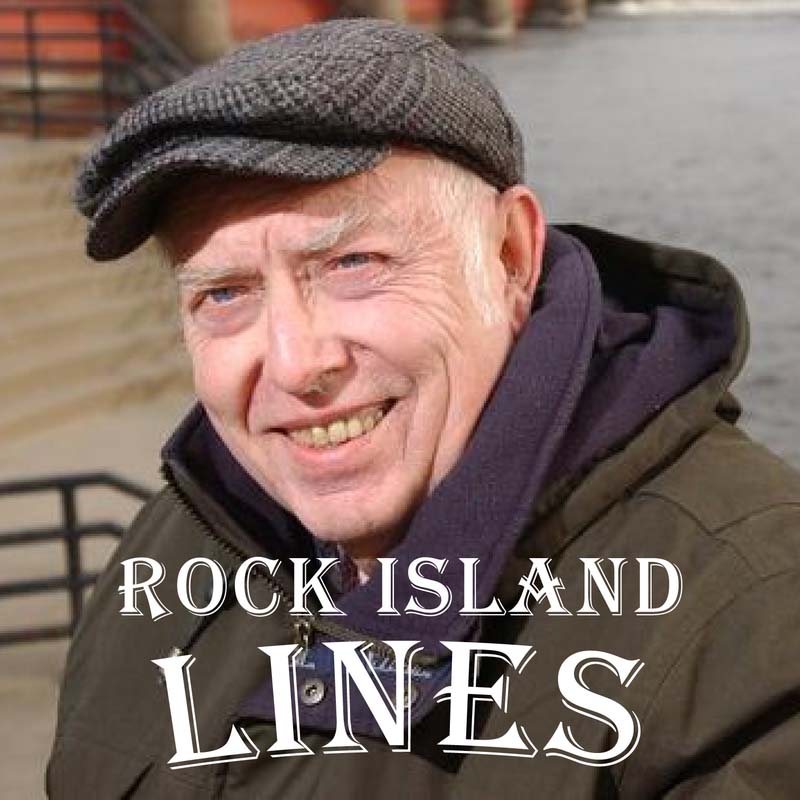 Need a break on a hectic day? Former Augustana professor Dr. Ann Boaden '67 recently wrote and spoke The Grace of Rabbits for WVIK's "River Way Stories."
Need some perspective? Professor of English and former coach Dr. Paul "Ols" Olsen talks about Vikings athletics in the past 50 years and what makes the student-athlete experience so special.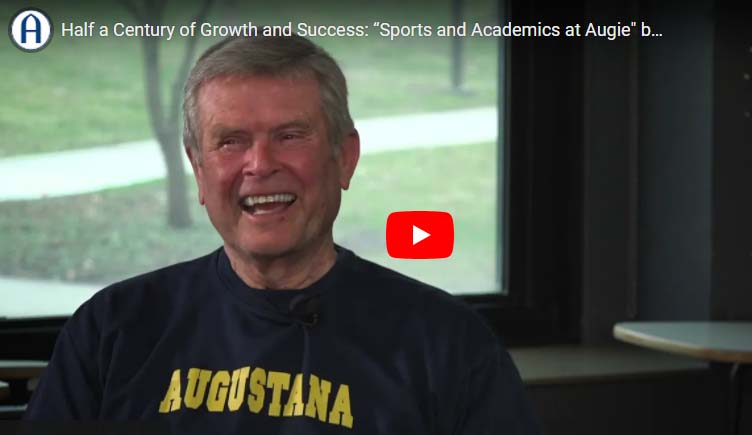 We will be featuring More Than I Imagined 2011 grads to see where they are today, and how they got there.
First up? Dr. Jeremy Hoffman, who is not quite where he thought he would be and couldn't be happier.
→ See our More Than I Imagined alumni 2011-2021!
Campus news
• The college held a vaccination clinic for the campus community at the PepsiCo Center on Saturday.
Holding her "Vikings get vaccinated" sticker is Awurama Boafo '21 from Accra, Ghana. She's majoring in CSD and now choosing a master's program.
• Augustana plans for in-person classes this fall.
• Vikings varsity teams are back in action.
• The Lindberg Center is taking shape. Photos!
Thank you! Our recent Blue, Gold and Bold 48-hour challenge blew past the goal of $500,000, ending at $624,066. More than 1,650 people made a gift and showed that they believe in our students, and want to ensure their success.
Enjoy these latest class notes, including marriages, births, awards and more.  
Save the date
April 14 6:30 p.m.  — A Conversation on Race with Michael Rogers '12 and Jack Cullen '13. Register. The program will be repeated on May 12.
April 22 5:30 p.m.  — The Storytelling of Earth Day with Dr. Jeremy Hoffman '11. Register.
May 13, 5 p.m. — Spiritual Well-being with Pastor Christina Garrett '08 Klein, Dr. Jason Mahn and Campus Chaplain Melinda Pupillo. Register.
May 23 — Commencement for the classes of 2020 and 2021
Sept. 18-19 — Family Weekend
Oct. 1-3 — Homecoming (in-person reunions for classes ending in 10s, 5s, 1s and 6s, if state guidelines allow)
All event times listed are Central Standard Time.