Alumni newsletter

October 2018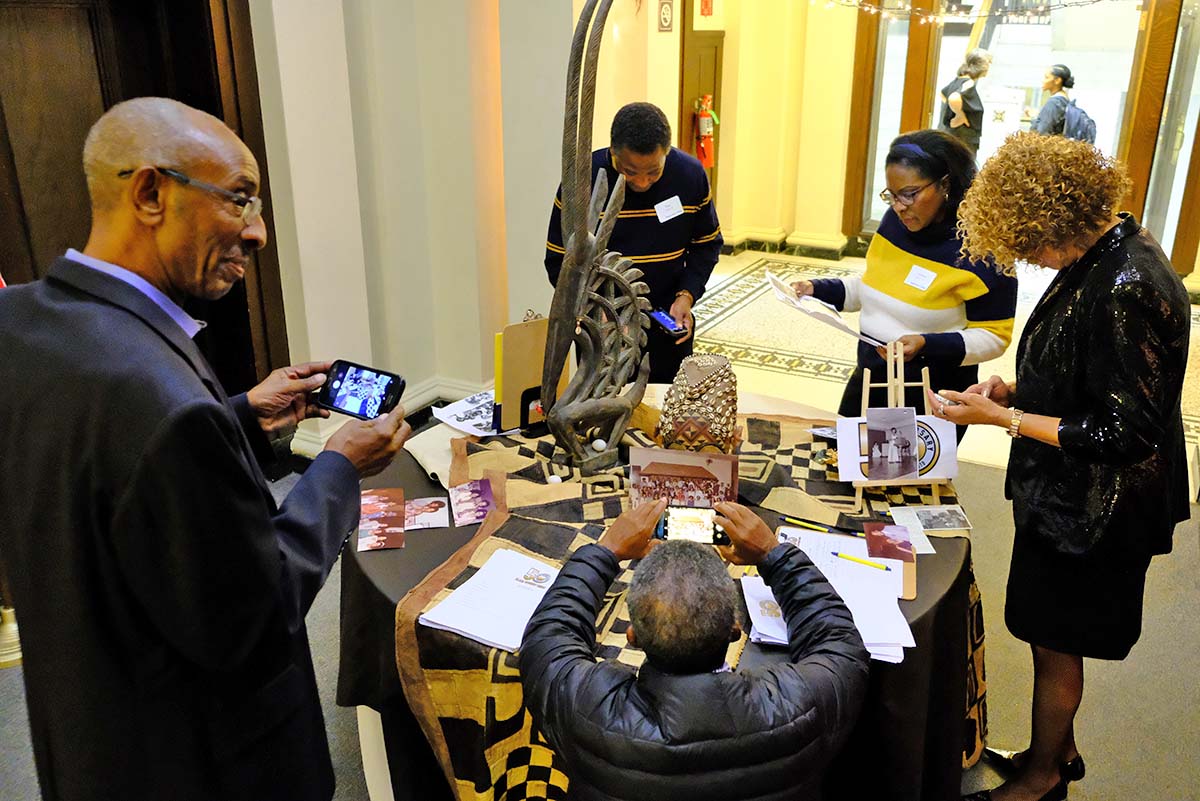 Alumni check out the table of memorabilia before the Black Student Union anniversary celebration.
A special thanks to all alumni who came, celebrated, toured and reminisced at Homecoming last weekend.
See Homecoming highlights and the Class of 1968 reunion.
Hear what the Black Student Union meant to alumni from the 1970s and its importance today, plus photos from the BSU anniversary celebration!
---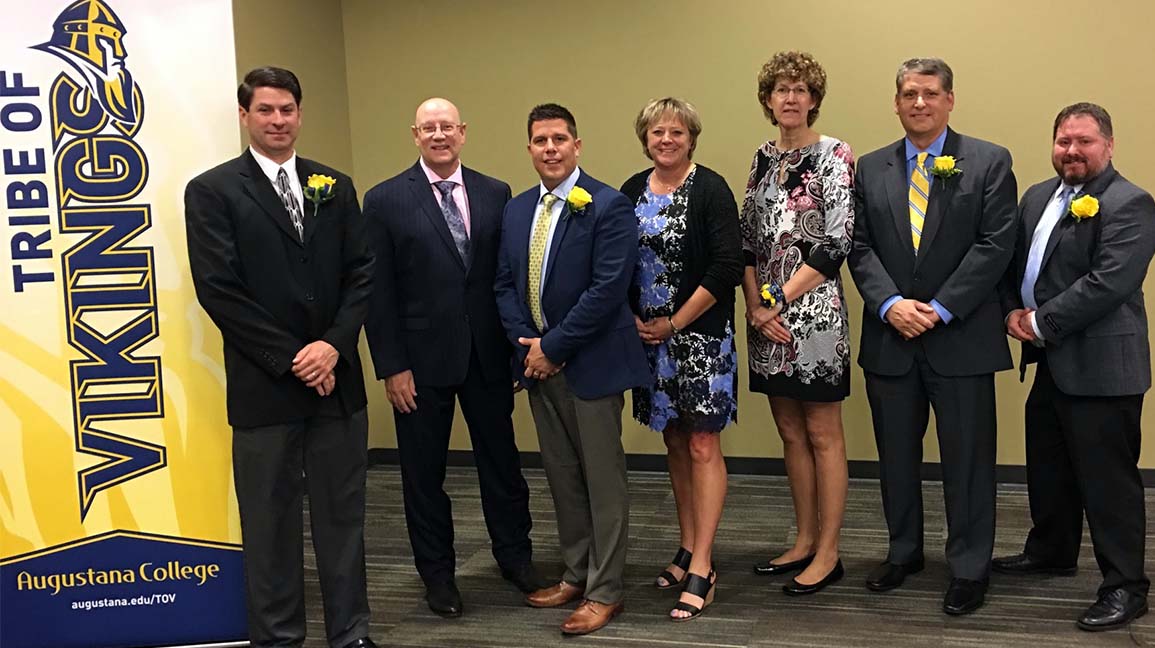 New inductees to the Tribe of Vikings Hall of Fame during Homecoming are, from left, Mark Zemke, John Stanek, Bryan Welder, Mary McGivern, Deb Rogiers Slothower, Lance Hofer and Jamie Pales.
Dave Wrath, Augustana director of sports information says: "If you want to understand what Augustana athletics is all about, take the time to watch this archived video of the Hall of Fame ceremony." (The action starts at 05:47 on the timer.)
"If you really want a story about the essence of what Augie means to our athletes, go to 1:08.31 and listen to John Stanek's story about his friend John Hammermeister. It is is moving, it is heartfelt and it is Augustana."
---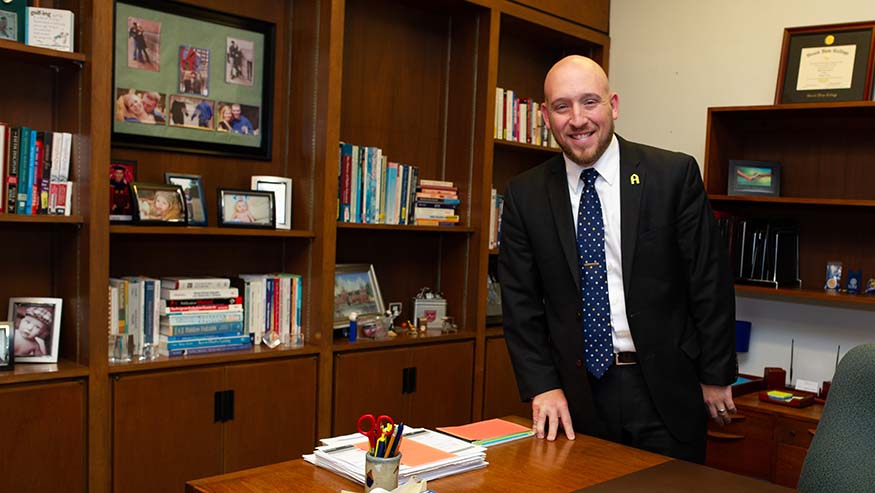 Dr. Wesley Brooks has joined Augustana as vice president and dean of student life.
"The opportunity to serve a place dedicated to student success and preparedness for life after college makes me very excited to be a part of the Augustana community," he said.
Dr. Brooks will oversee several areas, including athletics, Augustana police/public safety, counseling services and residential life. He also will be part of the college's Title IX team. (Read more)
---
Campus mourns Dr. Dorothy Parkander
Dr. Dorothy Parkander, an Augustana professor emerita of English whose 50-year teaching career touched an estimated 40,000 students, died Oct. 8 in Rock Island. (Read more)
---
Symphony Orchestra tour Nov. 2-4
After their home concert, the Augustana Symphony Orchestra Made in America tour will travel in Illinois and Wisconsin Nov. 2-4. If you are in the neighborhood, come and enjoy the music!
Oct. 13 Home concert, 7 p.m., Centennial Hall
Nov. 2, 7 p.m., Good Shepherd Lutheran Church, 5701 Raymond Road, Madison, Wis.
Nov. 3, 7:30 p.m., St. Luke's Lutheran Church, 300 Carroll St., Waukesha, Wis.
Nov. 4, 3 p.m., St. Mark's Lutheran Church, 27 S. Edgelawn Drive, Aurora, Ill.
---
Bock-style bell tower gets a makeover
It is an image that is instantly recognizable to alumni.
The venerable bell tower recently has received some maintenance and a paint job as a part of the college's campus beautification campaign.
The bell itself weights 731 pounds and cost $282.51 in about 1875.
The tower is a "bock" (goat) style, so-called because the legs resemble the legs of a goat. (Read more)
---
Save the date
Oct. 12-21 "The Crucible"
Oct. 27 Augustana Symphonic Band concert
Oct. 28 Augustana, St. Ambrose Collegiate Challenge
Nov. 1 Augustana in Des Moines
Nov. 3 Alumni and friends in San Francisco
Nov. 3 Augustana men's basketball exhibition vs Illinois State
Nov. 16 Art museum opening: "Världen är liten/The World is Small"
Nov. 16 Opera: "Songs of Survival"
Nov. 29 Polar Lecture: "Unfreezing the Arctic"
See the complete calendar of events.
---
Bookstore alert: A few autographed Ken Anderson jerseys are still available. A portion of the proceeds benefit the Ken Anderson Alliance for adults with developmental disabilities. Order here.
---