Printing Policy
Where to print
General printing for Students and Employees
Laser printing for academic and personal use is available in academic computing labs (i.e. the library, Olin, ITS, etc). Printing for commercial use is not permitted in college computing labs. ITS does not support personal printers.
Printing from Campus devices
Printing in the Library
The computers in the library are set to the LibraryFindMeQueue. To use this print queue:
Print your job.
Set the printer to the LibraryFindMeQueue.
Go to any printer in the library and swipe your ID card or sign in with your username and password.
Your print job will automatically print from that device.
Printing to the Find-me queue
The Find-me queue works exactly like the LibraryFindMeQueue except that your print job can be released at any printer on campus with a card swipe not just at the library printers.
Printing from personal devices
View video about printing from your personal device here: https://youtu.be/d2rmtq9qSaI
Print from email
Save your document as a PDF.
Log into your Augustana email account.
Address an email to printing@augustana.edu and attach the PDF of the document that you would like to print.
Go to any campus computer with a card swipe to release your print job.
Webprint
Save your document as a PDF.
Go to printing.augustana.edu.
Click on Webprint.
Click Submit a job.
Choose the printer to which you would like to print.
Click on Print Options and Account Selection.
Click Upload Documents.
Drag and drop your PDF into the Drag files here box.
Click Upload & Complete.
Mobility Print
Can print directly from applications (no need to save document as a PDF).
Setup Mobility Print on your computer
Note: The following instructions are for Windows computers, but Mobility Print can be used on other operating systems as well. Just follow the directions on the installer.
Also, a good print queue to choose is the Find-me queue so that you can use "Find-me" printing on your own device (instructions above).
Click on Download Mobility Print.
Run the installer.
Select the checkboxes next to each printer that you would like to install and use and click Next.
Enter your Username and Password and click Next.
Click Finish.
Once Mobility Print is set up, you can print directly to those printers as long as you are on campus.
Larger/specialized print jobs
Large print jobs, posters, departmental or student organization printing, or multiple copies (i.e., signs, newsletters, or flyers) should be directed to the Copy Center in Sorensen Hall. Student worker accounts should be used to print work-related documents only. To contact the copy center for more information: (309) 794-7301 or copycenter@augustana.edu.
 
Printing credit may be monitored at any time at http://printing.augustana.edu. Costs of employee printouts are attributed to their department. All students are automatically granted a complimentary printing credit amount of $50 per academic year. All lab printers have a per-page cost associated with the printer, which will automatically deduct from your account.  Current printing values for students are noted below:
| | | | |
| --- | --- | --- | --- |
| Printer Type | Cost per page | Pages available for annual $50 credit | Pages available for $5 recharge card |
| Black and white, per side | $0.02 | 2500 | 250 |
| Color, per side | $0.06 | 833 | 83 |
When remaining printing credit falls to $10.00, an e-mail notification will be sent to students as a warning. When remaining credit reaches zero, the system will send another e-mail notification and printing will be temporarily disabled until more credit is added.  Credit may be added by purchasing a refill card in $5 increments at the College Center Bookstore or the Tredway Library Circulation Desk.
 
At the end of the academic year, any remaining credit is waived.  Credit for paper jams or other errors may be requested at helpdesk@augustana.edu.
 
If you have questions about the printing policy, please contact the ITS Helpdesk at x7293 or at helpdesk@augustana.edu.
Revised 2/20/18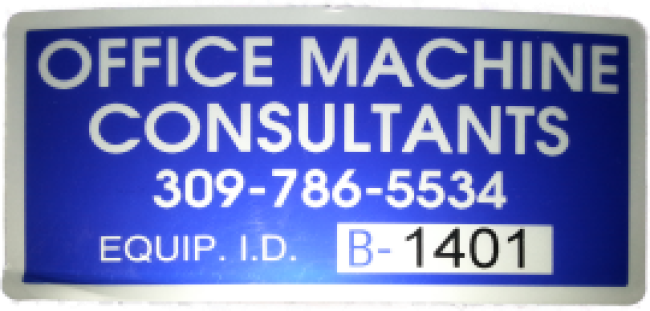 OMC vs ITS printing support
Augustana has partnered with Office Machine consultants to support our printers. So who should you contact if you have a problem? Follow the guidelines below and if you need to call OMC, please make sure to note the "B number" on the printer's blue OMC label.
OMC responsibilities
Printer failure
Quality issue
User training needs for printing
Toner questions
Software or features running int he printer firmware (Touchscreen Kyocera or Papercut client)
Support for billing
Relocation of large MFPs
ITS responsibilities
Network cable and routing
IP/queue creation and assignment
Standard client configuration (driver installs)
Simple relocations of printers within buildings
Papercut administrative functions
Print server software updates
Revised 9/26/2018