Visiting for Genealogy Research
If you wish to search our records yourself, you are welcome to visit the Swenson Center. 
Appointment
Research at the Swenson Center is by appointment. Please contact us to schedule your visit, to be sure that we have space to accommodate you and staffing to assist you on the day you wish to come.
While doing research at the Center, we will provide the help you need by pointing you in the right direction and by helping you read the Swedish handwriting.
Forms
Besides scheduling your time with us, there are two forms you should fill out in advance, to prepare yourself for your visit and make your time here more efficient. First, we encourage you to read and fill out this Researcher Registration and bring it with you, rather than taking the time to do it here.
We also ask that you organize your information onto our Genealogy Visitor Research Form and bring it with you, being sure to fill in the "Information you are Seeking" lines. Having your information in this format will help us and you to make better use of your research time. Bring that form in addition to the Researcher Registration Form.
Note: if you are in Sweden and looking for immigrants who came to the U.S., see our För Svenskar page. 
Resources
For a comprehensive list of our most-used genealogical sources, see our Resources for Swedish-American Genealogy page. Please look at this page carefully, including the "Using Parish Records Subscriptions" section, as some records are not available every day and some carry additional usage fees.
Consider also that we have over 20,000 books that may be useful to your research. Our books are cataloged and titles are searchable online in the Augustana Library's Catalog, ALiCat. Learn more on our Library page.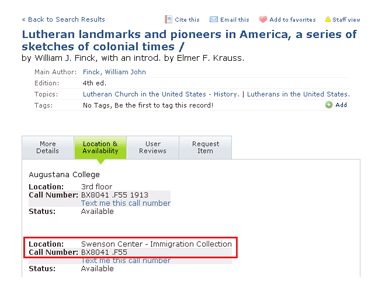 Search the library catalog for pertinent keywords such as name of settlement, name of church, or name of parish in Sweden, and email us any resulting book titles and call numbers before your visit so that we may retrieve them from our stacks before you arrive, saving you time. Important: Please note both the Location and the Call Number when requesting a book. 
Fees
The Swenson Swedish Immigration Research Center is a private, nonprofit organization dedicated to providing resources for the study of Swedish immigration to North America. For that reason, the fee for conducting genealogy research at the Swenson Center is $10 per day ($5 per half day). Note that a few of our specialty records have an additional hourly usage fee, to help us pay for their subscriptions.
Genealogy research is free for Swenson Center annual supporters. Consider becoming an annual supporter today!