Summer housing information
Augustana College's summer program was developed to provide safe, comfortable housing for Augustana students and interns studying and working in the Quad Cities.
Our apartment-style residences, designed for older students, offer a comfortable housing experience for interns living away from home for the summer.
For more information, contact Residential Life.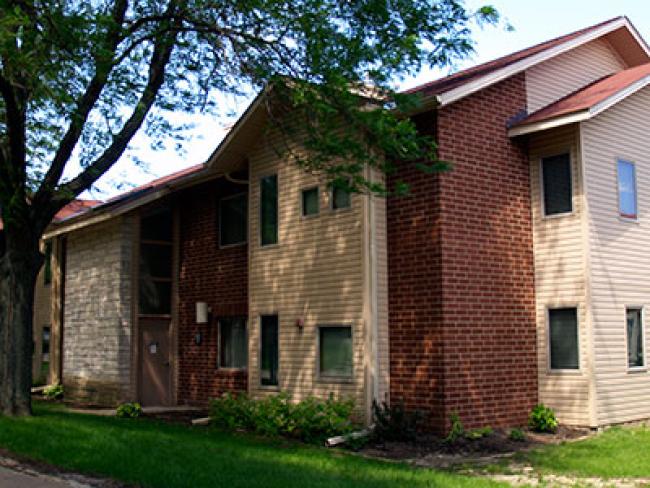 Housing for interns
For 2023, Augustana College will offer intern housing beginning June 3 and ending Aug. 5.
Interns will be assigned apartment-style housing. Each apartment has four single-occupancy bedrooms. Interns should expect to share the apartment with up to three suitemates. Each suite comes with a full-service kitchen with a dining room set, a bathroom and an unfurnished living room with a cable TV hookup.
Furnishings in your room include:
Single, extra-long bed
Desk
Desk chair
Dresser or clothing rack
Overhead lighting
Wi-fi
Cable access in living room
Windows with blinds
Air-conditioning
Room dimensions are available in Transitional Living Areas. 
The extra-long mattresses are 36" x 80". You can find extra-long bedding at most major department stores.
Housing for Augustana students
Augustana students will be housed in single rooms in apartment-style housing with up to 3 suitemates.
Augustana students will be able to select roommate groups and choose summer housing the week of May 15.
Those living on campus in the spring will be allowed to move directly to their summer assignment once the apartment is clean. Those not currently on campus can move in on June 3.
Those living on campus in the fall will be allowed to move directly to their fall assignment in August. Those who are not living on campus in the fall should plan to move out no later than Aug. 5.
Application process
Summer housing applications will be available in March 2023.
→ Application for non-Augustana student interns
→ Application for Augustana students. Log in and select the Summer 2023 application.
Applications must be received by noon on Friday, May 12, to receive a housing assignment the week of May 15. Late applicants will be offered housing on a space-available basis.
Rates
Weekly $180
Augustana summer student employees will be charged a discounted rate. Contact the Office of Residential Life for more information. 
Payments of cash or check are to be made in the Office of Residential Life. Interns will be asked to pay their first four weeks ($720) payment at check-in. Augustana students can have summer housing fees applied directly to their student accounts.
Check-in information
Starting at 8 a.m. Saturday, June 3, interns can pick up keys for summer housing from Swanson Commons, located at 1010 38th St. Interns will need to bring a photo ID and a check or cash for four weeks of rent ($720).
Services
The PepsiCo Recreation Center (309-794-7705), with a weight room, exercise equipment, tennis and racquetball courts and indoor track, is open limited hours in summer.
The library has several computer workstations available for use.
The Brew by the Slough, with a variety of coffee and specialty beverages is open. It also serves pastries, sandwiches and salads.
Mail is not delivered to individual campus buildings. Because the campus mailroom closes at 3 p.m. Monday-Friday in the summer, we recommend that your personal mail be sent to your employer. If this is not feasible, please contact the Office of Residential Life.
Free parking is available nearby for those with summer housing assignments.
Community living policies
We expect you to be considerate of you roommates and neighbors. Quiet hours are observed each weekday after 10 p.m. and on weekends after midnight.
Residents ask for the approval of roommates before inviting an overnight guest. Guest stays are limited to 48 consecutive hours.
Fire and safety regulations prohibit the use of some types of appliances. As a general guideline, appliances rated over 6 amps (700 watts), with the exception of computers, are not permitted. Small toasters and toaster ovens, and cookware with exposed heating elements are restricted to use in the kitchen.
You will be asked to complete a room inventory when you check in. You will be held responsible for any damages you cause and your employer may be notified of any unjustifiable damages. Residents of each suite will be held mutually accountable for all unassignable damages that occur. These charges will be divided among suite residents.
Cleaning
You are expected to keep the apartment clean throughout your stay, and are responsible for purchasing your own cleaning supplies.
Work orders
Work orders can be submitted online. Please include detailed information about the request and a contact phone number. Work orders can be submitted for a variety of issues including appliances and lighting, as well as any problems that may occur with insects or other pests. As much as we hope everything will remain working properly, repairs occasionally arise.
Laundry facilities
Laundry machines are located in each building. The cost is $1.25 per wash and $1.25 per dry.
Please report any problems with the machines to the Office of Residential Life, 309-794-2686.
Items to bring
Bed linens and mattress pad
Cooking utensils
Computer (network access is provided)
Cleaning supplies
Clothes basket or bag
Clothes hangers
Desk and bed lamps (halogen bulbs are not permitted; compact fluorescent bulbs or LED bulbs are encouraged)
Eating utensils
First aid supplies
Laundry supplies
Microwave
Phone
Toiletries container
Towels and washcloths
Umbrella or rain gear
Small vacuum
Other things to consider
Living room furniture: The living area in each apartment is not furnished or lighted. You are welcome to bring your TV (basic cable service is available), lounge furniture and lamps. Remember that this area will be shared with up to three other interns or Augustana students living in your suite.
Kitchen items: Your kitchen is furnished with a table (four chairs), electric stove, standard-size refrigerator, sink, cabinets and counter space.
Bicycles: If you bring a bicycle, you may not keep it in the stairwell or hallways of the apartment. Bikes stored outside should be chained and padlocked. Motorized bikes must be kept outdoors.
Computers: If you bring a computer, WiFi and wired internet access is available. More information about specifications for the types of cables required for network connections is available upon request. You will be provided with guest log-in information at check-in.
Things NOT to bring
Air conditioners
Alcoholic beverages (if you are under the age of 21)
Candles
Electrical appliances rated over 6 amps or 700 watts (except computers)
Firearms, weapons, fireworks
Grills (park grills are available on the grounds nearby)
Halogen lamps
Illegal drugs
Incense or heated potpourri pots
Large power tools
Lighter fluid or other flammable materials
Pets (only small fish are permitted)
Waterbeds
Medical care
Unity Point Express Care, 106 19th Ave., Suite 103, Moline; 309-764-6006
Unity Point Medical Center East Campus, 501 10th Ave., Moline; 309-779-5000
Trinity Rock Island, 2701 17th St., Rock Island; 309-779-5000