How Augustana is transitioning to semesters
Augustana faculty and trustees voted in 2016 to transition from a trimester schedule to semester calendar. That transition is underway, and students will begin registering for semesters in the fall of 2019.
In addition to providing more time for in-depth learning opportunities (see J-Term below), a semester calendar allows Augustana to more easily partner with peer academic institutions — most of which use the semester calendar — on programs, including study away, and resources.
A semester calendar also is more accommodating for students transferring to Augustana, and those who miss time because of illness or other unexpected circumstances.  
All trimester coursework will transition to the semester calendar. No credits or coursework will be lost.
To keep current students on track toward earning a degree in four years, the college offers a Transition Guarantee: All students who start between the fall of 2016 and spring of 2019 will be able to complete an Augustana degree within four years. Beginning in the spring of 2018, students and advisors will meet each term for mandatory meetings to design and evaluate academic plans to ensure students can complete their degree in four years. 
Students must make satisfactory progress toward their degrees before and after the change to the new calendar and follow the plan they create with their advisors for the Transition Guarantee to apply, said Dr. Kristin Douglas, associate dean.   
Oct. 15, 2018
With 323 days before students are welcomed to their first day of class in a semester calendar, the campus community has been busy working through the many tasks related to the calendar change. Here are a few of the highlights:
Departments have been entering specific information about courses that will be offered during the 2019-20 academic year ensuring that there are enough courses, at the appropriate level, in all areas, for students.
ITS and the Business office staff have been running simulations of the billing schedule to verify that the necessary adjustments to billing cycles are being made.
The registrar's office is entering all details provided by departments into the master schedule which provides our students with the necessary information when selecting courses.
The transition coordinators continue to offer pop-up sessions in the Brew every Tuesday from 11:30 a.m.-12:30 p.m. to answer questions that students may have about the change to a semester calendar.
Advisors are meeting with students to help them plan their schedules to ensure that students stay on track an complete the required courses for their program of study.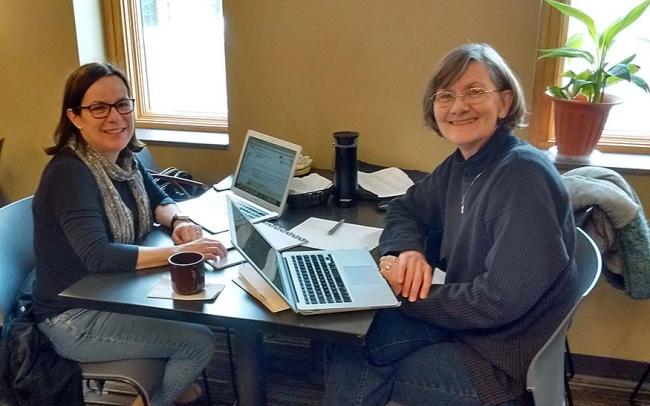 May 18, 2018
As the 2017/18 year comes to a close, we want to offer one final update. Our campus community has worked hard to think through unfamiliar challenges and make decisions as we continue to prepare for our calendar transition to semesters, Sept. 6, 2019, is just 475 days away.
Recently, EPC and Gen Ed completed provisional approvals for all programs and courses seeking LP or suffix approval.
Students whose college experience will span two calendars have met with their major advisors to gain an understanding of how they will complete their course of study.
The semester transition coordinators held information meetings for students in the 2016 and 2017 cohorts; in the fall, they will continue to "pop up" in the Brew on Tuesdays from 10:30 to noon to answer questions about the transition.
Department chairs are entering information on courses that will be offered in 2019/20 in the course master "sandbox." This information will make it possible to determine necessary information about course offerings, LPs and suffixes, room usage etc.
Our unsung heroes this month are the members of  the Advising Committee who have worked tirelessly to create and revise documents that will assist students and advisors alike as they explain and understand the transition to semesters. Thank you for all your hard work.
 
April 4, 2018, update
The Educational Policies Committee is modifying academic policies (e.g., drop, add and withdrawal deadlines) that will need to be adjusted under the semester calendar and sending them along to the full faculty for approval.
The General Education Committee is articulating the expectations for "G," "D,"  and "Q" suffixes as well as the skills, outcomes, and common elements of the FYI courses.
A faculty vote determined that the Final Exam week will be five days.
ITS has constructed a "sandbox" for departments to use in their initial efforts to schedule courses. This is being pilot-tested by several department chairs and will be available for everyone soon.
The Advising Committee has developed and distributed materials that should hopefully help advisors who will be meeting with students who are going to experience both calendars.
Staff from administrative offices are beginning to develop the processes, paying particular attention to billing cycles.
 
February 2018 update
The Educational Policies Committee (EPC) is very close to completing the review of all courses and academic programs. This committee will now be turning its attention to reviewing policies (eg, drop, add and withdrawal deadlines) that need to be adjusted for the semester calendar.
A faculty vote determined that Augustana will have an abbreviated day of classes on Martin Luther King Day, and the rest of the day will be devoted to events honoring Dr. King's legacy. The form those events will take will be determined under the direction of Dr. Monica Smith, vice president for diversity, equity and inclusion.
The Colleague Academic Implementation and Degree Audit Team continues to enter courses for majors and programs as well as entering in course equates between current and future classes.
ITS is building a "sandbox" for departments to use in their initial efforts to schedule courses. The goal is for this to be available by mid-March.
The Advising Committee is developing resources for faculty and students. Jayne Rose was appointed to be the transition advising coordinator. She will be scheduling informational sessions for both advisors and students during spring term.
December 2017 update
Students and families will see new opportunities and big changes in Augustana's calendars for 2019-20 and 2020-21 as the college transitions to a semester schedule:
• Fall classes will start about two weeks later than usual.
• No classes are scheduled on the Wednesday before Thanksgiving.
• A new three-week "J-term" in January will offer a condensed period for students who choose to take a single class or study abroad.
Members of the Class of 2020 will see the calendar change during their senior year, and the members of the Class of 2021 in their junior year.
The 2019-20 academic year will begin on Sept. 3, 2019, and the 2020-21 academic year will start on Aug. 31, 2020. See the entire 2019-20 calendar here.
During the 2019-20 academic year, Thanksgiving break will be Nov. 25-29, 2019. Winter break will be from Dec. 17, 2019-Feb. 4, 2020, which includes the three-week J-term. Classes will end May 15, 2020.
In the 2019-20 academic year, the new J-term runs from Jan. 6-28, 2020. This three-week J-term allows students to engage in intensive, focused learning opportunities, with no distractions from other classes. It gives students a chance to study subjects that are often difficult to fit into a regular schedule. Study abroad trips also are available.    
Fall term 2017 update
Here is an update on progress toward Augustana's  transition from trimesters to semesters. 
In August, the faculty approved the general education requirements for students who begin their education on trimesters and end it on semesters.  
The Educational Policies Committee (EPC) has been reviewing proposals for revising majors and minors from academic departments and programs. At the point, proposals from 20 departments have been approved by EPC and put on consent agendas for approval by the entire faculty.  
The General Education Committee has been reviewing courses and determining whether they should carry a Learning Perspective (LP) or suffix designation.
The Faculty Council has been addressing issues related to the daily schedule and academic calendar. A faculty vote on these issues will be made prior to winter term.
The Colleague Academic Implementation Team has begun entering the courses that have been approved into the Colleague database.
For more information, contact transition coordinators Gillian Lederman and Jayne Rose at semestertransitioncoordinator@augustana.edu.