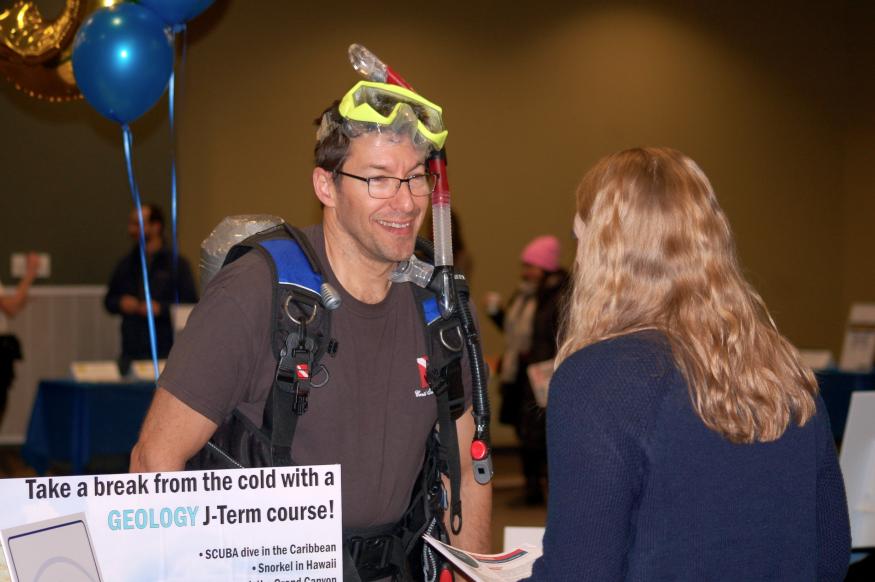 News
More opportunities with Augustana's move to semesters
Moving from trimesters to semesters provides students with more time for greater reflection, writing and special projects.
Beginning with the 2019-2020 academic year, Augustana is switching from trimesters (three terms of 10 weeks) to semesters (two terms of 14 weeks).
In April, students will begin registering for fall classes under the semester system, including the new January Term or "J-term." After summer break, students will return to class a couple weeks later than usual, starting September 3.
What happens in class—on and off campus—is the main story.
"This transition represents a complete re-evaluation of curriculum," said Dr. Wendy Hilton-Morrow '94, provost of Augustana. "Just look at the new catalog of international and off-campus programs. That really brought it home to me; the new opportunities for travel abroad. It's amazing."
It's good news for the Augustana students who plan to participate in a study away program—typically using their Augie Choice, a $2,000 grant available to all students for study away, research and internships.
Another highlight of the transition to semesters that also expands travel options is the new J-term. Positioned between the fall and spring semesters, students will have 3.5 weeks in January to study a specific subject in depth, choosing among 100 topics. Most of these courses are unique to J-term and have been designed as immersive experiences, and some involve travel.
Students can leave their phones behind to study the concept of time in the Cascade Mountains, or bring their swimsuits to the Caribbean to explore underwater landforms that become islands.
Or they may choose to stay on campus to experience full immersion in a special project, or subjects such as screenwriting, animation, world cinema in French, digital games and game culture, news literacy, the psychology of good and evil, and more.
Growing partnerships, sharing resources
In the big picture, the decision to move from trimesters to semesters is an opportunity to weave Augustana into a larger tapestry of academia. Most other colleges and universities, both domestic and international, use a semester calendar, and the number continues to grow. By aligning with that calendar, Augustana is creating new opportunities to partner and share resources with other institutions.
A closer look at the transition also reveals the historic restructuring of Augustana's entire curriculum. Because the 14-week semesters are longer than 10-week trimesters, the transition triggered a structural change in every course to accommodate four more weeks of study.
Augustana set aside two years of careful planning by the administration and faculty members to ensure the curriculum was not just re-aligned for the semester calendar, but that every course was re-evaluated and redesigned.
"We built in time for discussion, and made sure we took the time to do it well," said Assistant Professor Gillian Lederman, who along with Dr. Jayne Rose '78, is coordinating logistics. "Among the faculty, there was a sense of energy, excitement and new opportunities." 
Major elements of the move to semesters:
More time to grow

The move from 10-week trimesters to 14-week semesters provides students with more time for each subject. It can be devoted to greater reflection, more writing and more opportunities for special projects.

Transition guarantee

No credits or coursework will be lost. All academic credits earned in the trimester system will be retained in the semester system. This is guaranteed by the college.

J-term

New opportunities for

short, in-depth study and special projects, using 3.5 weeks in January between the fall and spring semesters. J-term also creates new options for travel to domestic or international destinations.

Historic re-assessment

Augustana leveraged the transition as a historic opportunity. Faculty members participated to re-evaluate,

refocus and redesign the curriculum; every course was sharpened to prepare students to succeed in a rapidly changing world.

Broad alignment

New opportunities to share resources and expand partnerships with the growing majority of colleges and universities that use the semester calendar. It also creates a more seamless experience for transfer students.
"In effect, this gave us the opportunity to ask, what would we do if we were starting over?" said Dr. Hilton-Morrow. "Our faculty looked at everything they're doing. The impact of that is really incalculable."
Dr. Jayne Rose '78 and Assistant Professor Gillian Lederman continue to host question-and-answer sessions to help students understand the transition, and also are available to answer questions at semestertransitioncoordinator@augustana.edu.