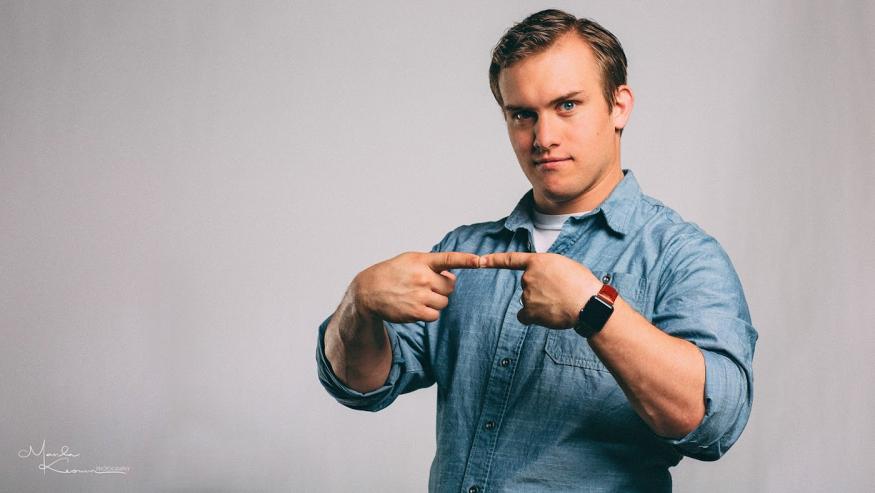 News
Gary Miller's 'mad genius'
Gary Miller '15 is making a name for himself in the industry he loves. Having graduated with a double major in creative writing and theatre arts, Miller currently writes and performs at the Grafenburg Theatre in Denver, Colorado. He also has managed to squeeze in time for writing a film about PTSD, freelancing and founding the production company Best Worst Cantina, which regularly uploads comedy shorts on its website and YouTube. 
The experience of an Augustana liberal arts education, Miller said, encouraged him to proactively pursue the comedy, acting and writing industries. 
"I owe a ton to Augustana faculty and staff. I had great professors and great coaches," he said. Often, Miller would come into class the morning after a late night of performing stand-up comedy, and was supported by the professors he considers "crucial in starting my career."  
One of those mentors praised Miller's work ethic while in school: "He's a mad genius," said Dr. Kelly Daniels, associate professor of English at Augustana. 
Much of Miller's growth came from doing things outside the classroom. "My particular field of study was entirely reliant on that," he said.
"I draw so much material from the friendships I made and the experiences I had as a student," adding that the freedom he was given to try and also to fail was important in his learning process. "One of the particularly cool things about my education was finding out the stuff I wasn't good at, or that I didn't like." 
A "pivotal moment" in Miller's decision to pursue his career came in the form of the student improvisational group Heywire, whose rejection in auditions one year only fueled Miller's work ethic. After spending the "whole next year getting serious about what I wanted to do," Miller auditioned again and earned himself a spot in the cast the following term. After that, Miller's momentum took him to places he'd never pictured for himself at college. 
"That next year we started Black Squirrel Productions [a student film production company on campus] and had a film fest, I got published, and I got the opportunity to use my Augie Choice to train at the Atlantic Theater." 
Augie Choice funds a high-impact learning experience for each student, with $2,000 for an internship, research or study away—such as Miller's participation in a summer intensive acting program at the Atlantic Theater in New York.
Miller also has a few words of advice for current students: "Tell people you appreciate them. Write that poem for that person you like. Start a mud war. Make a fool of yourself. Enjoy Augustana."
He's in a good position to offer such advice. "I'm the beneficiary of a great education and I'm glad I was smart enough to take things to heart."
By Jack Harris '20, Writers Bureau