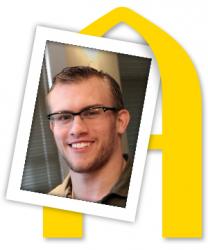 More Than I Imagined
Seniors reflect on accomplishments and look ahead
​Gary Miller
Graduation year: 2015
Major: Creative writing and theatre
Activities: Varsity football, varsity wrestling, SAGA Art & Literary Magazine, Black Squirrel Productions, Heywire improv group, Electric Theatre Unplugged, Alpha Psi Omega national theatre honor society, Phi Omega Phi, Comedy Club
Post-grad plans: I am moving to Chicago and pursuing a career in comedy...decided to throw myself into the deep end and learn to swim.
Why did you choose Augustana?
I was getting recruited for football and figured I would come and wrestle here, too. It was a choice between here and Chaminade University in Honolulu. I didn't visit either and basically flipped a figurative coin. I made the right choice.
Are you where you thought you'd be four years ago?
Not at all. I think the younger me would be struggling to grasp the path my life has gone. I wouldn't trade it at all.
Who helped you get to where you are now?
Professor Rebecca Wee and Professor Jeff Coussens could have squashed all semblance of confidence I have by telling me I was awful. They've been incredibly supportive in fostering creativity at this level and steering me in a direction that emphasizes what I'm good at and what things will make me better at what I'm not. My family challenges me daily, and I thank them for the support in getting through college. I thank my teammates and fraternity brothers for going to shows and having a blast. I also want to thank everyone at the Atlantic theatre and my internships, and fellow comedians who gave kind advice and inspiration to an aspiring brat.
A peak experience?
Having a mud war my sophomore year. More so than anything else because it was so simple. It was pouring rain, and I went out by myself in the Westerlin quad and starting sliding around in the mud, banging on doors and windows to get people to come out. After about a half hour, people started to come out, and before I knew it there was a huge amount of people. It wasn't exclusionary. Nobody asked why anyone was there. They just got caught up in the moment. It was a beautiful mess. I also heard campus security was looking for who started it at some point. Might as well fess up now.
What did you learn about yourself in these past four years that surprised you?
The most surprising thing I have learned is how much I would love what I'm doing with my life. There are times when I forget to eat or sleep because I'm having so much fun. I spin in circles every opportunity I get to create something or tell a story.
How did you use your Augie Choice?
I did the summer intensive program at the Atlantic Acting School.
What will you miss the most?
Being able to wake up and see my friends. I'm going to miss all the relationships I've built with people. Life is short, no relationship in life is really permanent, but I've had high quality relationships with people. I'm going to miss the highs and lows of the people I've had the fortune to know.
Advice for the Class of 2019?
Push the envelope on what you can do. There is nothing that builds more confidence than telling your own mind and body that they won't dictate how you're going to live. It makes the naps more enjoyable, too.
"Gary Miller's first National Poetry Month project featured him as super-villain/assassin Bane, reading Dr. Seuss. Later when I invited my class to teach poetry at Rivermont Collegiate for NPM, he offered a session on persona, which involved a rap-exchange on the meaning of life between Justin Bieber and Anne Frank. Gary is tireless, original and multi-talented in the true liberal arts sense, with equal parts humility and moxie."