Augustana offers a major and minor in creative writing, a major and minor in English, and a major in teaching English.
The 12 full-time and four part-time English faculty serve as leaders in interdisciplinary studies and are involved in areas such as environmental studies, the honors program, study abroad, and women, gender and sexuality studies. The creative writing faculty include award-winning writers in poetry and fiction. 
Careers and internships
English majors possess skills that are in high demand in the professional, academic and not-for-profit spheres. Organizations value graduates who combine clear thinking with effective communication and creative problem-solving, and look for leaders who can approach issues using more than one perspective — all skills built through Augustana's program.
The English major provides a strong background for careers in teaching, law, the ministry, business, publishing and even medicine. Augustana graduates  have found their life's work in such roles as professor, teacher, TV news commentator and anchor, foreign correspondent, children's book editor, producer, grant consultant, pastor, museum curator, film crew writer, attorney, judge, entrepreneur, librarian and many more.
Many creative writing graduates have gained admission to highly competitive M.F.A. programs, and others have found work in editing and publishing, journalism, marketing or business.
English and creative writing majors gain experience by working as paid tutors in the college's Reading/Writing Center. Others gain experience in publishing by taking Augustana's Book Publishing class and working at Augustana's East Hall Press.
Student writers can build their portfolios by working on Augustana's newspaper, The Observer, and literary magazine, SAGA. Still others gain hands-on experience and develop professional connections by working internships at local businesses in marketing, public relations, journalism, and arts management.
A series of workshops on "Resume Writing for English majors" prepares students by teaching them how to communicate the value of their Augustana English major to prospective employers.
For creative writing majors applying to M.F.A. programs, faculty work one-on-one with them to help them prepare their application materials. 
For more information, contact Dr. Meg Gillette, department chair.
Recent graduates:
William Ingalls '19 is a photographer with WREX in Rockford, Ill.
Sabrina Hill '18 is a corporate recruiter for McMaster-Carr, Elmhurst, Ill.
Elena Leith '17 completed a book publishing certificate at University of Denver, Colorado, and is pursuing a master's in library science and information technology at the University of Illinois Urbana–Champaign.
Kaitlyn Lindgren '16 Hansen is a Ph.D. student and graduate teaching assistant in the Department of Religious Studies, University of Iowa
Rukmini Girish '15 completed an M.F.A. in non-fiction at Columbia College, Chicago, where currently she is a graduate student instructor. She also is an audience outreach associate at Steppenwolf Theatre Company in Chicago. 
Eliza Wells '15 is a freelance private writing consultant in Camarillo, Calif.
Megan Boedecker '14 is a brand marketing communications writer for the American Veterinary Medical Association.
Distinctions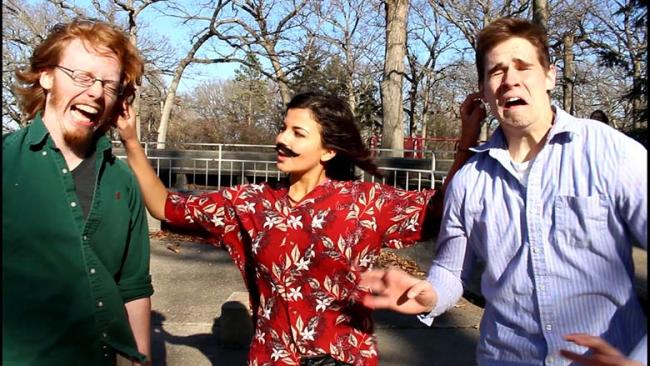 First-year writing classes enroll no more than 20 students; writing classes close at 15. Literature classes range from eight to 25 students. Almost all courses use discussion as a teaching tool. All courses are writing-intensive. Students learn to write thoughtful, fluent, well-informed and fundamentally persuasive essays.
English and creative writing majors can travel abroad with faculty during J-term, including Paris to study American expatriate writers, or England to focus on medieval literature. The annual field trip series called On the Road brings English majors to places of literary interest. 
Students also may choose to work on an original project during the Literary Residency J-term in January.
A literary series, River Readings, brings nationally prominent writers to campus two or three times a year. (See this year's schedule)
SAGA, a student-run art and literary magazine, publishes student fiction, non-fiction, poetry and visual art.
Unabridged, Augustana's English club, meets regularly for English major coffee hours, Yoga for Writers, a book vs. movie club, and end-of-the-term Write-Ins.
East Hall Press, Augustana's own publishing house gives students interested in editing or publishing a hands-on career experience.
Black Squirrel Productions is an interdisciplinary film society that provides an opportunity for students to make movies and develop multi-media portfolios.
What alumni say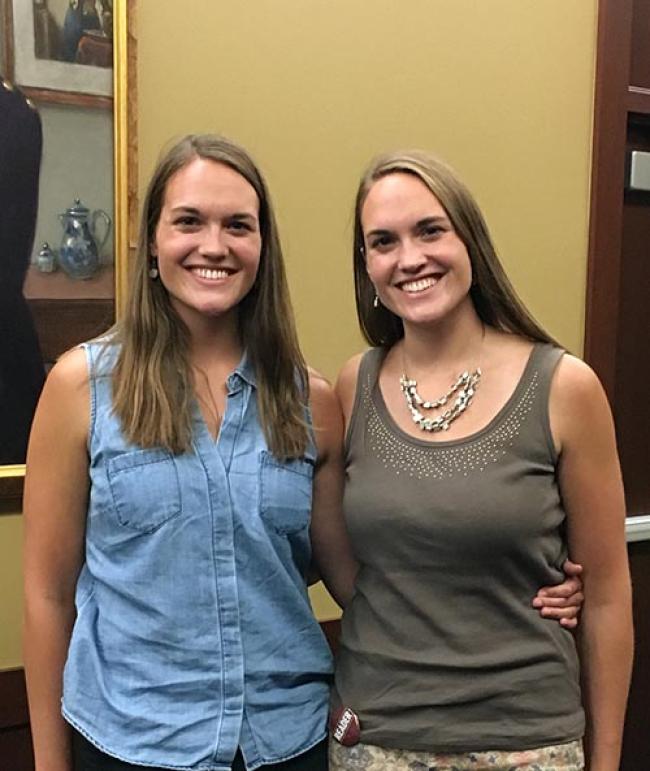 Maxwell Maharry '19, English and political science; J.D. student at Washington University in St. Louis School of Law
"I love bragging about Augie's English department; I do so unprompted all the time. There was never a class I had that I did not thoroughly enjoy or take a lot away from. Not only do the professors know what they're talking about, they care about your success and your handling of the material and will go out of their way consistently to see that you get the absolute most from their classes. I don't just say this…. but I could not be happier with my experience in Augie's English department. As I sat and studied for the LSAT, with dreams of law school on the horizon, I already noticed that the skills my English degree has taught me were being put to valuable use. I'm supremely confident that they will continue to do so in law school and beyond."
Alyssa Fröhling '17, Creative writing and English; graduate fellow pursuing M.F.A. in poetry at The Ohio State University
"Augustana was one of the few colleges I looked at which had creative writing as a separate major, rather than just a focus under the English major. And as a creative writer, a small school was appealing to me, as it meant more one-on-one time with professors and more intimate classroom/workshop settings. I miss the creative and supportive groups on campus…. My friends from Electric Theatre Unplugged, SAGA, Zeta, sitting in Dr. Daniels' and Professor Wee's workshop classes, sitting outside to free write. All of these experiences nurtured my writing, or kept me believing in myself when I felt I couldn't or didn't want to, or helped me to become a better activist and person. I know there will be more outlets in the future, but none quite like the communities and people I met here. I'll always remember them."
Alexandria Petrassi '14, Creative writing and English
"If you had asked me as a first-year if I'd be an editor-in-chief for SAGA and a leader in my sorority, I'd have told you you were crazy. Add the fact that I'm pursuing a career in English and creative writing, and that it's starting to materialize into reality, and you've got the brightest dream I could have ever dreamed up for myself."
Kimberly Hedlin '11, English major, religion and New Testament Greek minors; postdoctoral research fellow with the National Endowment for the Humanities
"I cannot speak highly enough of my Augustana experience…. I know that Augie's emphasis on interdisciplinary work helped me develop my research interests, which incorporate elements of theology, literary study, and religious history. I also credit Augustana's generous and encouraging faculty with making me love teaching and modeling thought-provoking and memorable class discussions."