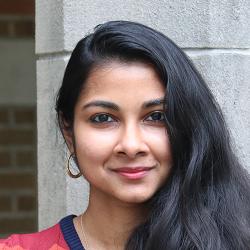 More Than I Imagined
Seniors reflect on accomplishments and look ahead
Lalini Shanela Ranaraja
Graduation year: 2021
High school: Colombo International School, Kandy
Hometown: Katugastota, Sri Lanka
Majors: Creative writing, anthropology
Minor: Multimedia journalism and mass communication
Activities: SAGA, Reading/Writing Center, Augustana Observer, Office of International Student and Scholar Services (OISSS), Augustana Concert Chorale, Dat Poetry Lounge, Phi Beta Kappa academic honor society
Internship: SAGA Prose Board
Post-grad plans: Continuing to write and publish while applying to graduate school
Why Augustana?
The generous financial aid package and the campus. It was clear to me even from the brochure photos that Augustana had a unique appreciation for its natural surroundings, and four years here have only strengthened that impression.
Being able to walk to class along the Slough path, watch the seasons changing, and always being surprised by some feature of the Augustana ecosystem, from the deer family to the tree-climbing raccoons — that has been a real blessing.
Are you where you thought you'd be when you first came to campus?
Yes and no. Academically, I knew I wanted to learn as much as I possibly could in multiple disciplines, and I've done that. In addition to my 'official' fields of study, I've taken classes in astronomy, theatre, linguistics, ballet and Japanese, and loved every moment of them.
Personally, though, I moved 9,000 miles for college. I had no idea what to expect. But this campus gave me the space to discover things about myself and the world that I couldn't have learned elsewhere.
Who helped you get to where you are now?
My parents, first and foremost – they knew before I did that pursuing a college education abroad was what I needed most in order to grow personally and professionally. They have my back from continents away, and I wouldn't be here without that support.
My professors – Augustana's faculty are some of the warmest individuals I've ever met. They have understood me, opened their homes to me, encouraged me and gone the extra mile for me.
Shoutouts to my advisors Rebecca Wee, Adam Kaul and David Schwartz for their unwavering support through incredibly tough times; to Umme Al-wazedi, Nirmala Salgado and Fatima Sattar for showing me the special power of South Asian female academics; and to Sarah McDowell, who sold me on the magic of a liberal arts education the minute I walked into her FYI 101 class.
And last but not least, the friends who were there for me through it all — my found family.
Peak experience?
Thanks to Augie Choice, a Friestat Center Grant and my financial aid package, I was able to study away in Amsterdam during fall 2019. It was one of the happiest semesters of my life. I learned Dutch, wrote for a blog, took classes at the prestigious Universiteit van Amsterdam and became ever more independent.
One of the best things about Augustana is its commitment to study abroad programs. I'd been preparing for mine since freshman year, so when it happened I could live it to the fullest.
What surprised you?
My passion for activism. I've become someone who's not afraid to speak up however I can — reporting on the 2018 March For Our Lives with the Observer, sharing my writing with Dat Poetry Lounge, helping organize an OISSS Global Spotlight on the genocide in Tigray, Ethiopia. There's a lot that I want to change in the world, and I now have the skills to accomplish that.
How did you use your Augie Choice?
My Augie Choice partially funded a semester abroad in Amsterdam during fall 2019.
What will you miss the most?
The international student community. I've made friends from Ethiopia, the Netherlands, China, Vietnam, Bangladesh, Ghana, South Africa, Zimbabwe and of course, Sri Lanka itself, to name only a few.
Meeting them has honestly changed my life, and I'll miss being able to sit around a table in the CSL and have conversations with people from four different continents.
Advice for the Class of 2025?
Be prepared for change. Your personality, your opinions, your passions, your majors, your limits, even your languages — they can, and will, look very different in four years time. Embrace the transformation. This is the perfect time to question everything, and find answers that are all your own.
"Pick up a copy of her many published and prizewinning works spanning multiple genres, and you will notice all the good stuff Shanela brings to the tutoring table as an acute observer with an attentive ear and a poet's heart. Like her professors and peers, I marvel at her literary accomplishments and eagerly anticipate many more to follow."