Uncataloged Journals and Serials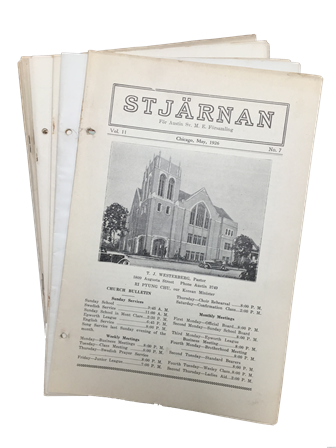 The following is a list of uncataloged, defunct journals or serial publications held at the Swenson Center.  Most publications are Swedish American or were of importance to the Swedish-American immigrant communities. 
The Swenson Center has not yet cataloged these titles into its library holdings. We hold only short runs or in many cases just a few issues. 
We are interested in collecting the entire run of most of these publications.  If you have any you would like to donate, please contact us. 
To search for names or places: hold down Ctrl+F on your keyboard (or Command+F on a Mac) and enter the keyword in the search box. Or browse the list by scrolling or paging down.
Uncataloged Defunct Journals & Serials
 

| Title | Publisher location | Vol#/year | Language | Location |
| --- | --- | --- | --- | --- |
| ACADEMICA, THE | LINDSBORG, KS | V.1, NO.2 (1885) | ENGLISH | BOX 1, FOLDER 1 |
| ADVANCE | LUTH. MIN. CONF. OF THE AUG. SYN. | V.5, NO.2 (1948), V.18. NO.1-6 (1960) | ENGLISH | BOX 1, FOLDER 3 |
| AFTONSTJERNAN | GOWRIE, IA | V.10, NO.8 (1904) | SWEDISH | BOX 1, FOLDER 8 |
| AFTONTIMMAN | NEW YORK, NY | V.14-25 (1937-1947) | SWEDISH | BOX 1, FOLDER 5-7 |
| ALLIANS-MISSIONÄREN | CHICAGO, IL | V.1, NO.1-4 (1915-1916) | SWEDISH | BOX 1, FOLDER 9 |
| ALPHADELT, THE | ROCK ISLAND, IL | V.1, NO.1 (1931) | ENGLISH | BOX 1, FOLDER 14 |
| AMERICAN ADVOCATE OF PEACE | BOSTON, MA | V.54, NO.4 (1892) | ENGLISH | BOX 2, FOLDER 15 |
| AMERICAN BIBLE SOCIETY | NEW YORK, NY | 1925 | ENGLISH | BOX 2, FOLDER 16 |
| AMERICAN SWEDISH MONTHLY | NEW YORK, NY | JUNE (1948) | ENGLISH | BOX 2, FOLDER 17 |
| AMERICAN-SCANDINAVIAN TIMES, THE | NEW YORK, NY | V.1, NO.3 (1909) | ENGLISH | BOX 1, FOLDER 2 |
| ANDOVER CHURCH TIDINGS AND YEAR BOOK | ANDOVER, IL | V.7, NO.2 (1936),V.11, NO.1 (1940) | ENGLISH | FOLIO 1 A, FOLDER 7 |
| ANGELIKA BULLETIN | LOS ANGELES, CA | V.1, NO.4 (1918) | SWEDISH | BOX 2, FOLDER 18 |
| ANNUAL OF THE SWEDISH CLUB | SIOUX CITY, IA | V.1, FEBRUARY 15 (1915) | ENGLISH | FOLIO 1 A |
| ANSGAR COLLEGIAN | HUTCHINSON. MN | V.1, NO.1 (1902-1903) | ENGLISH | BOX 2, FOLDER 19 |
| ARMY CHAPLAIN, THE | WASHINGTON, D.C. | 1930-1932 (scattered issues) | ENGLISH | BOX 2, FOLDER 20 |
| ÅRS OCH REVISIONS BERÄTTELSE-FÖRENINGS FOLKETS HUS | STOCKHOLM, SWEDEN | 1902 | SWEDISH | BOX 33, FOLDER 432 |
| ÅRSBERÄTTELSE FÖR FÖRSTA SVENSKA METODIST | BOSTON, MA | 1913-1914 | SWEDISH | BOX 33, FOLDER 430 |
| ÅRSBOK FÖR SVENSKA METODIST KYRKAN | CHICAGO, IL | 1910-1911 | SWEDISH | BOX 33, FOLDER 431 |
| ÅRSSKRIFT FÖR HVILANS ELEVFÖRBUND | LUND, SWEDEN | 1900 | SWEDISH | BOX 2, FOLDER 21 |
| ASSISTANT PASTOR, THE | BUFFALO, NY | 1927-1930 (scattered issues) | ENGLISH | BOX 2, FOLDER 22 |
| AUGUSTANA CENTENNIAL | ROCK ISLAND, IL | V.100, NO.1-6 (1948) | ENGLISH | BOX 3, FOLDER 24 |
| AUGUSTANA CONCERT BAND | ROCK ISLAND, IL | 1924-1925 | ENGLISH | FOLIO 4, FOLDER 57 |
| AUGUSTANA FOREIGN MISSIONARY | ROCK ISLAND, IL | V.24 (1926),V.27 (1929), V.31(1933) | ENGLISH | FOLIO 1 A, FOLDER 8 |
| AUGUSTANA HERALD | SIOUX CITY, IA | V.1 (1925)-V.4 (1928) | ENGLISH | FOLIO 1 A, FOLDER 9 |
| AUGUSTANA HOMECOMING | ROCK ISLAND,IL | OCT. 15-16 (1920) | ENGLISH | BOX 3, FOLDER 26 |
| AUGUSTANA HOSPITAL BULLETIN | CHICAGO, IL | V.1 [1929]-V.3 (1931) incomplete | ENGLISH | FOLIO 1 A, FOLDER 10 |
| AUGUSTANA JOURNAL, THE | ROCK ISLAND, IL | V.3 (1895)-V.12 (1904) | ENGLISH | FOLIO 1 A, FOLDER 11 |
| AUGUSTANA MESSENGER, THE | BERWYN, IL | 1909-1912 (scattered issues) | ENGLISH | BOX 3, FOLDER 25 |
| AUGUSTANA SYNOD BROTHERHOOD BULLETIN | OMAHA, NE | 1926-1927 | ENGLISH | BOX 3, FOLDER 27 |
| AUGUSTANA SYNOD IOWA CONFERENCE TREASURER'S REPORT | ROCK ISLAND, IL | 1924 | ENGLISH | BOX 3, FOLDER 28 |
| AUGUSTANA SYNODENS DIAKONISSANSTALT | ROCK ISLAND, IL | 1912 | SWEDISH | BOX 3, FOLDER 29 |
| AURORA LUTHERAN GUIDE | AURORA, IN | V.2, NO.8-10 (1896) | ENGLISH | FOLIO 1 A, FOLDER 12 |
| AXPLOCKERSKAN | OMAHA, NE | V.4, NO.1 (1904) | SWEDISH | BOX 3, FOLDER 30 |
| BACC SERVICE-64TH COMMENCEMENT AUG. COLLEGE & SEM. | ROCK ISLAND, IL | 1924 | ENGLISH | BOX 3, FOLDER 31 |
| BARNENS EGEN TIDNING | STOCKHOLM, SWEDEN | 1907,1910, 1912, 1915 | SWEDISH | BOX 3, FOLDER 32 |
| BARNENS KALENDER | CHICAGO, IL | 1897 | SWEDISH | BOX 3, FOLDER 33 |
| BARNENS TIDNING | PHILADELPHIA, PA | V.2 (1896)-V.3 (1897) Incomplete | SWEDISH | FOLIO 1 A, FOLDER 6 |
| BARNENS TIDNING | STOCKHOLM, SWEDEN | V.32 (1889)-V.42 (1899) Incomplete | SWEDISH | FOLIO 1, FOLDER 1-5 |
| BARN-VÄNNEN | DULUTH, MN | V.1, NO.2 (1917),V.2, NO.3 (1918) | SWEDISH/ENGLISH | FOLIO 1 A, FOLDER 13 |
| BEIRLY'S DAY OF PRAISE | CHICAGO, IL | V.1 (1895) | ENGLISH | BOX 3, FOLDER 33 |
| BEIRLY'S POPULAR CHOIR SERIAL | CHICAGO, IL | V.6, NO.8 (1895) | ENGLISH | BOX 3, FOLDER 33 |
| BERÄTTELSE Nationalföreningens mot emigrationen verksamhet | STOCKHOLM SWEDEN | 1908, | SWEDISH | FOLIO 36, FOLDER 3 |
| BERÄTTELSE Nationalföreningens mot emigrationen verksamhet | STOCKHOLM SWEDEN | 1909-1918 incomplete | SWEDISH | FOLIO 36, FOLDER 4 |
| BETANIA | HELSINGFORS, FINLAND | 1903-1913, 1915 (scattered issues) | SWEDISH | BOX 4, FOLDER 35-36 |
| BETANIA VÄNNEN | MINNEAPOLIS, MN | DEC. 1933 | SWEDISH | BOX 4, FOLDER 37 |
| BETHANY COLLEGE BULLETIN | LINDSBORG, KS | 1907-1909, 1927-1928, 1931, 1934. | ENGLISH | BOX 4, FOLDER 38 |
| BETHANY HOME FOR THE AGED | CHICAGO, IL | 1935 | ENGLISH | BOX 4, FOLDER 40 |
| BETHANY MESSENGER, THE | CHICAGO, IL | 1924 | ENGLISH | BOX 4, FOLDER 39 |
| BETHELEHEM MESSENGER, THE | GARY, IN | MAY-DEC. (1929) | SWEDISH | BOX 4, FOLDER 42 |
| BETHELEHEMSTJÄRNAN-JULPROGRAM | CHICAGO, IL | V.3-4 | SWEDISH | BOX 5, FOLDER 48 |
| BETHESDA LUTHERAN CHURCH & LINCOLN LUTHERAN CHURCH | SPENCER, IA AND EAST OF ROYAL, IA | 1938, 1940-1942 | ENGLISH | BOX 4, FOLDER 41 |
| BETHLEHEMSFÖRSAMLINGENS STADS-MISSIONÄR | MINNEAPOLIS, MN | V.4, NO.1(1896),V.6, NO.9-10(1898),V.14,NO.9(1906) | SWEDISH | FOLIO 28 |
| BETHLEHEMSFÖRSAMLINGENS STADS-MISSIONÄR | MINNEAPOLIS, MN | V.4, NO.1(1896)-V.6, NO.9-10(1898),V.14,NO.9(1906) | SWEDISH | FOLIO 30 |
| BETHLEHEMSFÖRSAMLINGENS STADS-MISSIONÄR | MINNEAPOLIS, MN | V.4,NO.1(1896),V.6, NO.9-10(1898),V.14, NO.9(1906) | SWEDISH | FOLIO 30 |
| BETHPHAGE MESSENGER | AXTELL, NE | V.46 (1958)-V.70 (1983) incomplete | ENGLISH | BOX 4-5, FOLDER 43-47 |
| BIBELVÄNNEN |   | 1859, 1874 | SWEDISH | BOX 5, FOLDER 49 |
| BIBLE CAMP ECHOES | FORTUNE LAKE | V.2 (1933)-V.3 (1934) | ENGLISH | BOX 5, FOLDER 50 |
| BIBLE IN NEW YORK, THE | NEW YORK, NY | V.17 (1925)-V.25 (1933) incomplete | ENGLISH | BOX 5, FOLDER 51 |
| BIBLE READER, THE | CLEVELAND, OH | V.1, NO.1 (1892) | ENGLISH | BOX 2, FOLDER 15 |
| BIBLE STUDENT, THE | WEST WASHINGTON BOULEVARD | V.4 (1923)-V.10 (1931) incomplete | ENGLISH | BOX 5, FOLDER 52 |
| BIBLISKT-LUTHERSKT WECKOBLAD FÖR FOLKET |   | 1861 | SWEDISH | BOX 5, FOLDER 53 |
| BIFROST | NEW YORK, NY | V.1, NO.1 (1885) | SWEDISH | FOLIO 1 A, FOLDER 18 |
| BIHANG TILL VÅRT LAND | JAMESTOWN, NY | V.20, NO.51 (1892) | SWEDISH | BOX 2, FOLDER 15 |
| BOOKMAN, THE | CHICAGO, IL | V.2, NO.1 (1895) | ENGLISH | BOX 3, FOLDER 33 |
| BRADDOCK POINT, THE | BRADDOCK, PA | 1904, V.1, NO.4 (1907) | ENGLISH | FOLIO 2, FOLDER 10 |
| BREFDUFVAN | ROCK ISLAND, IL AND NEW YORK, NY | NOV. (1915), DEC. 1918 | SWEDISH | FOLIO 2, FOLDER 11 |
| BUDBÄRAREN | GRAND RAPIDS, MI, SEATTLE, WA | 1897, 1904, 1906-1908,1910 | SWEDISH | FOLIO 2, FOLDER 11 |
| BUDBÄRAREN | OMAHA, NB | V.1, NO.1-12 (1903) | SWEDISH | FOLIO 2, FOLDER 14 A |
| BUDBÄRAREN | HARTFORD, CT | V.1,NO.8-9 (1893),V.1, NO.15-16 (1908),V.21 (1929) | SWEDISH | FOLIO 2, FOLDER 12 |
| BUDBÄRAREN | CHICAGO, IL | V.2 (1907)-V.6 (1911) incomplete | SWEDISH | FOLIO 2, FOLDER 13 |
| BUDBÄRAREN | JOLIET, IL | V.3 (1899)-V.4 (1900) incomplete | SWEDISH | FOLIO 2, FOLDER 14 |
| BUDBÄRAREN | OMAHA, NB | V.1, NO.1-12 (1903-1904) | SWEDISH | FOLIO 2, FOLDER 14 A |
| BUDBÄRAREN | CHICAGO, IL | V.13 (1900)-V.35 (1922) incomplete | SWEDISH | FOLIO 2, FOLDER 15-16 |
| BUDBÄRAREN | CHICAGO, IL | V.1,NO.1 (1907), V.2, NO.3-4 (1908) | SWEDISH | FOLIO 2, FOLDER 17 |
| BUDBÄRAREN | CHICAGO, IL | V.7 (1909)-V.9 (1911) incomplete | SWEDISH | FOLIO 2, FOLDER 18 |
| BUDBÄRAREN | SWEDESBURG, IA | V.2, NO.1 (1913) | SWEDISH | FOLIO 2, FOLDER 19 |
| BUDBÄRAREN | PHILADELPHIA, PA | V.4, NO.35 (1907), NOV. (1933) | SWEDISH | FOLIO 2, FOLDER 20 |
| BUDBÄRAREN | MONTCLAIR, NY | V.1 (1910)-V.2 (1911) incomplete | SWEDISH | FOLIO 2, FOLDER 21 |
| BUDBÄRAREN | GRAND RAPIDS, MI | V.3, NO.116 (1897) | SWEDISH | FOLIO 2, FOLDER 21 A |
| BUDBÄRAREN | NEW YORK, NY | V.8, NOV (1908) | SWEDISH | FOLIO 2, FOLDER 21 B |
| BUDBÄRAREN | SEATTLE, WA | V.1 (1906),V.2 (1908),V.3 (1908) | SWEDISH | FOLIO 2, FOLDER 21 C |
| BUDBÄRAREN | ESCANABA, MI | V.4, NO.43 (1911) | SWEDISH | FOLIO 28 |
| BUDSKAPET | GARDNER, MA | V.1, NO.5 (1906) | SWEDISH | FOLIO 2, FOLDER 22 |
| BULLETIN | JAMESTOWN, NY | V.3, NO. 48 (1912),V.4, NO.2-3 (1913) | SWEDISH | FOLIO 1A, FOLDER 14 |
| BULLETIN EMANUEL LUTHERAN CHURCH | BRADFORD, PA | MAY 29, JUNE 12 (1927) | ENGLISH | BOX 6, FOLDER 54 |
| BULLETIN FÖR HUMBOLDT SVENSKA METHODIST KYRKA | CHICAGO,IL | 1909-1918 | SWEDISH | FOLIO 2, FOLDER 23 |
| BULLETIN OF TEXAS WESLEYAN COLLEGE | AUSTIN, TX | 1914 | ENGLISH | FOLIO 2, FOLDER 24 |
| CARNEGIES ALMANACK | CHICAGO, IL | 1908, 1909 | SWEDISH | BOX 6, FOLDER 56 |
| CENTRAL ILLINOIS DISTRICT LUTHERAN (SYNOD REPORTS) | PEORIA, IL | 1925-1926, 1928 | ENGLISH | BOX 6, FOLDER 57 |
| CHICAGO ODD-FELLOW, THE | CHICAGO, IL | V.1 (1889)-V.2 (1891) | ENGLISH | FOLIO 1 A, FOLDER 16 |
| CHICAGO-SYNOD LUTHERAN | CHICAGO, IL | 1912-1913 incomplete | ENGLISH | BOX 6, FOLDER 58 |
| CHILDREN'S COMPANION, THE | UNITED NORW. LUTH. CHURCH OF AM. | V.7 (1900)-V.24 (1917) incomplete | ENGLISH | BOX 7-8, FOLDER 59-69 |
| CHRISTIAN MESSENGER, THE | LINDSBORG, KS | V.5, NO.1 (1912)-V.7, NO.10 (1914) | ENGLISH | FOLIO 1 A, FOLDER 17 |
| CHRISTMAS CHIMES | BLAIR, NE | 1948 | ENGLISH | BOX 9, FOLDER 70 |
| CHRISTMAS ECHOES | LUTH. FREE CHURCH PUBL. CO. | 1945 | ENGLISH | BOX 9, FOLDER 71 |
| CHURCH AND SCHOOL | FERGUS FALLS, MN | V.14 (1918, 1920) | ENGLISH | BOX 9, FOLDER 72 |
| CHURCH MESSENGER, THE | KNOXVILLE, IL | V.1 (1935)-V.3 (1938) incomplete | ENGLISH | BOX 9, FOLDER 73 |
| COLUMBIA | ROCK ISLAND, IL, MOSCOW, ID | V.4, NO.3 (1903) | SWEDISH | FOLIO 2 A |
| COMMERCIAL HERALD | ROCK ISLAND, IL | [1889?] | ENGLISH | FOLIO 2 A |
| COMPASS, THE | SEATTLE, WA | APRIL (1937) | SWEDISH | FOLIO 2 A |
| CONCORDIA SUNDAY SCHOOL LESSONS | ST. LOUIS, MO | V.1 (1911)-V.2 (1912) | ENGLISH, GERMAN | BOX 9, FOLDER 74 |
| CONNECTICUT | HARTFORD, CT | V.1 (1891) -V.3 (1893) incomplete | ENGLISH | BOX 2, FOLDER 15 |
| COVENANT MISSIONARY NEWSLETTER | CHICAGO, IL | V.13, NO.2 (1963) | ENGLISH | BOX 9, FOLDER 76 |
| CRESSET | RED WING, MN | V.14 (1911)-V.17 (1914) incomplete | ENGLISH | BOX 9, FOLDER 75 |
| DALECARLIAN, THE | MINNEAPOLIS, MN | V.3, NO.3, 7, 12 (1898-1999) | ENGLISH | FOLIO 2 A |
| DALECARLIAN, THE (DALKARLEN) | ST. FRANCIS, MN | V.4 (1900)-V.6 (1902) incomplete | ENGLISH | FOLIO 2 A |
| DE UNGAS JULBIBLIOTEK | CHICAGO, IL | NO. 2-16 (incomplete) | SWEDISH | BOX 10, FOLDER 85 |
| DE VÅRA I FRÄMMANDE LAND | UPPSALA, SWEDEN | V.1-31(1911-1941) incomplete | SWEDISH | BOX 10, FOLDER 86-87 |
| DEACONESS BANNER, THE | OMAHA, NB | V.6, NO.1(1926), V.17, NO.1(1937) | ENGLISH | BOX 10, FOLDER 88 |
| DEFENDER, THE | BOSTON, MA | V.1, NO.12 (1896) | ENGLISH | BOX 3, FOLDER 33 |
| DELAWARE TERCENTENARY BULLETIN | WILMINGTON, DE | NO.1-6 (1937- 1938) | ENGLISH | BOX 10, FOLDER 89 |
| DEN LILLE BARNVÄNNEN | OMAHA, NB | OCTOBER (1902) | SWEDISH | FOLIO 10 |
| DEN LILLE MISSIONÄREN | ROCK ISLAND/CHICAGO, IL | V.1 (1889)-V.36 (1914) incomplete | SWEDISH | FOLIO 2 A |
| DEN LJUDANDE BASUNEN | CHICAGO, IL | V.2, NO.7(1900) | SWEDISH | BOX 10, FOLDER 90 |
| DET MACEDONISKA ROPET | MINNEAPOLIS, MN | V.5, NO.5 (1894) | SWEDISH | FOLIO 14 |
| DEW DROPS | ELGIN, IL AND CHICAGO, IL | V.15, NO.52 (1892) | ENGLISH | BOX 2, FOLDER 15 |
| DIACONISSFÖRENING MEDLEMSLISTA | ROCK ISLAND, IL | MAY 1912 | SWEDISH | BOX 11, FOLDER 97 |
| DIAKONEN | STOCKHOLM, SWEDEN | V.15 (1912)-V.? (1964) scattered issues | SWEDISH | BOX 11, FOLDER 94-95 |
| DROTT | SALA, SWEDEN | 1914 | SWEDISH | FOLIO 2, FOLDER 24A |
| DUFVAN | JAMESTOWN, YOUNGSTOWNM CLEVELAND | 1896 (SCATTERED ISSUES) | SWEDISH | BOX 3, FOLDER 33 |
| DUFVAN | CLEVELAND, OH | V.5 (1898) | SWEDISH | FOLIO 3, FOLDER 25 |
| DUTY OF THE PULPIT AGAINST THE LIQUOR TRAFFIC | NEW YORK, NY | V.2, NO.2 (1891) | ENGLISH | BOX 2, FOLDER 15 |
| EBENEZER | CHICAGO, IL | V.2, NO.10-11 (1924) | SWEDISH/ENGLISH | FOLIO 3, FOLDER 27 |
| EBENEZER (FOSTER AVENUE AND N. PAULINA STREET) | ROCK ISLAND/CHICAGO, IL | V.2 (1924)-V.7 (1931) incomplete | SWEDISH | FOLIO 3, FOLDER 26-26A |
| EBENEZER (FOSTER AVENUE AND N. PAULINA STREET) | CHICAGO, IL | RAPPORT 1907, V.1(1908)-V.5(1912) incomplete | SWEDISH | FOLIO 3, FOLDER 28 |
| EBENEZER BUDBÄRARE | SAN FRANCISCO | V.6, NO.1 (1921) | SWEDISH | FOLIO 3, FOLDER 29 |
| EDGEWATER MISSIONS-BLAD | CHICAGO, IL | DEC. (1912) | SWEDISH | FOLIO 3, FOLDER 30 |
| ELIMITEN | BROOKLYN, NY | DEC.15 (1905),DEC (1909),V.12, NO. 7 (1915) | SWEDISH | FOLIO 3, FOLDER 31 |
| EMANUELS HÄROLD | WORCESTER, MA | V.1, NO.1-2 | SWEDISH | FOLIO 3, FOLDER 32 |
| EMMANUEL BULLETIN | EVANSTON, IL | V.4, NO.6 (1922) | ENGLISH | FOLIO 2 A |
| EMMANUEL MESSENGER | ROCKFORD, IL | V.10, NO.12 (1908), V.11,NO. 2 (1909) | ENGLISH | FOLIO 3, FOLDER 33 |
| ENGLISH-SWEDISH MAGAZINE, THE | STOCKHOLM, SWEDEN | V.2, APRIL (1922) | ENGLISH/SWEDISH | FOLIO 2 A |
| EOLUS OCH JULTOMTEN | CHICAGO, IL | V.1, NO.4 (1891) | SWEDISH | FOLIO 3, FOLDER 35 |
| EPWORTH HERALD, THE | CHICAGO, IL, NEW YORK, NY | V.12, NO.1(1901) | ENGLISH | FOLIO 3 |
| EPWORTH STJERNAN | SIOUX CITY, IA | V.4, NO.39 (1896) | SWEDISH | FOLIO 3, FOLDER 40 |
| EPWORTHFÖRBUNDETS JULTIDNING 1915-16 | STOCKHOLM, SWEDEN | 1915-1916 | SWEDISH | FOLIO 3, FOLDER 36 |
| EPWORTH-STJÄRNAN | CHICAGO, IL | V.1, NO.2-3, 5-6 (1911) | SWEDISH | FOLIO 3, FOLDER 39 |
| EVANGELICAL LUTHERAN CHURCH (YEARBOOK) | SWEDESBURG, IA | 1940, 1942, 1947-1948, 1950-1951 | ENGLISH | FOLIO 3, FOLDER 41 |
| EVANGELICAL-LUTHERAN SANITARIUM REVIEW | DENVER, CO | V.3, 9-11 (1907) | ENGLISH | FOLIO 3, FOLDER 42 |
| EVANGELII BUDBÄRARE | CHICAGO, IL | V.8, NO.11 (1892) | SWEDISH | FOLIO 2 A |
| EVANGELII BUDBÄRARE | CHICAGO, IL | V.10, NO.107 (1894) | SWEDISH | FOLIO 3, FOLDER 43 |
| EVANGELISK LUTHERSK KYRKOTIDNING | ROCK ISLAND, IL, BRIDGEPORT, CT | V.1 (1901)-V.2 (1902) incomplete | SWEDISH | FOLIO 2 A |
| EVANGELISK TIDSKRIFT | CHICAGO, IL | V.2 (1879), V.4(1981) | SWEDISH | BOX 12, FOLDER 101 |
| EVANGELISTEN LUTHERSK TIDSKRIFT | STOCKHOLM, SWEDEN | 1849-1851 | SWEDISH | BOX 12, FOLDER 103 |
| EXTRA CENT A DAY BAND, THE | NEWTON CENTRE, MA | NO.3 (1892) | ENGLISH | BOX 2, FOLDER 15 |
| FAIRVIEW ACADEMY CATALOGUE | ROCK ISLAND, IL | 1885-1886 | ENGLISH | BOX 12, FOLDER 105 |
| FAMILJE VÄNNEN | ST. LOUIS, MO | 1894-1895 | SWEDISH | BOX 12, FOLDER 106 |
| FIRST CHURCH ADVOCATE | CHICAGO, IL | V.17-23 (1925-1931) incomplete | ENGLISH | BOX 12, FOLDER 107 |
| FIRST LUTHERAN BEACON, THE | ROCK ISLAND, IL | 1937-1938 | ENGLISH | BOX 12, FOLDER 109 |
| FIRST LUTHERAN MESSENGER | LINCOLN, NB | V.1-5 (1924-1928) | ENGLISH | BOX 12, FOLDER 111 |
| FIRST LUTHERAN VOICE | ROCK ISLAND, IL AND BROCKTON, MA | V.29, NO.7-10 (1947) | ENGLISH | BOX 12, FOLDER 112 |
| FLYGBLADET | ISHPEMING, MI | 1908 | SWEDISH | BOX 12, FOLDER 113 |
| FOLKETS VÄN | EAST ORANGE, NJ | 1920-1922, JULNUMMER | SWEDISH | BOX 13, FOLDER 114 f |
| FÖR SVENSKA HEM | MINNEAPOLIS, MN | V.2, NO.11 (1903),V.3 (1904)-V.4 (1905) | SWEDISH | FOLIO 2 A |
| FÖRBUNDETSFOLKET | CHICAGO, IL | V.1, NO.1 (1895) | SWEDISH | BOX 13, FOLDER 128 |
| FÖRENINGS-VÄNNEN | LOS ANGELES, CA | V.1-2, NO.1-9 (1927-1928) | SWEDISH | BOX 13, FOLDER 129 |
| FÖRGÄT MIG EJ: KRISTLIG MÅNADSTIDNING... | MINNEAPOLIS | ÅRG. 1 (mars 1897-feb 1898) | SWEDISH | BOX 35 |
| FÖRGÄT-MIG-EJ | WAUKEGAN, IL | 1914 | SWEDISH | BOX 13, FOLDER 130 |
| FÖRGÄT-MIG-EJ | NEW YORK, NY | 1906 | SWEDISH | BOX 13, FOLDER 130A |
| FORGET-ME-NOT/FÖRGÄT-MIG-EJ | MINNEAPOLIS, MN | V.1, NO.2 (1930) | SWEDISH | BOX 13, FOLDER 114 e |
| FÖRSAMLINGEN OCH HEMMET | CHICAGO, IL | 1907-36 (incomplete) | ENGLISH | BOX 13, FOLDER 131 |
| FÖRSAMLINGENS NYTTA | DEKALB, IL | V.1 (1907)-V.12 (1917) incomplete | SWEDISH | BOX 13, FOLDER 139-140 |
| FÖRSAMLINGENS VÄL | BLUE ISLAND/CHI.HEIGHTS/OAKDALE, IL | V.3 (1906)-V.7 (1910) incompete | SWEDISH | BOX 13, FOLDER 141 |
| FÖRSAMLINGENS VÄL | JAMESTOWN, NY | V.11 (1907)-V.17 (1912) incomplete | SWEDISH | BOX 13, FOLDER 142 |
| FÖRSAMLINGS BANÉRET | CHICAGO, IL | V.2 (1907)-V.5 (1910) incomplete | SWEDISH | BOX 13, FOLDER 132 |
| FÖRSAMLINGS BLADET | CHICAGO, IL (IRVING PARK) | V.3 (1907)-V.8 (1912) incomplete | SWEDISH | BOX 13, FOLDER 138 |
| FÖRSAMLINGS BLADET | CHICAGO, IL (OGDEN PARK) | 1915-1916 | SWEDISH | BOX 13, FOLDER 134 |
| FÖRSAMLINGS BLADET | CHICAGO, IL (AUBURN PARK) | V.2 (1916) | SWEDISH | BOX 13, FOLDER 135 |
| FÖRSAMLINGS- BLADET | CHICAGO, IL | V.3 (1907)-V.4 (1908) | SWEDISH | BOX 13, FOLDER 133 |
| FÖRSAMLINGS BLADET (LUTHERAN) | CHICAGO, IL | V.1 (1905)-V.5 (1909) | SWEDISH | BOX 13, FOLDER 137 |
| FÖRSAMLINGS VÄNNEN | BOSTON, MA; TURLOCK, CA; KANSAS | 1906, 1908-1909, 1914 | SWEDISH | BOX 13, FOLDER 144 |
| FÖRSAMLINGS VÄNNEN | SIOUX CITY, IA | NO.1-12(1907) | SWEDISH | FOLIO 2A |
| FÖRSAMLINGSBLADET | JAMESTOWN, NY | V.2 (1909) | SWEDISH | BOX 13, FOLDER 136 |
| FÖRSAMLINGSMISSIONÄREN | ROCK ISLAND, IL | V.1 (1908)-V.2 (1909) | SWEDISH | BOX 13, FOLDER 139 |
| FÖRSAMLINGSVÄNNEN | ROCK ISLAND, IL, DUQUESNE, PA | V.1 (1905)-V.3 (1908) incomplete | SWEDISH | BOX 14, FOLDER 145 |
| FÖRSAMLINGS-VÄNNEN | DES MOINES, IA | 1916 | SWEDISH | BOX 13, FOLDER 143 |
| FÖRSAMLINGS-VÄNNEN | CHICAGO/EVANSTON, IL | V.6, NO.61 (1902) | SWEDISH | BOX 14, FOLDER 144 A |
| FÖRSAMLINGS-VÄNNEN | BOSTON, MA | NO.22-23 (1906-1907) | SWEDISH | BOX 14, FOLDER 144 B |
| FÖRSAMLINGS-VÄNNEN | BROOKLYN, NY | V.1, NO.8 (1914) | SWEDISH | BOX 14, FOLDER 144 C |
| FÖRSAMLINGS-VÄNNEN | KANSAS CITY | 1908, AUGUST AND DECEMBER | SWEDISH | BOX 14, FOLDER 144 D |
| FÖRSAMLINGS-VÄNNEN | TURLOCK, CA | V.2 (1909) | SWEDISH | BOX 14, FOLDER 144 E |
| FÖRSAMLINGS-VÄNNEN | SIOUX CITY, IA | NO.1-10,12 (1907) | SWEDISH | FOLIO 2, FOLDER 2 A |
| FRAMÅT | NEW YORK, NY [BAPTIST] | AUG (1908) | SWEDISH | BOX 13, FOLDER 117 |
| FRAMÅT | WORCESTER, MA [METODIST] | V.1, NO.3 (1908) | SWEDISH | BOX 13, FOLDER 116 |
| FRÅN BYGD OCH VILDMARK I LAPPLAND OCH VÄSTERBOTTEN | STOCKHOLM, SWEDEN | 1916, 1947, 1968 | SWEDISH | BOX 6, FOLDER 55 |
| FREJA | CHICAGO? (O.A. Linder) | 1892, JULTIDNING | SWEDISH | BOX 35 |
| FREJA: ILLUSTRERAD TIDSKRIFT FÖR HEMMET | ST. PAUL, MN | V.1-2 (1893-1894 | SWEDISH | BOX 35 |
| FRIDHEM SVENSKA BAPTISTERNAS I AMERIKA ÅLDERDOMSHE | MORGAN PARK, IL | 1906 | SWEDISH | BOX 13, FOLDER 119 |
| FRIDS BANÉRET | IRVING PARK, IL AND HARTFORD, CN | 1900, 1904 | SWEDISH | BOX 13, FOLDER 120 |
| FRIDSBUDET | OMAHA:SVENSKA HOSPITALFÖRENING | V.1(1908)-V.8(1915) incomplete | SWEDISH | BOX 12, FOLDERS 114a-d |
| FRIDSRÖSTEN | MINNEAPOLIS, MN | V.1, NO.5 (1911) | SWEDISH | BOX 13, FOLDER 122 |
| FRIDSRÖSTER | NEW YORK, NY | V.1, NO.3 (1907) | SWEDISH | BOX 13, FOLDER 123 |
| FRIEND OF ZION, THE | MINNEAPOLIS, MN | V.14, NO.9 (1936) | ENGLISH | BOX 13, FOLDER 124 |
| FRIENDLY VISITOR, THE | MICHIGAN CITY, IN | [1923] | ENGLISH | BOX 13, FOLDER 125 |
| FRIHETSFACKLAN | ROCKFORD, IL | V.1, NO.1 (1907) | SWEDISH | BOX 13, FOLDER 126 |
| FRIHETSVÄNNEN | WINNIPEG, CANADA | V.1, NO.1-7 (1923-1924) | SWEDISH | FOLIO 3 |
| FRIKYRKLIG UNGDOM | STOCKHOLM, SWEDEN | NO.8 (1923) | SWEDISH | BOX 13, FOLDER 127 |
| GALVALAND | GALVA, IL | 1961-1981 | ENGLISH | BOX 14-15, FOLDER 146-154 |
| GENEVA LUTHERAN, THE | GENEVA, IL | V.4, NO.6-7 (1933) | ENGLISH | BOX 16, FOLDER 155 |
| GITTIT | MINNEAPOLIS, MN | V.1, NO.1 (1892) | SWEDISH | BOX 2, FOLDER 15 |
| GLORIA DEI LUTHERAN CHURCH | PROVIDENCE, RI | 1936-1937 | ENGLISH | BOX 16, FOLDER 156 |
| GOOD SAMARITAN, THE | ARTHUR, ND | V.3, NO.1 (1969) | ENGLISH | BOX 16, FOLDER 157 |
| GRACE CHURCH MEMBERSHIP AND YEARBOOK | CHICAGO, IL | 1929-1930 | ENGLISH | BOX 16, FOLDER 158 |
| GRACE MESSENGER | MINNEAPOLIS, MN | V.20, NO.2 (1922) | ENGLISH | BOX 16, FOLDER 158 |
| GULDAR | AXTELL, NB | V.8 (1920)-V.24 (1936) incomplete | SWEDISH | BOX 16, FOLDER 160 |
| GUSTAF ADOLFS HÄROLD | CHICAGO, IL | V.2 (1902)-V.5(1906) scattered issues | SWEDISH | FOLIO 4 A |
| GUSTAVIANA | ST. PETER, MN | V.1 (1891)-V.5 (1895) incomplete | ENGLISH | BOX 16, FOLDER 162 |
| HÄJTARENS TJÄNST | MINNESOTA | 1918 | SWEDISH | BOX 16, FOLDER 174 |
| HÄLSOSÖKAREN | CHICAGO, IL | 1928-1932 | SWEDISH | BOX 16, FOLDER 175 |
| HEBREW LUTHERAN, THE | PITTSBURG, PA | V.1 (1921) | ENGLISH | BOX 16, FOLDER 163 |
| HEIMDALL | ST. PETER, MN | V.1 (1891) | SWEDISH | BOX 16, FOLDER 164 |
| HEMMETS VÄN | OAK PARK, IL | V.1, NO.3, 20 (1903) | SWEDISH | BOX 16, FOLDER 165 |
| HEM-MISSIONÄREN | OMAHA, NB | V.1, APRIL (1892)-V.2, DEC (1893) | SWEDISH | BOX 16, FOLDER 166 |
| HEM-MISSIONÄREN | CHICAGO, IL | V.1, NO.12 (1888) | SWEDISH | FOLIO 4 A |
| HERDEGOSSEN | ST. PAUL, MN | V.12, NO.6 (1922) | SWEDISH | FOLIO 4 A |
| HERDERÖSTEN | RED WING, MN | V.1 (1891)-V.7 (1897) incomplete | SWEDISH | BOX 16, FOLDER 168 |
| HJERTBERGS QVARTALSREVY | NEW YORK, NY | V.1, NO.1 (1896) | SWEDISH | FOLIO 4A |
| HOME MISSIONARY, THE | CHICAGO, IL | V.1 (1888)-V.2 (1889) | SWEDISH | BOX 16, FOLDER 167 |
| HOME MISSIONARY, THE | CHICAGO, IL | V.1(1888)-V.5(18?) scattered issues | ENGLISH | FOLIO 4 A |
| HOME ORPHAN ECHOES | LOYSVILLE, PA | V.10 (1901) | ENGLISH | BOX 16, FOLDER 171 |
| HONAN GLIMPSES | HONAN, CHINA | V.6 (1927) | ENGLISH | BOX 16, FOLDER 172 |
| HUSBIBLIOTEK |   | V.19 (1892) | NORWEGIAN | BOX 16, FOLDER 173 |
| HUSBIBLIOTEK | CHICAGO, IL | V.19, NO1, 7-12(1892) | SWEDISH | FOLIO 4 A |
| I MÄSTARENS TJÄNST | ST. PAUL, MN | V.13 (1918) | SWEDISH | BOX 16, FOLDER 174 |
| IN THE MASTER'S SERVICE | GALESBURG, IL | V.9, NO.4 (1907) | ENGLISH/SWEDISH | FOLIO 34 |
| INSTITUTE WORKER | DIXON, IL | V.1, NO.6 (1896) | ENGLISH | BOX 17, FOLDER 177 |
| ISRAELS VÄN | CHICAGO, IL | V.2, NO.6-12 (1907) incomplete | SWEDISH | BOX 17, FOLDER 178 |
| JULBRASAN | CHICAGO, IL | 1944, 1946 | SWEDISH | BOX 17, FOLDER 180 |
| JULEN | NEW YORK, NY | V.2 (1894)-V.3 (1895) | SWEDISH | BOX 17, FOLDER 181 |
| JUL-NISSE | SALT LAKE CITY, UT | 1916, 1922 | SWEDISH | BOX 17, FOLDER 182 |
| JULSTJÄRNAN | NEW YORK, NY | 1909, 15-16 | SWEDISH | BOX 17, FOLDER 183 |
| KANINAVELN I AMERIKA | STAMFORD, CT | NO.1 (1912) | SWEDISH | BOX 17, FOLDER 184 |
| KANSAS MISSIONS-TIDNING | LINDSBORG, KS | V.8, NO.2 (1909) | SWEDISH | BOX 17, FOLDER 185 |
| KANSAS YOUNG LUTHERAN, THE | LINDSBORG, KS | V.1 (1908)-V.4 (1911) | ENGLISH | FOLIO 5 |
| KINA-MISSIONÄREN | ROCK ISLAND, IL | V.11 (1913)-V.22 (1924) incomplete | SWEDISH | BOX 17, FOLDER 176 a |
| KVARTALSBLAD / Nationalföreningen mot emigrationen | STOCKHOLM SWEDEN | 1908 | SWEDISH | FOLIO 36, FOLDER 3 |
| KVARTALS-SKRIFT | CHICAGO, IL | V.1, NO.1 (1898)-V.1, NO.2 (1899) | SWEDISH | BOX 17, FOLDER 188 |
| KVINDEN OCH HEMMET | CEDAR RAPIDS, IA | V. 23 (1910)-V.24 (1911) | NORWEGIAN | BOX 17, FOLDER 189 |
| KVINNANS YTTRE MISSIONS SÄLLSKAP | CHICAGO, IL | 1907-1908; 1913-1914 | SWEDISH | BOX 17, FOLDER 190 |
| KYRK KLOCKAN (THE CHURCH BELL) | KIRON, IA | V.1, NO.5 (1911) | SWEDISH | FOLIO 10 |
| KYRKA OCH SKOLA (CHURCH AND SCHOOL) | FERGUS FALLS, MN | V.13 (1917)-V.14 (1918) incomplete | SWEDISH | BOX 17, FOLDER 192 |
| KYRK-KLOCKAN | DENVER, CO | V.1 (1905)-V.5 (1909) incomplete | SWEDISH | BOX 17, FOLDER 191 |
| KYRKO TIDNING | ROCK ISLAND, IL; MAYVILLE, NJ | V.1 (1906)-V.3 (1916) incomplete | SWEDISH | BOX 17, FOLDER 196 |
| KYRKOBLADET | STOCKHOLM, SWEDEN | 1910 | SWEDISH | BOX 17, FOLDER 193 |
| KYRKOBLADET | ROCK ISLAND, IL, WARREN, PA | V.1 (1905)-V.7 (1911) | SWEDISH | FOLIO 10 |
| KYRKO-HÄROLDEN | SOUTH ST. PAUL, MN | V.1 (1907)-V. 11 (1917) incomplete | SWEDISH | BOX 17, FOLDER 194 |
| KYRKO-VÄNNEN | KENOSHA, WI; HIGHWOOD, IL | V.1 (1906) | SWEDISH | BOX 17, FOLDER 195 |
| L. B. I. BULLETIN | MINNEAPOLIS, MN | V.11 (1930)-V.13 (1932) incomplete | ENGLISH | BOX 19, FOLDER 214 |
| LABOR SUNDAY MESSAGE | NEW YORK, NY | 1924 | ENGLISH | BOX 18, FOLDER 197 |
| LAKE VIEW SVENSKA BAPTIST FÖRSAMLINGS FINANSER | CHICAGO, IL | 1913 | SWEDISH | BOX 18, FOLDER 198 |
| LAND I MINNESOTA | DULUTH, MN | [n.d.] | SWEDISH | BOX 2, FOLDER 15 |
| LANDKÄNNING | SKAND. SOC. ARBETAREFÖRBUNDET | 1915, 1918, 1928 | SWEDISH | FOLIO 10 |
| LEAGUE (PROGRAM) | ROCK ISLAND, IL | JUNE 27-29 (1930) | ENGLISH | BOX 30, FOLDER 347 |
| LEDSTJÄRNAN | BOSTON, MA | 1908 | SWEDISH | BOX 18, FOLDER 199 |
| LEDSTJÄRNAN | SEATTLE, WA | V.1 (1906)V.2 (1907) incomplete | SWEDISH | BOX 18, FOLDER 201 |
| LEDSTJÄRNAN (THE GUIDING STAR) | ROCK ISLAND/CHICAGO, IL | V.22,NO.1 (1925)V.23,NO.6 (1926) | SWEDISH | BOX 18, FOLDER 200 |
| LILLE BUDBÄRAREN | DENVER, CO | V.17 (1907)-V.34 (1924) incomplete | SWEDISH | BOX 18, FOLDER 202 |
| LIME LAKE LUTHERAN CHURCH YEARBOOK | AVOCA/DUNDEE, MN | 1947-1948 | ENGLISH | BOX 18, FOLDER 203 |
| LINNEA | NYKÖPING/ STOCKHOLM, SWEDEN | V. (1896)-V.9 (1896) | SWEDISH | BOX 18, FOLDER 204 |
| LINNÉA | ROCK ISLAND, IL | V.2 (1905) | SWEDISH | BOX 18, FOLDER 205 |
| LINNEA KRISTLIG UNGDOMSTIDNING | GALESBUR, IL |   | SWEDISH | FOLIO 10-13 |
| LINNEAN MAGAZINE, THE | MINNEAPOLIS | V.1, NO. 3 (1905)-V.4, NO.8 (1908) scattered issue | SWEDISH | FOLIO 13 |
| LITTLE FOLKS, THE | ROCK ISLAND, IL | V.27 (1954) | ENGLISH | BOX 18, FOLDER 206 |
| LJUFVA STUNDER | BURLINGTON, IA | V.2, NO.4 (1898) | SWEDISH | BOX 17, FOLDER 187 |
| LJUS | SAN FRANCISCO/OAKLAND, CA | V.1, NO.1-5 (1907) incomplete | SWEDISH | BOX 18, FOLDER 207 |
| LUTFISKEN | STOCKHOLM, SWEDEN | 1926 | SWEDISH | FOLIO 13 |
| LUTHER BANERET | EVANSTON, IL/KENOSHA, WI | V.4 (1902)-V.8 (1905) incomplete | SWEDISH | BOX 31, FOLDER 360 A |
| LUTHER LEAGUE EXCHANGE NEWS | NORTH WESTERN DISTRICT, IA | 1938-1939 | ENGLISH | BOX 18, FOLDER 208 |
| LUTHER LEAGUE NEWS |   | 1932 | ENGLISH | BOX 18, FOLDER 209 |
| LUTHER LEAGUE REVIEW | NEW YORK, NY | V.5 (1893)-V.10 (1898) incomplete | ENGLISH | BOX 18-19, FOLDER 210-212 |
| LUTHERAN ADVOCATE, THE | EUREKA, CA | V.1 (1905) | ENGLISH | BOX 19, FOLDER 213 |
| LUTHERAN HERALD | WAVERLY, IA | V.3 (1911)-V.8 (1916) incomplete | ENGLISH | FOLIO 13 |
| LUTHERAN HERALD | CHICAGO, IL | V.17, NO.1, 3-26 (1925) | ENGLISH | FOLIO 13 |
| LUTHERAN HERALD, THE | DULUTH, MN | V.24, NO.10 (1927) | ENGLISH/SWEDISH | FOLIO 13 |
| LUTHERAN INTELLIGENCER, THE | RED WING, MN | V.2, NO.1, 4 (1912) | ENGLISH | BOX 19, FOLDER 215 |
| LUTHERAN LITERATURE | NEW YORK, NY | V.1, NO.1-8 (1898)- (1899) incomplete | ENGLISH | BOX 19, FOLDER 216 |
| LUTHERAN MESSENGER, THE | LEBANON AND PHILADELPHIA, PA | V.17, NO.11 (1913) | ENGLISH | FOLIO 13 |
| LUTHERAN PIONEER, THE | ST. LOUIS, MO | V.12, NO.10 (1890) | ENGLISH | FOLIO 13 |
| LUTHERAN STANDARD, THE | CHICAGO, IL | V.3 (1909)-V.10 (1915) incomplete | ENGLISH | BOX 19, FOLDERS 223-224 |
| LUTHERAN SUNDAY SCHOOL HERALD, THE | PHILADELPHIA, PA | V.25,NO.4 (1884),V.28,NO.12 (1887),V.33,NO.2(1892) | SWEDISH | FOLIO 13 |
| LUTHERAN YOUNG PEOPLE | PHILADELPHIA, PA | V.1 (1904)-V.8 (1911) incomplete | ENGLISH | BOX 20, FOLDER 225-226 |
| LUTHERANEN | ROCK ISLAND & CHICAGO, IL | 1921-1933 incomplete | SWEDISH | BOX 19, FOLDERS 217-221 |
| LUTHERANS IN ALL LANDS | MINNEAPOLIS, MN | V.6, NO.4 (1926) | ENGLISH | BOX 19, FOLDER 222 |
| LUTHERSK KYRKOTIDNING | HARTFORD, CN | V.1 (1906)-V.8 (1913) incomplete | SWEDISH | BOX 20, FOLDER 227 |
| LUTHERSK TIDSKRIFT | ST. PAUL, MN | V.3 [19?] | SWEDISH | BOX 20, FOLDER 228 |
| LUTHERSKA SÄNDEBUDET | DULUTH, MN | V.1, NO.1-2 (1928) | SWEDISH | FOLIO 14 |
| MAMRELUNDS BUDBÄRARE | STANTON, IA | V.2, NO.12 (1919) | SWEDISH/ENGLISH | FOLIO 16 |
| MÅNADSBLAD | STOCKHOLM, SWEDEN | V.25, NO.5 (1913)-V.27, NO.11 (1915) | SWEDISH | FOLIO 14 |
| MEDHJELPAREN | HARBOUR, OH | V.1, NO.11 (1895) | SWEDISH | BOX 20, FOLDER 229 |
| MESSIAH CHURCH PAPER, THE | CHICAGO, IL | V.11 (1907)-V.18 (1914) incomplete | ENGLISH | BOX 20, FOLDER 231 |
| MESSIAS BUDBÄRARE | ROCK ISLAND/ CHICAGO, IL | V.13 (1925)-V.18 (1928) incomplete | ENGLISH | BOX 20, FOLDER 230 |
| MINNESOTA CONFERENCE ADVANCE | LUTH. MIN. CONF. OF THE AUG. SYN. | V.5, NO.2 (1947), V.18, NO.1-6 (1960) | ENGLISH | BOX 1, FOLDER 3 |
| MISSION TIDINGS | ROCK ISLAND, IL | V.3 (1908)-V.53 (1958) incomplete | ENGLISH | BOX 20-22, FOLDER 235-256 |
| MISSIONÄREN | GARDNER,MA,ROCK ISLAND,IL,WORCESTER | V.1 (1905)-V.10 (1914) | SWEDISH | FOLIO 16 |
| MISSIONÄREN, ILLUSTRERAD TIDSKRIFT | CHICAGO, IL | 1895-1896 | SWEDISH | BOX 3, FOLDER 33 |
| MISSIONS BREFVET | GRANTSBURG, WI | V.2 (1907)-V.4 (1909) incomplete | SWEDISH | BOX 20, FOLDER 234 |
| MISSIONS-TIDNING | ROCK ISLAND, IL | V.3 (1908)-V.53 (1958) incomplete | SWEDISH | BOX 20-22, FOLDER 235-256 |
| MONITOR | JAMESTOWN, NY | V.2, NO.17-18 (1920) | SWEDISH | BOX 22, FOLDER 257 D |
| MONITOREN | NEW YORK, NY | 1-4 (1878) | SWEDISH | BOX 20, FOLDER 257 C |
| MORELAND SVENSKA M:E FÖRSAMLINGENS ÅRSBOK | CHICAGO, IL | 19081909 | SWEDISH | BOX 22, FOLDER 257 |
| MUNTRA PELLE | GRAND RAPIDS, MI | V.7, NO.69 (1897) | SWEDISH | FOLIO 27 |
| NATIONAL GOOD TEMPLAR | CHICAGO, IL | V.16 (1958) | ENGLISH | BOX 22, FOLDER 257 A |
| NEW SWEDEN TERCENTENARY NEWS | NEW YORK, NY | NO.4 [193?] | ENGLISH | BOX 22, FOLDER 257 B |
| NORDEN | CHICAGO, IL | V.1, NO.1 (1914) | SWEDISH | FOLIO 27 |
| NORNAN: TIDSKRIFT FÖR QVINNAN OCH HEMMET | BOSTON, MASS | NO. 7 ÅRG. 1 (1 mars 1897) | SWEDISH | BOX 35 |
| NORRSKENET | MINNEAPOLIS, MN | JANUARY 1917 | SWEDISH | FOLIO 16 |
| NORTH STAR MAGAZINE, THE | GALESBURG, IL | 1919 | ENGLISH | FOLIO 27 |
| NORTHLAND WEEKLY, THE | MINNEAPOLIS, MN | V.1 (1903)-V.3 (1905) incomplete | ENGLISH | FOLIO 27 A |
| NORTHWESTERN COLLEGE QUATERLY | FERGUS FALLS | V.1 (1905)-V.11 (1915) | ENGLISH | BOX 22, FOLDER 258 A |
| NUTIDEN | NEW YORK, NY | V.1, SEPTEMBER (1892)-V.4, MARS (1885) | SWEDISH | FOLIO 27 |
| NY ECKLESIASTIK-TIDNING | STOCKHOLM, SWEDEN | 1900-1901 | SWEDISH | FOLIO 27 |
| NYA IDUN | MINNEAPOLIS, MN | V.1 (1906)-V.17 (1923) incomplete | SWEDISH | FOLIO 27 B:1-2 |
| NYKTERHETS TIDNINGEN | ISHPEMING, MI | 1901 | SWEDISH | BOX 22, FOLDER 259 |
| ODEN REVIEW, THE | DES MOINES, IA | MARCH (1917) | ENGLISH | BOX 22, FOLDER 262 A |
| OLIVE LEAF, THE | PAXTON, IL | V.18,NO.8 (1918),V.20,NO.6(1920),V.21,NO.1(1921) | ENGLISH | FOLIO 28 |
| OLIVEBLADET | PAXTON, IL, BLOOMINGTON, IL | V.1 (1901)-V.7 (1907) incomplete | SWEDISH | FOLIO 28 |
| OLIVEBLADET | ROCK ISLAND, PEORIA, IL | V.8 (1908)-V.17 (1918) incomplete | SWEDISH | FOLIO 28 |
| ÖRKENEDS KYRKOBLAD | BROBY, SWEDEN | 1964-1965, 1968-1970 | SWEDISH | BOX 33, FOLDER 433 |
| OUR CHURCH PAPER | ROCK ISLAND, IL | V.34 (1937)-V.37 (1940) | ENGLISH | BOX 22, FOLDER 264 |
| OUR SUNDAY AFTERNOON | BOSTON, MA | V.1, NO.1 (1887) | ENGLISH | FOLIO 28 |
| OUTLOOK, THE | ALFRED CENTRE, NY | V.1 (1890) | ENGLISH | BOX 23, FOLDER 265 |
| PARISH GUIDELINES | MINNEAPOLIS, MN | V.3, NO.1-11 (1962) | ENGLISH | BOX 23, FOLDER 266 |
| PASTOR'S MESSENGER, THE | TOPEKA, KS | V.2, NO.1 (1903) | ENGLISH | FOLIO 28 |
| PEDAGOGEN | ROCK ISLAND, IL/LINDSBORG, KS | V.1 (1885)-V.3 (1887) | SWEDISH | BOX 23, FOLDER 267 |
| PEGASUS | CHICAGO, IL | 1936, 1938, 1968 | ENGLISH | BOX 23, FOLDER 268 |
| PENACOOK CHURCH COOPERATOR, THE | CONCORD, NH | V.1, NO.5,8 (1930) | ENGLISH | FOLIO 28 |
| PICAYUNE | MINNEAPOLIS, MN | V.1 (1909)-V.6 (1914) | ENGLISH | BOX 23, FOLDER 269-271 |
| PICTURELAND | LEBANON/PHILADELPHIA, PA | V.4-5 (1909) | ENGLISH | BOX 23, FOLDER 272-273 |
| PIETIST, THE | GALESBURG, IL | V.1 (1873) | ENGLISH | BOX 24, FOLDER 274 |
| PIETISTEN | STOCKHOLM, SWEDEN | V.67 (1908), V.69 (1910) | SWEDISH | BOX 24, FOLDER 275 |
| PINONEER CENTENNIAL |   | NO.5 (1948) | ENGLISH | BOX 24, FOLDER 276 |
| PRINCETON FIRST LUTHERAN, THE | PRINCETON, IL | V.2 (1936)-V.3 (1938) | ENGLISH | BOX 24, FOLDER 277 |
| PUBLICATIONS OF THE WRITERS CLUB OF WASHINGTON, | PHILADELPHIA, PN | V.1-2 (1917) | ENGLISH | BOX 24, FOLDER 278 |
| RÅDGIVAREN | NEW YORK, NY | V.1(1895) | SWEDISH | BOX 24, FOLDER 284 |
| REVIVAL DYNAMITE | CHICAGO, IL | V.3, NO.2 (1926) | ENGLISH | BOX 24, FOLDER 281 |
| ROYAL STAR, THE | MOLINE, IL | V.3 (1904)-V.5 (1906) incomplete | ENGLISH | BOX 24, FOLDER 282-283 |
| SALEM MESSENGER, THE | CHICAGO, IL | V.37 (1924)-V.38 (1925) incomplete | ENGLISH | BOX 24, FOLDER 286 |
| SALEM VÄNNEN | BROOKLYN FLATBRUSH, NY | V.1 (1915)-V.2 (1916) incomplete | SWEDISH | BOX 24, FOLDER 287 |
| SÄLLHET OCH FRID | TACOMA, WA | V.1, NO.3 (1899), V.3, NO.1 (1900) | SWEDISH | FOLIO 4, FOLDER 50 |
| SALVATION | NEW YORK, NY | V.1 (1899)-V.2 (1900) incomplete | ENGLISH | BOX 24, FOLDER 288 |
| SANATORIE BLADET | DENVER, CO | V.1, NO. 5-6 (1910) | SWEDISH | BOX 24, FOLDER 289 |
| SÅNINGSMANNEN | NEW BRITAIN, CT. | V.4 (1916)-V.9 (1921) incompete | SWEDISH | FOLIO 36, FOLDER 1 |
| SANNING OCH FRID | NEW YORK, NY | V.8, NO.1-12 (1892) | SWEDISH | BOX 2, FOLDER 15 |
| SANNINGENS SEGRAR | MINNEAPOLIS, MN | V.1 (1912)-V.6 (1917) incomplete | SWEDISH | BOX 24, FOLDER 290 |
| SANNINGENS VÄN | KIRON, IA | V.5 (1905)-V.19 (1919) incomplete | SWEDISH | BOX 24, FOLDER 292 |
| SCANDIA ACADEMY YEARBOOK 1914 | CHICAGO, IL | 1914 | ENGLISH | FOLIO 28 |
| SCANDIA LIFE NEWS | CHICAGO, IA | V.1 (1906)-V.9 (1914) incomplete | ENGLISH | BOX 24, FOLDER 293 |
| SCANDINAVIA | GRAND FORKS, ND | V.1, NO.5 (1924) | ENGLISH | BOX 24, FOLDER 294 |
| SCANDINAVIAN TIMES, THE | NEW YORK, NY | V.1 (1909) | ENGLISH | BOX 28, FOLDER 295 |
| SCHOOL AND SOCIETY | LANCASTER, PA/GARRISON/NEW YORK, NY | V.48 (1938) | ENGLISH | BOX 28, FOLDER 296 |
| SEED SOWER, THE | PHILADELPHIA, PA/CHICAGO, IL | V.2-V.3 | ENGLISH | BOX 28, FOLDER 297 |
| SHEEF MESSENGER | ESCANABA, MI | V.4, NO.43 (1911) | SWEDISH | FOLIO 30 |
| SIONS-POSTEN | MINNEAPOLIS, MN | V.4 (1910), V.10 (1916) incomplete | ENGLISH | BOX 28, FOLDER 299-300 |
| SJUK-VÄNNEN | OMAHA, NB | 1901 | SWEDISH | BOX 28, FOLDER 321 |
| SKANDIA | NEW YORK, NY | V.1 (1896) | SWEDISH | BOX 28, FOLDER 328 A |
| SKANDIA | JAMESTOWN, NY | DECEMBER 16 (1926) | SWEDISH | BOX 28, FOLDER 328 A |
| SKANDIA ILLUSTRERAD MÅNADSKRIFT FÖR SKANDINAVISKA | NEW YORK, NY | V.1, NO.1-2 (April-May 1886) | SWEDISH | BOX 35 |
| SKANDINAVISK NATIONAL-BIBLIOTEK | CHICAGO, IL | V.1, NO.3 (1882) | DANISH | FOLIO 30 |
| SKOL-VÄNNEN | MOLINE, IL | NO.1-14, 21-22, (1878-1887) | SWEDISH | FOLIO 30 |
| SOCIALIST LABOR PARTY | NEW YORK, NY |   | GERMAN | BOX 2, FOLDER 15 |
| SOCIETY FOR THE ADVANCEMENT OF SCAND - Annual meet | CHICAGO, IL | 1912-1916 | ENGLISH | BOX 28, FOLDER 322 |
| SOLSKEN | CHICAGO, IL | V.1 (1912-1913) | SWEDISH | BOX 28, FOLDER 323 |
| SOLSTRÅLEN | ROCK ISLAND, IL | V.2 (1905)-V.10 (1914) | SWEDISH | BOX 28, FOLDER 328 B |
| SOMMARLOV | SWEDEN | V.12 (1916) | SWEDISH | BOX 28, FOLDER 324 |
| SÖNDAGSSKOLBANERET | CHICAGO, IL | V.25, NO.2 (1905), V.26, NO.1 (1906) | SWEDISH | FOLIO 4, FOLDER 51 |
| ST. JOHNS HERALD | CHICAGO, IL | V.13 (1932)-V.17 (1932) incomplete | ENGLISH | BOX 28, FOLDER 325 |
| ST. JOHN'S HERALD | MINNEAPOLIS, MN | V.1 (1907)-V.2 (1908) | ENGLISH | FOLIO 28 |
| ST. JOHN'S HERALD | MINNEAPOLIS, MN | V. 1,NO.3-5,7 9-12(1906-1907),V.2,NO.1-5 (1907) | ENGLISH | BOX 28, FOLDER 325 |
| ST. PAULI SÄNDEBUD | MINNEAPOLIS, MN | V.18 (1922) | ENGLISH | BOX 28, FOLDER 326 |
| ST. PAULS HÄROLD | CHICAGO, IL | V.1 (1907)-V.6 (1910) incomplete | ENGLISH | BOX 28, FOLDER 327 |
| STADSMISSIONÄREN | OMAHA, NB | NO.4 (1887) | SWEDISH | FOLIO 30 |
| STADSMISSIONÄREN (THE CITY MISSIONARY) | CHICAGO, IL | V.6 (1914) | SWEDISH | BOX 29, FOLDER 330 |
| STJÄRNAN | CHICAGO, IL | V.11 (1926)-V.19 (1934) incomplete | ENGLISH | BOX 29, FOLDER 329-329 A |
| STRUGGLE IN COLORADO FOR INDUSTRIAL FREEDOM, THE | DENVER, CO | NO.1,3 (1914) | ENGLISH | FOLIO 30 |
| SUNDAY SCHOOL FRIEND, THE | CHICAGO, IL | V.1 (1919) | ENGLISH | BOX 29, FOLDER 331 |
| SUNLIGHT, THE | PHILADELPHIA, ET. AL | V.5, NO.18 (1887) | ENGLISH | FOLIO 30 |
| SUNLIGHT, THE (AMERICAN BAPTIST PUBL. SOC.) | PHILADELPHIA,BOSTON,N.Y.,CHICAGO,ST | V.5, NO.18 (1887) | ENGLISH | FOLIO 28 |
| SVEA | WORCESTER, MA | V.3 (1899) | SWEDISH | BOX 29, FOLDER 332 |
| SVENSK KYRKOTIDNING (FORMER NY ECKLESIAS. TIDN.) | UPPSALA, SWEDEN | 1905 | SWEDISH | FOLIO 27 |
| SVENSK UNITARISK TIDNING | CHICAGO, IL | V.1, NO.1 (1909) | SWEDISH | FOLIO 29 |
| SVENSKA AMERIKANAREN TRIBUNENS ALMANACK | CHICAGO, IL | 1945, 1949-1950, 1952-1954 | SWEDISH | BOX 29, FOLDER 336 |
| SVENSKA AMERIKANARENS ALMANACK | CHICAGO, IL | 1927, 1933, 1938, 1941 | SWEDISH | BOX 29, FOLDER 337 |
| SVENSKA INGENIÖRS FÖRENINGEN I CHICAGO | CHICAGO, IL | V.3 (1911) | SWEDISH | BOX 28, FOLDER 328 D |
| SVENSKA KULTURFÖRBUNDETS KVARTALSSKRIFT | CHICAGO, IL | V.6 (1951) | SWEDISH | BOX 28, FOLDER 328 C |
| SVENSKA MISSIONSBLADET | SIOUX CITY, IA | V.1, NO.1 (1907)-V.3, NO.6 (1909) incomplete | SWEDISH | FOLIO 29 |
| SVENSKA REVYEN | DETROIT, MI | V.1, NO.1 JUNE 1897 | SWEDISH | FOLIO 36, FOLDER 2 |
| SVENSKA SÄNDEBUDET | STOCKHOLM, SWEDEN | V.42 (1910)-V.45 (1913) scattered issues | SWEDISH | FOLIO 30 |
| SVENSK-AMERIKANSKA FAMILJ-JOURNALEN | EVANSTON, IL | V.5, NO.5-6 (1912), V.6, NO.5 (1913) | SWEDISH | FOLIO 30 |
| SVENSK-FINSKA SÄNDEBUDET (SW. FI. LUTHERAN) | MARINETTE,WI,WORCESTER,MA,ISHPEMING | V.1 (1909)-V.11 (1919) incomplete | SWEDISH | FOLIO 29 |
| SVERIGES KFUM:S FÖRBUNDSTIDNING | STOCKHOLM, SWEDEN | V.21,NO.9(1913),V.22,NO.9(1914),V.25,NO.7(1917) | SWEDISH | FOLIO 30 |
| SWEDAM | NEW YORK, NY | V.1 (1939) | ENGLISH, SWEDISH | BOX 29, FOLDER 338 |
| SWEDAM | NEW YORK, NY | V.1, NO.3-4 (1939) | ENGLISH | FOLIO 4, FOLDER 43 |
| SWEDISH HOSPITAL FAIR PROGRAM | NEW YORK, NY | APRIL 30TH-MAY 7TH (1910) | ENGLISH | FOLIO 4, FOLDER 45 |
| SWEDISH M. E. CHURCH (YEARBOOK) | GALESBURG, IL | 1905-1906 | ENGLISH | FOLIO 4, FOLDER 46 |
| SWEDISH NATIONAL SANATORIUM JOURNAL, THE | ENGLEWOOD, CO | V.9, NO,3 (1931), V.29-37 (1951-1960) incomplete | ENGLISH/SWEDISH | FOLIO 4, FOLDER 46A-B |
| SWEDISH PRINTER, THE | CHICAGO, IL | OCT. 5TH (1918) | SWEDISH | FOLIO 4 |
| SWEDISH-AMERICAN FORUM | DORCHESTER, MA | APRIL-JUNE (1929) | SWEDISH | FOLIO 4, FOLDER 44 |
| SYRACUSE MESSENGER AND YOUNG LUTHERAN | GREENVILLE, PA | V.6 (1897)-V.21 (1905) incomplete holdings | ENGLISH | FOLIO 30 A |
| TABOR REVIEW, THE | MCKEESPORT, PA | V.1 (1919)-V.19 (1950) incomplete | ENGLISH | BOX 32, FOLDER 412 |
| TEMPEL KLOCKAN | CRYSTAL FALLS, MI | V.1 (1912)-V.3 (1914) incomplete | SWEDISH | FOLIO 4 |
| TEMPEL KLOCKAN | TOPEKA, KS | V.3,NO.6 (1894), V.4, NO.8 (1895) | SWEDISH | FOLIO 4 |
| TEMPELBUDET | SEATTLE, WA | V.4 (1920)-V.12 (1928) incomplete | SWEDISH | BOX 32, FOLDER 413 |
| TEMPEL-BUDET | SEATTLE, WA | V.12 (1928)-V.13 (1929) incomplete | ENGLISH | BOX 30, FOLDER 339 A |
| TEMPEL-EKO | CHICAGO, IL | V.3 (1912) | SWEDISH | BOX 30, FOLDER 339 B |
| TEMPELKLOCKAN | TOPEKA,KS,SIOUX CITY,DES MOINES, IA | V.1 (1892)-V.25 (1926) incomplete holdings | SWEDISH | FOLIO 31 |
| TEMPEL-KLOCKAN | CHICAGO, IL | V.1, N.10 (1908),V.5, N.10 (1912) | SWEDISH | BOX 33, FOLDER 414 |
| TEMPEL-KLOCKAN | PHILADELPHIA, PA | V.4, NO.5(1908), V.5, NO.8(1909), V.11, NO.6(1915) | SWEDISH | FOLIO 4 |
| TEMPEL-POSTEN | WARREN, PA | DEC. 21(1915) | SWEDISH | BOX 33, FOLDER 415 |
| TEMPEL-POSTEN | WARREN, PA | V.2, NO.30 (1912),V.4 (1914)-V.5 (1915) incomplete | SWEDISH | FOLIO 4, FOLDER 52 |
| TEMPERANCE WORLD, THE | CHICAGO, IL | V.27, NO.6 (1956)-V.28, NO.3 | ENGLISH | BOX 33, FOLDER 416 |
| TEMPLAR-BLADET | CHICAGO, IL | 1915-1916, 1927-1928 | SWEDISH | BOX 17, FOLDER 179 |
| TEXAS INNER MISSION NEWS | ROUND ROCK, TX | V.2 (1931)-V.4 (1933) incomplete | ENGLISH | BOX 33, FOLDER 417 |
| TEXAS MISSIONSBLAD | AUSTIN, TX | V.1, NO.4-5 (1909) | SWEDISH | FOLIO 4, FOLDER 53 |
| TEXTBLAD FÖR SÖNDAGSSKOLAN | ROCK ISLAND, IL | V.3 (1907)-V.16 (1920) incomplete | SWEDISH | BOX 32-33, FOLDER 418-20 |
| THEOSOPHIA | STOCKHOLM, SWEDEN | V.11, OCT-NOV (1907)-V.12 JUN (1908) | SWEDISH | BOX 33, FOLDER 421 |
| THIEL COLLEGE JOURNAL | GREENVILLE, PA | V.1,NO.1 (1875),V.2,NO.3 (1876) | ENGLISH | BOX 33, FOLDER 422 |
| THULE | NEW YORK, NY | V.1, NO.1 (1910) | SWEDISH | BOX 33, FOLDER 423 |
| TIDENS TECKEN | BROOKFIELD, IL | V.44 (1918)-V.47 (1920) incomplete | SWEDISH | BOX 33, FOLDER 424-25 |
| TIDSFÖRDRIF | CHICAGO, IL | NO.39, 26 SEPT. (1912) | SWEDISH | FOLIO 34 |
| TILL MÄSTARENS TJÄNST | SIOUX CITY, IA | V.1, NO.1-10 (1888-90) | SWEDISH | FOLIO 34 |
| TILL VERKSAMHET | WAHOO, NB, ROCK ISLAND, IL | 1885-1886 | SWEDISH | FOLIO 4, FOLDER 54 |
| TJENAREN (CHICAGO, IL,BERWICK,IA,SYLVAN,WA,ARLETTA | CHICAGO,IL,BERWICK,IA,SYLVAN,WA,ARL | V.12 (1899)-V.28 (1915) incomplete | SWEDISH | FOLIO 4, FOLDER 55-56 |
| TOURIST, THE | CORNING, NY | V.2, NO.1 (1900) | ENGLISH | FOLIO 4, FOLDER 58 |
| TOURISTEN | CORNING, NY | V.3, NO.1 (18?), V.5, NO.1 (18?) | SWEDISH | FOLIO 4, FOLDER 58 |
| TRINITY GREETINGS | DETROIT LAKES, MN | V.4, NO.3-4 (1933) | ENGLISH | BOX 30, FOLDER 339 |
| TRINITY LUTHERAN CHURCH | CANTON, IA | 1949-1950, 1952-1957, 1959-1960 | ENGLISH | BOX 30, FOLDER 341 |
| TRINITY MESSENGER | ELKHART, IN/PASADENA, CA | V.? (1920)-V.3 (1923) incomplete | ENGLISH | BOX 30, FOLDER 343 |
| TRINITY TIDINGS | GALESBURG, IL | V.1(1909)-V.4(1911) scattered issues | ENGLISH | FOLIO 4 A |
| TRINITY TIDNINGS | GALESBURG, IL | V.1 (1909)-V.4 (1911) incomplete | ENGLISH | BOX 30, FOLDER 344 |
| TRINITY-IMMANUEL CO-WORKER, THE | ALTA, IA | V.2 (1928) | ENGLISH | BOX 30, FOLDER 340 |
| TRONS SEGER | MINNEAPOLIS, MN | V.1 (1888) | SWEDISH | BOX 30, FOLDER 345 |
| TWELFTH ANNUAL CONVENTION OF AUGUSTANA LUTHER | ROCK ISLAND, IL | SEPT 27 (1919) | ENGLISH | BOX 30, FOLDER 346 |
| TYPOGRAFEN | WORCESTER, MA | NO.1-4 (1899), NO.1-4, 6-9, 11-1(1900), NO.8(1901) | SWEDISH | FOLIO 5 |
| UNGDOMENS BANER | GRAND RAPIDS, MI | V.1, NO.2 (1893) | SWEDISH | FOLIO 5 |
| UNGDOMENS BANÉR | GRAND RAPIDS, MI | V.1 (1893) | SWEDISH | BOX 30, FOLDER 349 |
| UNGDOMENS BUDBÄRARE | CHICAGO, IL | V.1, NO.1 (1895) | SWEDISH | FOLIO 34 |
| UNGDOMENS SÄNDEBUD | MOLINE, IL | V.13 (1901)-V.36 (1925) incomplete | SWEDISH | BOX 30, FOLDER 356 A |
| UNGDOMENS TIDNING | CHICAGO, IL | V.1 (1892-1896) incomplete | SWEDISH | FOLIO 5 |
| UNGDOMS STJÄRNAN | CHICAGO, IL | V.1 (1907) | SWEDISH | BOX 30, FOLDER 351 |
| UTI MÄSTARENS TJÄNST | GALESBURG, IL | V.4, NO.12 (1902) | SWEDISH | FOLIO 34 |
| VÄKTAREN | ROCK ISLAND,IL, CHICAGO, IL | V.1, NO.1-2 (1904) | SWEDISH | FOLIO 34 |
| VÄNLIGA ORD | CHICAGO, IL | V.1, NO.5 (1925) | SWEDISH | BOX 31, FOLDER 366 |
| VÅR KYRKA | OLAVUS PETRI FÖRSL, CHICAGO | V.20, NO.6 (1919) | ENGLISH | BOX 30, FOLDER 358 |
| VÅR KYRKATIDNING | ROCK ISLAND, IL | 1919 | SWEDISH | BOX 30, FOLDER 358 |
| VÅR KYRKOTIDNING | ROCK ISLAND, IL/BROOKLYN, NY | V.23 (1924)-V.3 (1936) incomplete | SWEDISH | BOX 31, FOLDER 360-362 |
| VÅR KYRKOTIDNING | NORTH GROSVENOR DALE, CT | V.2 (1893)-V.5 (1896) incomplete | SWEDISH | FOLIO 34 |
| VÅR KYRKOTIDNING | JOLIET, IL | V.1 (1906)-V.7 (1913) incomplete | SWEDISH | FOLIO 34 |
| VÅR KYRKOTIDNING | BUFFALO, NY | V.1 (1916)-V.13 (1927) incomplete | SWEDISH | FOLIO 34 |
| VÅR KYRKOTIDNING-SVENSKA LUTHERSKA IMMANUEL | EAU CLAIRE, WI | V.9 (1918)-V.20 (1930) incomplete | SWEDISH, ENGLISH | BOX 30, FOLDER 359 |
| VÅR MISSION |   | V.1 (1912)-V.3 (1914) | SWEDISH | BOX 31, FOLDER 364 |
| VÅRA FÖRFÄDERS DAG | CHICAGO, IL | V.1, NO.1 (1890) | SWEDISH | FOLIO 34 |
| VÄRMLAND VÅR HEMBYGD | CHICAGO, IL | V.1 (1926)-V.6 (1931) | SWEDISH | FOLIO 34 |
| VÅRT HEM | COOK COUNTY, IL | V.1, NO.1 (1914) | SWEDISH | BOX 31, FOLDER 365 |
| VECKOBULLETIN | ST. PAUL, MN | V.22 (1928) | ENGLISH | BOX 30, FOLDER 352 |
| VERDANDI BULLETIN | CHICAGO, IL | NO.10 (1910) | ENGLISH | FOLIO 4 A |
| VERDANDI LODGE | CHICAGO, IL | 1910 | ENGLISH | BOX 30, FOLDER 352 |
| VERNAMO POSTEN | MCKEES PORT, PA | 1906 | ENGLISH | FOLIO 4 A |
| VIDA VÄRLDEN | GÖTEBORG, SWEDEN | NO.1-4 (1909) | SWEDISH | FOLIO 4 A |
| VIKING, THE | OMAHA/FREMONT, NB | V.1 (1906)-V.12 (1907) | ENGLISH | BOX 30, FOLDER 356 |
| VINGÅRDS ARBETAREN | KANSAS CITY, MO | V.2 (1901)-V.4 (1903) incomplete | SWEDISH | BOX 30, FOLDER 357 |
| WAHOO-BLADET | WAHOO, NB | DEC., NO.11(1889)-V.3, NO.5-6(1890) | SWEDISH | BOX 31, FOLDER 367 |
| WÄKTAREN | CHICAGO, IL | V.2, NO.5 (1905) | SWEDISH | BOX 33, FOLDER 427-428 |
| WÄKTAREN (THE WATCHMAN) | NEW HAVEN, CT | V.1, NO.3 (1895) | SWEDISH | BOX 32, FOLDER 381 |
| WALDEN COLLEGE CATALOGUE | MCPHERSON, KN | 1906 | ENGLISH | BOX 31, FOLDER 368 |
| WALDEN VOLUNTEER, THE | MCPHERSON, KS | V.1, NO.1-2 (1906) | ENGLISH | BOX 31, FOLDER 368 |
| WALTER COLLEGE (CATALOGUE & ANNOUNCEMENTS) | ST. LOUIS, MO | 1904-1905 | ENGLISH | BOX 31, FOLDER 369 |
| WALTER COLLEGE OF ST. LOUIS-CAT. AND ANNOUNCEMENTS | ST. LOUIS, MO | 1904-1905 | SWEDISH, ENGLISH | BOX 31, FOLDER 369 |
| WATCH TOWER, THE | ROCK ISLAND, IL | V.4, NO.2-3 (1913) | ENGLISH | BOX 31, FOLDER 372 |
| WATCHMAN, THE | UNIONTOWN, PA | V.5, NO.3 (1925) | ENGLISH | BOX 31, FOLDER 371 |
| WEEKLY BULLETIN IMMANUEL LUTHERAN CHURCH, THE | SIOUX CITY, IA | JULY 25TH (1937) | ENGLISH | FOLIO 34 |
| WEEKLY WELCOME, THE | CHICAGO, IL | V.6, NO.1 (1893) | ENGLISH | BOX 2, FOLDER 15 |
| WELL WISHES | DES MOINES, IA | V.4 (1949)-V.21 (1966) incomplete | ENGLISH | BOX 31, FOLDER 373 |
| WESTERN ILLINOIS SUMMER NORMAL SCHOOL | ROCK ISLAND, IL | 1899-1900 | ENGLISH | BOX 31, FOLDER 374 |
| WHAT'S NEW IN BOOKS | ROCK ISLAND, IL | V.12 (1955)-V.95 (1962) incomplete | ENGLISH | BOX 31, FOLDER 375 |
| WILMINGT0N BLADET | WILMINGTON, DE | 1907 | SWEDISH | BOX 31, FOLDER 376 |
| WILMINGTON-BLADET | WILMINGTON, DE | V.2, NO.12 (1907) | SWEDISH | BOX 31, FOLDER 376 |
| WONDERLAND | PHILADELPHIA, PA | V.10, NO.1-2, 4 (1908-1909) | ENGLISH | BOX 31, FOLDER 377 |
| WOODSTOCKS' MÅNADSBLAD | WOODSTOCK, CA | 1906 | SWEDISH | BOX 31, FOLDER 378 |
| WOODSTOCKS MÅNADSBLAD (WOODSTOCK'S MONTHLY) | WOODSTOCK, CT | V.2, NO.5 (1906) | SWEDISH | BOX 31, FOLDER 378 |
| WORKLAND | PHILADELPHIA, PA | V.10, NO.1-4 (1909) | ENGLISH | BOX 33, FOLDER 426 |
| WORLD-CHRISTIAN, THE | NEW HAVEN, CT | NO.6-7 (1892) | ENGLISH | BOX 2, FOLDER 15 |
| YORK LUTHERAN, THE | YORK, PA | V.4, NO.1 (1895) | ENGLISH | BOX 32, FOLDER 380 |
| YOUNG LUTHERAN, THE | UTICA, NY, GREENVILLE, PA | V.1 (1891)-V.30 (1913) incomplete | ENGLISH | FOLIO 34 A:1 |
| ZIONS BUDBÄRARE | CHICAGO, IL | V.24 (1924)-V.29 (1929) incomplete | ENGLISH/SWEDISH | BOX 33, FOLDER 429 |
| ZIONS HÄROLD | BELVIDERE, IL | V.1 (1913)-V.8 (1920) incomplete | SWEDISH | FOLIO 34 |
| ZIONS HÄROLD | ROCK ISLAND, IL | V.12, NO.10 (1919) | SWEDISH | FOLIO 34 |
| ZIONS VÄKTARE OCH SANNINGENS HÄROLD | BATTLE CREEK, MI | V.21 (1894)-V.24 (1897) incomplete | SWEDISH | FOLIO 35 |
| ZIONS-STJÄRNAN (PASTOR ÅSLEV) | SALT LAKE CITY, UT, LOWELL, MA, +VT | V.1 (1896)-V.11 (1906) scattered issues | SWEDISH | FOLIO 35 |
| ZIONS-STJÄRNAN (SWE.EVANG. LUTH., PASTOR STENWALL) | WATERBURY, CT | V.1 (1908)-V.4 (1911)scattered issues | SWEDISH | FOLIO 34 |