May 2018
Our kids graduate, too
Katie Moore, daughter of Jeff Moore and Debbie Blaylock (communication & marketing), is graduating from Rock Island High School. She'll attend Northwestern University to study English–creative writing and political science.
Laura Bergren is graduating from Augustana with majors in English and theatre arts, with plans to work in stage and theatre management. Laura is the daughter/stepdaughter of Anne '90 and Lendol Calder (history).
Both of the Fowler boys graduate on the same day, and so Mark and Liesl Fowler (registrar) will "divide and conquer." Ian is graduating from Carthage College with a major in English–creative writing and a minor in art. He plans to work in the Quad Cities until December, when he and his girlfriend will head to England for her graduate studies. Jackson is graduating from Pleasant Valley High School and will attend North Central College in the fall to study finance and play volleyball.
After 12 continuous years of taking one class a term, Jon Gustafson, husband of Rita Gustafson (communication & marketing), graduated from Augustana in February with a degree in Asian studies. Jon took classes and sought this degree simply for the love of learning, and will continue his current career in engineering services/module integration. Rita says she and her children couldn't be prouder of him if they tried. 
Alyssa Klauer, daughter of Christina Klauer (registrar's office), is graduating from Alleman High School. She is headed here to Augustana, with plans to study biology/pre-medicine and Spanish, and run track.
John and Julie Oliger (education) are celebrating the graduations of two sons this spring: Andrew is graduating from Central High School and will attend Augustana to study computer science and business, and he'll just miss Daniel, who is graduating from Augustana. Daniel took the first of four CPA exams, which he'll finish by summer's end, and then he has a job lined up with Deloitte & Touche in Davenport.
Melanie Marie Parker, daughter of Kevin and Christy Parker (business administration), is graduating from Geneseo High School and plans to attend Augustana in the fall.
The Rev. Bill and Wendy Ramsdale's (ITS) daughter, Keonna J. Ramsdale, is graduating from Olympia High School in Stanford, Illinois. Keonna is headed to Heartland Community College to study law enforcement, with a major in forensics.
Sue Rector's (advancement) son Rickey, Augustana Class of 2013, graduated from Franklin University in Columbus, Ohio, with a second bachelor's degree in accounting. Rickey is now working for ITS Conglobal in Darien, Illinois.
George Roderick, son of Bill '85 and Lori '86 Roderick (advancement), will graduate June 2 with honors in political science from Gustavus Adolphus College in St. Peter, Minnesota. After defending his thesis, he will head to Manchester, New Hampshire, for a job as the New Hampshire Deputy Field Director for Let America Vote—a progressive voting rights organization he interned for in Virginia last summer.
Ken and Amy Roehrs' (dining services) daughter Fiona is graduating from Moline High School. Fiona is excited to be attending Drake University this fall, with plans to study health sciences.
Michael Scarpinato, son of Jeff '85 and Judy Scarpinato (advancement), is graduating from Alleman High School. Michael will begin at Augustana later this summer, when Vikings football starts preparing for the season.
Brandon Sheraden, son of Scott and Karen Sheraden (CSD), will graduate summa cum laude from Bradley University on May 12, with a major in criminology and three minors: business, ethics and sociology. Brandon also completed all requirements for the University's Honors Program. After a six-month long interview / testing process, he was offered a spot in the 2018 recruit class for the Madison (Wisconsin) Police Academy, with plans to pursue a career in federal law enforcement.
Mason James Slater, son of Todd and Lisa Slater (CORE), is graduating from Alleman High School and will attend Augustana to study biology/pre-physical therapy. Lisa says Mason knows what CORE is all about, and sings its praises every chance he gets.
Mike and Susan Wolf (geology and Fryxell Museum) are celebrating their son Ben's graduation from Bowdoin College with a major in biochemistry and a minor in computer science. Ben's proud parents are excited that he will begin work as a research assistant in a cancer epigenetics lab at Dartmouth College's Geisel School of Medicine in Lebanon, New Hampshire.
Haley Zapolski, daughter of Stacey and Michael Zapolski (athletics), graduated from the University of Michigan on April 28 with a degree in economics. She was a four-year member of the Wolverines' rowing program. Haley will be working at RippleMatch, an Internet job placement company, based out of New York City.
Good news from ITS
By Scott Dean, network manager
On May 8, ITS completed a nearly yearlong project to upgrade the campus Internet bandwidth connection from 1.3 Gb/sec to 2 Gb/sec. The upgrade required our Internet service provider (Windstream) to install new underground fiber optic cable to our campus. You may have seen the construction crew working around 7th Avenue, 38th Street and the area south of Swanson Commons in the early spring. This expanded service will now allow us to more quickly increase our bandwidth as demands rise. 
During the winter term, ITS was busy upgrading some internal network equipment that can support higher bandwidth demands up to 10 Gb/sec. With this upgrade we also have better Internet resiliency, as the service utilizes diverse fiber optic routes to better protect our service against issues like cut fiber lines.
Over the past three years, we have increased our total bandwidth 400% to better keep up with our users' Internet demands. Here are a few statistics about the volume of Internet traffic and applications used by Augustana students, faculty and staff:
•  On any given day, more than 5,000 devices are connected to Augustana's network, the vast majority of them wireless devices.
•  Total sessions for one week = 755,960,927. A session is each connection a device makes to a remote host; for example, browsing a single web page can be multiple sessions, one for each element (an ad, picture or video is an example of a session) on that page.
•  Each week, our highest 10 devices exceed 100GB of downloaded data per device.
•  Total downloaded data for one week = 49 Tb (roughly the equivalent of streaming 9,800 HD movies).
•  Our top applications in terms of data downloads are Instagram, Facebook, Netflix and Spotify—by a large margin.
Going forward, we in ITS hope that all users experience better Internet performance and that we can more quickly respond to the growing demands.
Field Notes
Rachel Reiter '18 reflects on her Senior Inquiry experience at Longfellow Liberal Arts Elementary School. Her project won the Outstanding Senior Inquiry Award in her major department, communication studies. Rachel has been invaluable to the Writers Bureau in the Office of Communication and Marketing for the past three years; some of her work is highlighted below.
When I was a first-year student, I knew I wanted to develop my writing and eventually use that skill in a career. I also knew that majoring in communication studies would help me get there.
But what I've only just discovered is how a journey like Augustana can shape, refine and strengthen professional goals. For example, I never thought I would have the chance to investigate a focused area of interest during undergrad, let alone complete 85 hours of volunteer service through a six-month Senior Inquiry project.
The communication studies department offers three Senior Inquiry options to its majors:
1) a traditional research project,
2) a reflective analysis of multi-dimensional learning experiences at Augustana, or
3) a civic engagement project to address a contemporary problem by volunteering with a local organization.
I took the civic engagement path. I built an original "action plan" from the ground up, matching my interests in education and intercultural communication to meet the needs of English language learners (ELLs) at Longfellow Elementary.
From September to February, I spent a couple of hours, four days per week, assisting in Berni Carmack's kindergarten classroom. Many students spoke a language other than English at home, primarily Spanish and Chin.
Through various literacy activities, I helped the children identify story elements, recognize letter sounds, draw those letters properly and begin to read. I also created an interactive literacy game and implemented it at Family Reading Night in November. This shared classroom material with parents while providing a fun way for them to continue the lesson at home.
Before my project, I had little knowledge of the kindergarten classroom and, of course, these particular students. But it was extremely rewarding to interact with the children in their daily environment, participate in their school routine and witness their accomplishments. Some ELL students, who previously "checked out" in phonics and reading lessons, became regular participants, better able to recognize and reproduce letter sounds. Others learned to work independently.
The children expanded my outlook on learning, traditional assessment methods and teaching strategies. They also reinforced my personal values. I felt a strong sense of purpose at Longfellow, and this internal reward, accompanied by visible student growth, fueled my commitment as a volunteer, mentor and researcher.
I learned that not only an understanding, but also an appreciation, of the home cultures represented in a classroom are deeply important for student success. That cultural appreciation will factor greatly into children's long-term academic achievement and their future employment opportunities.
As for my own career, I hope to apply this awareness and liberal arts experience to a communication role in the education field. My ultimate goal is to become a school public relations officer. Until then, I am seeking opportunities that will help me expand my professional skillset and serve a mission that I believe in.
New Faces on Campus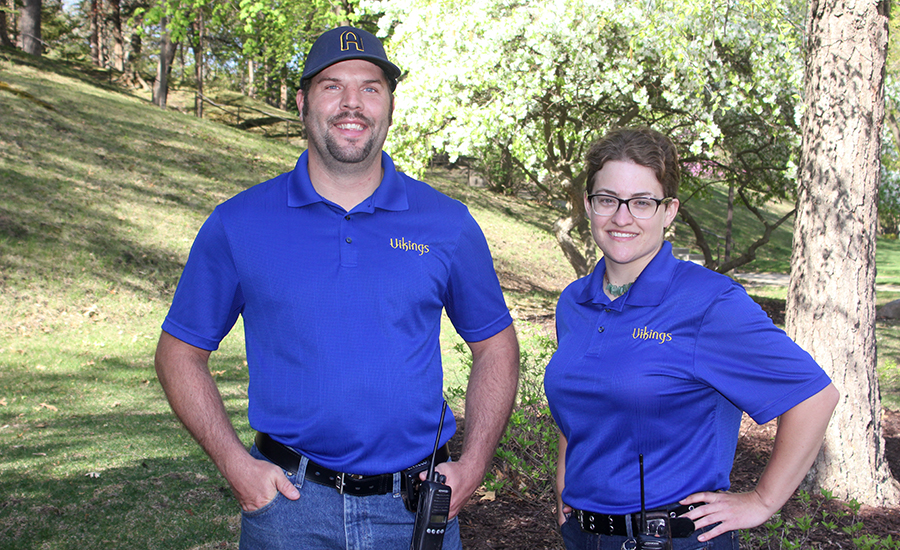 Nick Drinkall and Becky Schumacher, groundskeepers
From the minute Nick Drinkall and Becky Schumacher set foot on campus, they appreciated its eclectic beauty. Before joining our facilities team, both earned degrees in horticulture—Becky from Illinois State and Nick from Black Hawk College. Becky spent six years at the local Wallace's Garden Center, and Nick did turf care for Deere Run Golf Course in Silvis, Illinois.
"It's nice not to worry about sales. You can still be personable without trying to sell anything, which is great," said Becky. "Plus, the community. It's basically like a little town."
Having worked in lawn care for 15 years, Nick finds his day-to-day responsibilities familiar. "But everyone is nice and easy to get along with," he said.
For Becky, "Augustana's campus feels like a big forest, especially the Slough Path. I don't see that at many colleges. Around here, it looks like someone just plopped a bunch of buildings down in the middle of the woods."
Apart from her gardening expertise, Becky can weld and blacksmith. Nick likes to hunt and fish in his free time. They're nature lovers through and through.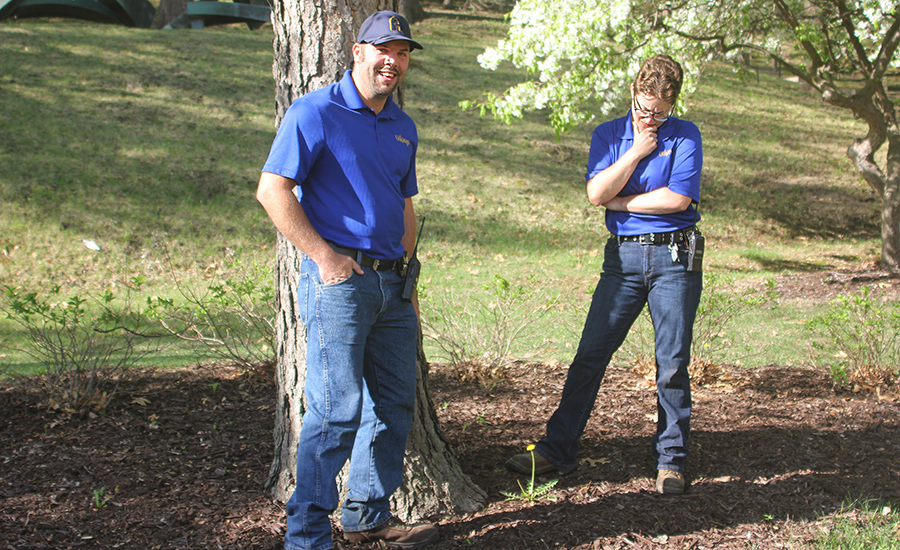 From the Cabinet
Dr. Monica Smith, Vice President of Diversity, Equity and Inclusion
Dr. Smith was one of the speakers at the May 4 gathering on the Quad to empower students after an act of vandalism occurred at the Black Culture House in late April. The following is from her remarks.
Thank you to Ashanti and Talayah for putting this event together and for Student Government Association for the support and promotion. I am glad to see so many people here in support of the event. Thank you.
Adam [SGA President Gronewold], what a brave admission and acknowledgement of the relationship between SGA and underrepresented student groups on campus. Thank you for committing to building a stronger connection.
It is important to show community when members of a community have been targeted, hurt and/or offended. I thought I'd just share with you my reactions to/during the conversation that I had with Ashanti and Talayah.
As I listened to Ashanti and Talayah describe their feelings – to some extent, they were indescribable. How does one describe the feeling of having identity devalued? How does one describe being dehumanized – especially today, in 2018?
CALL TO ACTION

Attend conversation series through Office of Student Inclusion and Diversity (formerly OMSL).

Learn more about Black Lives Matter @blacklivesmatter.com

Report bias incidents to the Bias Response Team: Michael Rogers, Dr. Wendy Hilton-Morrow, Laura Ford, Dr. Evelyn Campbell, Dr. Monica Smith.

Learn about Black culture by coming to BSW meetings.

REMINDERS

Culture houses should be safe spaces for everyone.

It is important to make sure students of color feel comfortable / safe on campus.
As I listened to them, at times grapple for the words to describe their reaction to the incident, I was heartbroken. Heartbroken to hear these two first-year students try to make sense of a nonsensical, perhaps, cryptic message targeting a group of people who the perpetrator does not know individually and obviously does not know the group of students who frequent the Black Culture House. I was also angry – the woman in me, the Black woman in me was angry. The Black mother in me was incensed that students who come to college to make Augustana their home were offended in such a way. I was angry also because I expect that in this day and time people can agree to disagree and to have their opinions heard, but those opinions ought not be plastered on walls or posts or signs without the benefit of reciprocal response.
The dialogue that has occurred has been one-sided – only voices of the perceived victims are heard and for the first week or so those voices expressed confusion and pain. But today has come and those would-be victims have chosen to use this platform today to empower themselves and to mobilize others toward action – civil discourse, community building, and strengthening relationships.
I am proud to stand here today, to unify with Ashanti, Talayah, all the students who use the Black Culture House, SGA, and everyone within the sound of my voice to affirm that Black lives matter!
I am reminded of my charge to enhance the sense of well-being of underrepresented students on campus and to continue to be motivated to live out what I know is my life purpose – enhance diversity, equity, and inclusion.
You might be wondering how you can make a difference. We are at the point where the conversations need to move forward. Black and Brown people have these conversations all the time and we all know it's time to move from conversing to doing. How can you make a difference? Heed the call to action that Ashanti and Talayah will share. Black lives matter! Thank you!
Seen & Heard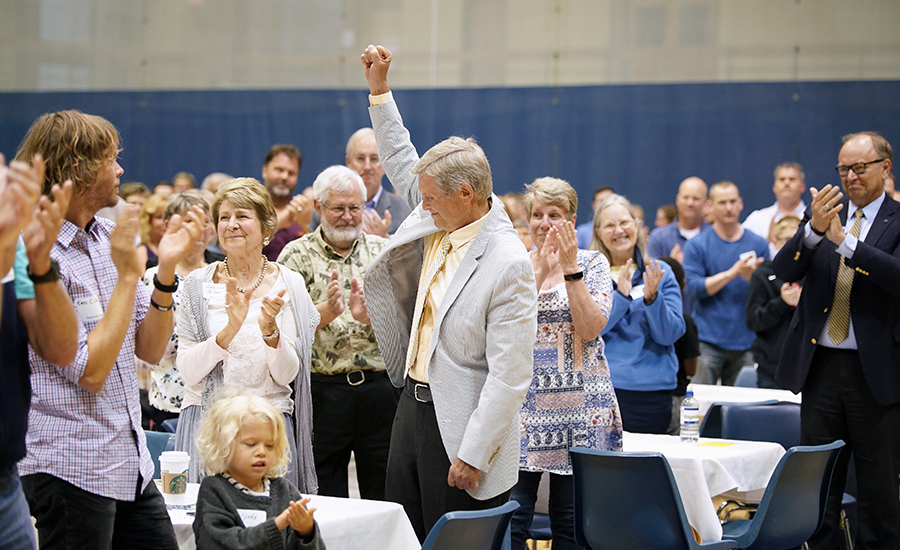 Acknowledge is published by the Office of Communication and Marketing at Augustana College in Rock Island, Illinois. Contact Beth Roberts, editor. Rachel Reiter '18, Writers Bureau, is the author of "New Faces on Campus." Photos in this issue are by Debbie Blaylock and Paul Colletti.