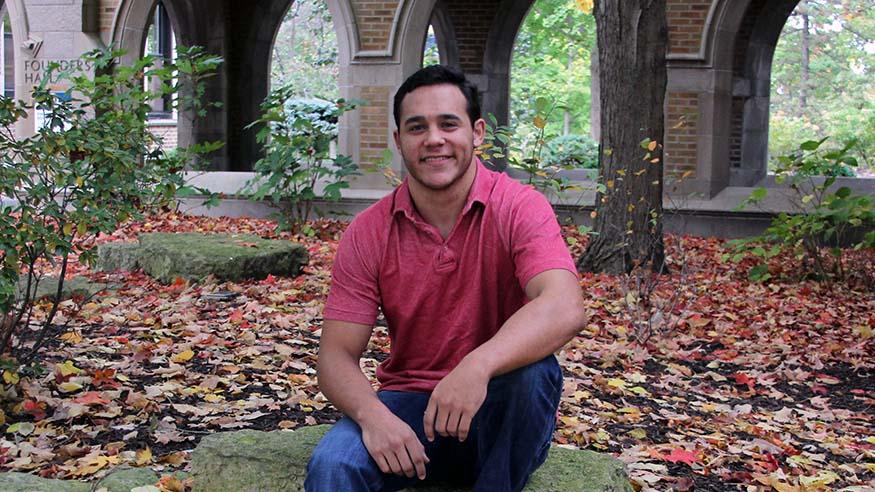 News
The making of a college pro
Nick Torres '18 is a geology and environmental studies major with a passion for leadership, entrepreneurship and teamwork. Back home in Joliet, Torres is the owner of a College Pro Painters franchise, where he employs friends and other students to work on different projects.
"It's a really cool experience, being a leader and doing your own thing. I thought it was a good way to make some money, too," he explained.
After starting as a painter for the company, Torres progressed to job site manager and production manager within a year. When asked if he'd like to own a part of the business, Torres was flattered. "I didn't think I had it," he said.
As a member of the Rho Nu Delta fraternity at Augustana, Torres harnessed interpersonal skills and prepared for real-world leadership opportunities. As Rush chair, he became comfortable with organizing events and speaking to various people.
"I think it's something that's going to help me out in the future," he said. "It gave me a drive, in a way."
Despite some challenging situations on the job, learning how to tackle conflict and solve problems are valuable lessons Torres hasn't taken for granted. He enjoys building relationships with customers and employees during each project.
"I learn about topics in class and apply it in the field. Even simple things, like when someone got paint on a window and needed to use a razorblade to take it off—I knew from geology class that a metal is weaker than glass and the glass wouldn't be scratched because of its hardness," he said.
As for his career path, Torres is keeping an open mind but maintains an interest in business management. "I might like to run some form of environmental business, working with natural resources or a state park, to inform people on environmental issues, how to be green, and save the earth," he said. "You wouldn't necessarily think that business and geology can relate, but I've found that they can."
Throughout the school year, Torres markets painting opportunities via Craigslist and Facebook, assigns small projects to friends or other individuals after an interview and takes a percentage of the profit. Jobs vary in location, ranging from Orland Park to Morris, Illinois, about a 20-mile radius from Joliet.
This year, Nick Torres was listed among the Top 25 of 250 franchise owners for quality and customer service.
By Rachel Reiter '18, Augustana Writers Bureau