March 2018
A Day of Giving is April 11. Party on the Quad!
The entire campus community is invited to QuadFest, a party on the Quad (of course) from 11 a.m.-3 p.m. on Wednesday, April 11, to celebrate A Day of Giving, one of the college's biggest single-day fundraisers of the year.
Free fun at QuadFest will include:
• Inflatable obstacle course, jousting and everyone's favorite: Sumo bubble wrestling
• Doggie de-stress (Feeling a bit overwhelmed? Take a moment to pet a dog.)
• Massage station (tentative)
• Big Wheels trike races
Food trucks, including La Flama and Streets of Italy, will serve from 11 a.m.-2 p.m. Lunch is on your own.
The employee kick-off for A Day of Giving is noon-1 p.m. March 28 in Gävle Room 1 & 2 in The Gerber Center. FREE lunch (nacho bar, cookies, beverages) will be provided to those who register by 5 p.m. Friday, March 23.
Also, remember Whitey's Viking Pride ice cream and our world record-breaking ice cream-eating human chain during Augustana's sesquicentennial celebrations? It's back!
Make a gift of any size to the Augustana Fund and get a scoop of Viking Pride. And those who want to add to their collection of Augie socks can receive the second edition (limited supply) with a $60 donation to the Augustana Fund.
A Day of Giving on April 11 runs from midnight on the East Coast to midnight in Hawaii. Our challenge donors are raising the stakes by offering more than $200,000 in match money! Gifts made on that day will have double the impact. Visit adayofgiving.augustana.edu to learn more.
Spread the good word: semesters and J-Term
Augustana faculty, staff and administrators have been working steadily on the college's transition from trimesters to semesters, to begin in the 2019-20 academic year. Transition coordinators Gillian Lederman and Jayne Rose send regular updates to the campus community, and we in turn are beginning to inform the broader community.
Here are some of the main points being shared with students and their families, if you have an opportunity to summarize the change:
• The semester calendar will introduce new opportunities without slowing progress toward the bachelor's degree. Students and advisors will work closely together, so students can stay on track and no credits are lost as a result of the transition. Augustana offers students a Transition Guarantee.
• Students who bridge both calendars will experience a different pace. While the current 10-week trimesters might seem fast-paced, semesters will create more time to focus in-depth on course material, and more time for longer-term projects.
• Augustana's semester calendar will not affect class sizes or our low student-faculty ratio. Students will continue to benefit from individual attention from faculty and other mentors.
• Primary reasons for the transition are to provide new academic opportunities for students—especially a J-Term. The semester calendar also will make it easier for the college to partner with other colleges and universities on programs and resources, and will provide a more seamless transition for students transferring to Augustana.
January Term (J-Term)
• An exciting new feature to Augustana's curriculum will be a 3-week J-Term in January. J-Term opportunities will include study abroad, independent study, internships and on-campus courses.
• J-Term courses will be built around faculty expertise and special interests, and will provide eclectic, exciting options for students at an intensive pace. Some courses will explore topics that overlap fields, such as theatre and vocal music, or communication studies and public health. Others will adapt current course topics that could work better in a J-Term, such as Shakespeare and film.
• Students at other colleges report feeling "refreshed and re-charged" after J-Term, and ready for the start of spring term. Faculty at other colleges have referred to their J-Term as a highlight of the academic year.
• Costs of tuition, room and board for students taking a J-Term course on campus are included with fall term registration/billing. Any student who is full-time during fall term may remain on campus for a J-Term course. 
• Augustana's first J-Term will occur January 6-28, 2020. Beginning fall of 2019, all first-year students except transfer students will have a J-Term course requirement in their first year. All other students will be encouraged but not required to take a J-Term course.
If you have questions, get in touch with Jayne Rose or Gillian Lederman. Also watch for their "Get Ready to Explore More" information station in the Brew by the Slough, each Tuesday from 10:30 a.m.–noon, and encourage students to stop by.
Field Notes
After helping admissions to bring in the Class of 2022 and celebrating the retirement of Professor of English and Coach Paul Olsen in May, Mike Pettis is leaving Augustana to become an executive account manager at O'Rourke Sales Company. As an assistant coach for the men's track & field program, Mike chose this moment to write about his experience with "Ols" all these years.
For 52 years, the Augustana men's cross country and track & field teams have been led by one man. For this man, the journey has always been the goal.
While enjoying his first year out of college as a teacher and coach for Manitowoc High School, Paul Olsen came upon "two roads diverged in a wood." His making the decision to leave Manitowoc and come to Augie has irrefutably "made all the difference" to so many.
Ols has always supported his student-athletes to have more than one Number One in our lives, and for me, it was track, music and coaching. When I sat in Ols' office as a high school senior, he promised me two things: (1) this will be four of the best years of your life, and (2) you will always be treated as a human being.
'He has created an atmosphere of contagious inspiration.'
His support never wavered, and 13 years later, these promises still ring true. I've been able to balance a professional career with coaching and family life because of Ols. The opportunity to be coached by and with Ols will be one of my life's greatest joys.
This man has taught us to celebrate life. This man has reinforced that "at the end of every act is a human being," making sure we know there are always consequences to the choices we make.
He has created an incomparable atmosphere of contagious inspiration. As Ols puts it, "we will run and jump and vault and throw because we can. Because it's a privilege. Because it challenges us to take risks. Because we get to live closer to the edge than when we just sit and watch life spin by us."
Not just a coach in sport, but a coach in life, Ols shows incomparable compassion to everyone he meets. Although he tells us the inspiration he sees in us is contagious, it is the emotion and action he inspires which have been contagious. Thank you, Ols.
By Mike Pettis '09
New Face on Campus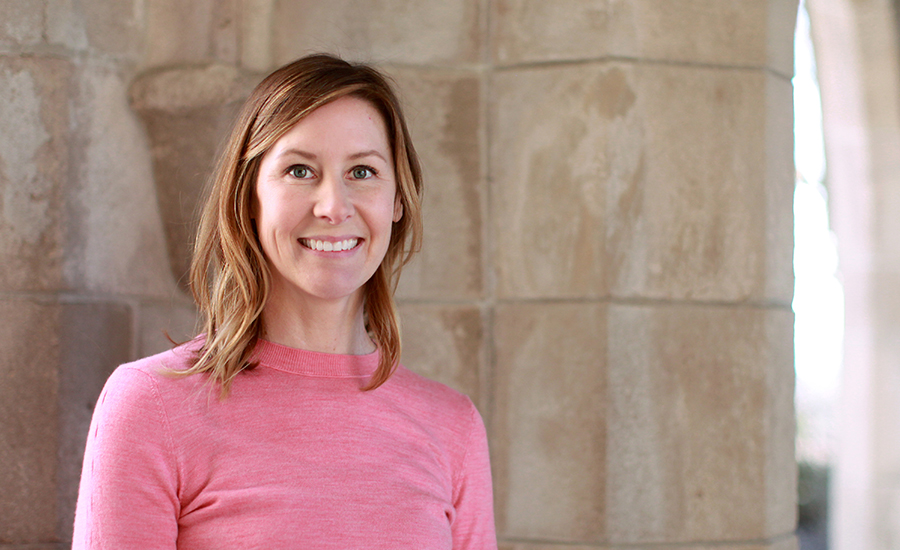 Anne Oakes, student counselor
Bachelor of arts, University of Northern Iowa
Master of social work, St. Ambrose University
After work you can often find Anne Oakes at dek hockey practice. On campus, you can find her in Founders 206.
Prior to joining Augustana student counseling services last fall, Anne worked with elementary and secondary school populations. She is enjoying this next step in a new environment.
"There's so much development that happens from the first year of college until students graduate, with many life experiences to navigate," she said. "It's exciting to help people realize they're capable of handling the ups and downs along the way."
When it comes to counseling, Anne enjoys the feedback process of discovering what is helpful in facing students' challenges. "We have a wide variety of assessment tools," she said. "But it can take some time to figure out what works for each individual."
She added, "If students are struggling with something that might be beyond what their professors, family or friends can help with, they shouldn't hesitate to give us a call. Visit Founders 206 or contact us at (309) 794-7357 to make an appointment."
Student counseling service's web pages also have a faculty and staff referral guide, which includes information about reporting an emergency. All concerns that students bring to student counselors are treated with care, confidentiality and respect.
Apart from her friendly office, Anne admires the collaboration between Augustana staff and faculty across departments. "It's so nice that everyone has a positive, team-oriented attitude. We can really help get students where they want to be."   
From the Cabinet
Keri Rursch, Assistant Vice President of Communication and Marketing
What a pleasure it is to write for Acknowledge as a newly invited member of the President's Cabinet. I'm honored to work among these college leaders, to get to know them even better and try to keep their pace. I'm also grateful to represent my colleagues in the Office of Communication and Marketing at the table.
This invitation to the cabinet means a lot, because it shows how much Augustana values the effort to build our brand, communicate clearly and market to the right people. Indeed, if we are able to help the college pinpoint ideal prospects, recruit and retain them, and ultimately keep them engaged long after graduation, we will have done our job.  
'Indeed, if we are able to help the college pinpoint ideal prospects, recruit and retain them, and ultimately keep them engaged long after graduation, we will have done our job.'
It's clear the competition for top-notch students, employees and donors is growing fiercer by the day. Colleges and universities everywhere are focusing more on branding and marketing. As Northwestern's chief marketing officer told Ad Age, "There is a growing interest and belief in the importance of defining and articulating your university brand, because it's important to be differentiating and compelling—not unlike a product in the consumer space."
We are marketing an Augustana College education and experience—something far more precious than shoes, sodas or sedans. Yet many of the traditional marketing challenges exist for us.
With a growing price tag, how do we find and better communicate with the right prospective students and their families?

How do we best present the value (or even ROI) of an Augustana education in the most compelling ways?

How do we leverage multiple channels to build the Augustana brand to the next level?

What are the best ways to use marketing principles and communication tools to support our Office of Advancement in its efforts to engage alumni and encourage giving?

In what ways can we continue to sustain an approach that is modern and mindful of the latest technology and trends, without being too flashy or trendy?  
The college's most recent brand research, conducted in late 2017, has given us important guidance for best addressing the questions above. Please share your marketing ideas with us, as well.
As one means of creating dialogue around marketing, I invite you to a Lunch and Learn on March 29 at 11.30 a.m. in the Wilson Center. We will discuss the 2017 research on the college's brand, and areas where we can create stronger, more consistent impressions of Augustana College.
Seen & Heard
"Rachel weeps for her children, refusing to be consoled because they are no more, and so do we. We remember and mourn the 17 people killed on February 14, 2018, while they went to school or work. Like many of us do each day. They were adults and children, they were friends and family. They were loved ones all."
— From the Rev. Kristen Glass Perez's prayer to the assembled outside Bergendoff Hall, participating in a March 14 national walkout in protest of gun violence and in remembrance of those killed by a gunman at a high school in Parkland, Florida, last month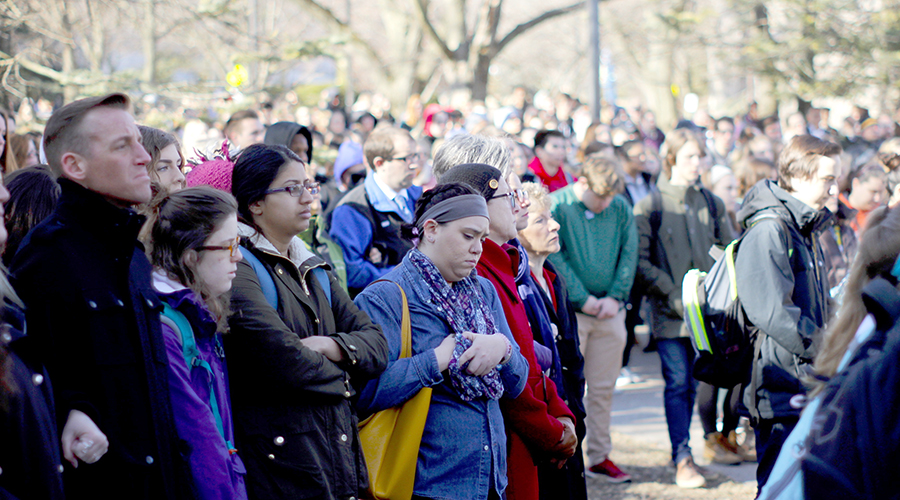 Acknowledge is published by the Office of Communication and Marketing at Augustana College, Rock Island, Illinois. Contact Beth Roberts, editor. "New Face on Campus" is written by Rachel Reiter '18, Augustana Writers Bureau. Photos for this issue were contributed by Tori Charnetzki '18 of the Augustana Photo Bureau, Paul Colletti and Quan Vi.