Texas Medical Center Summer Research Internship Program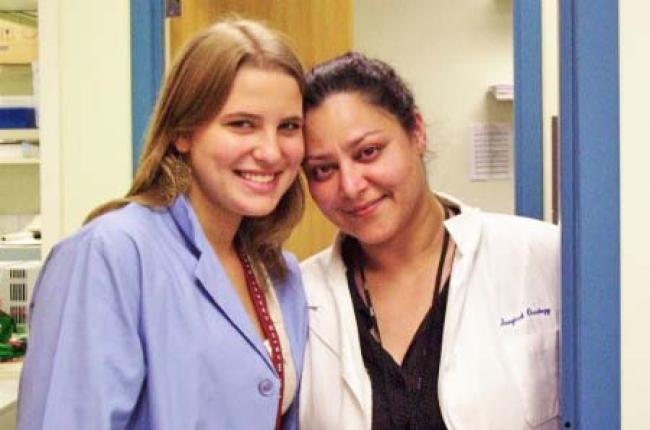 The Texas Medical Center Summer Research Internship Program is a strategic partnership between Augustana students and communities.
TMC-SRIP is for students completing their junior year at Augustana. It is open to all majors. This summer experience is a full-time, 10 week research internship at the Texas Medical Center in Houston, Texas.
Texas Medical Center consists of 49 member institutions, employs more than 93,500 people, and serves approximately 6 million patients.  It is the largest medical complex in the world. The heart of the program is located at two primary institutions: University of Texas M.D. Anderson Cancer Center and Baylor college of Medicine.
Previous Augustana students have been placed at the University of Texas M.D. Anderson  Cancer Center, one of the world's leading treatment and research centers; Texas Children's Hospital, an international leader in pediatric medicine; as well as Baylor College of Medicine, Rice University, and the University of Texas Health Science Center's prestigious Center for Laboratory Animal Medicine and Care.
The Medical Center is home to 21,000 physicians, scientists, researchers, and other advanced degree professionals.  Over the past 5 years, it has received more than $3.5 billion in grants for research.
Internships are available in all majors.
Previous students who have participated in this program have had majors in:
• Art
• Biology
• Business Administration
• English
• Chemistry
• Communication Sciences and Disorders
• Philosophy
• Pre-med
• Pre-Vet
• Psychology
Any student interested in any aspect of health care is invited and encouraged to apply.
One-on-one mentoring relationships can be established in clinical or research medicine, any area of allied health, psychology, neuroscience, veterinary research, as well as in human resources, health care economics, medical illustration, pastoral care, law, finance, health care policy, and clinical ethics.
Students are selected on the basis of skills, gifts, and talents that encourage curiosity, critical thinking and problem-solving, and authentic self-reflection. These intern characteristics are fine-tuned in a series of spring (prior to departure), summer (onsite), and fall (back on campus) seminars that focus on: community building, vocational reflection, and ethics.