News
Making it count in Texas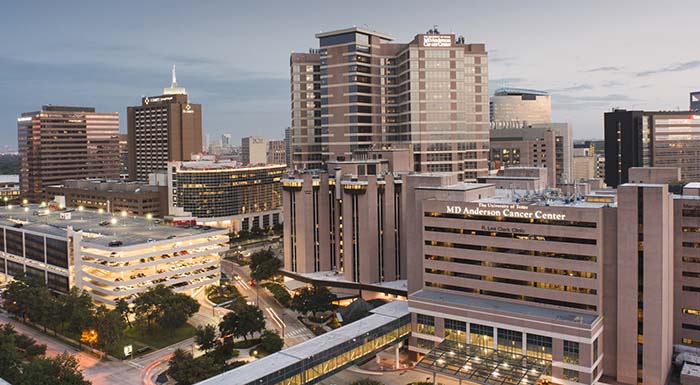 (Augustana Magazine Winter 2013)
Alongside peers from top research schools in the country, Augustana students are making a name for themselves and their college a thousand miles from campus.
In 2006, when Dr. Heidi Storl established a research internship program with the world-class Texas Medical Center in Houston, up to nine Augustana students were invited. Today, Augustana may send as many as 25 students to MD Anderson Cancer Center and other institutions within the Texas Medical Center, as word has spread about those talented, hard-working undergraduates from Rock Island, Illinois.
"I think these Augie students are on par with, and in many cases are more advanced than, other students from around the country," said Dr. Joseph Hyser '99, assistant professor in the Department of Molecular Virology and Microbiology at Baylor College of Medicine. "I have personally been asked by other lab leaders about how to get an Augie student because they have heard how good they are for their projects. This is all by virtue of the hard work and excellence demonstrated by the Augie interns."
Dr. Hyser has supervised four Augustana interns himself, and will welcome his fifth this summer. To help support the students, he meets with the group each week—a time jokingly called "Office Hours"—and in this informal forum, he hears about their respective progress.
"With my own interns, what I look forward to the most is their 'A-ha moment,' which is the moment they get results that prove something new, and they have moved knowledge forward," Dr. Hyser said. "With Dr. Storl's philosophy background and how she works to give students a broader understanding of how biomedical research fits into society, they can really appreciate what they have accomplished."
As the interns become more and more excited about their findings, they start researching for new ideas that Dr. Hyser says he hasn't even thought about. "They are intellectually skilled enough to take their results and plan future experiments—that is a sign of a mature researcher and an attribute that makes these interns top medical and graduate school candidates," he said. Dr. Hyser joined the lab of Dr. Mary K. Estes, professor in the Department of Molecular Virology and Microbiology at Baylor College of Medicine, for his graduate studies on rotavirus. He graduated with his Ph.D. in 2007 and decided to remain with Dr. Estes to complete a post-doctoral fellowship, which became the launching point for his independent research career.
Like Dr. Hyser and other Baylor colleagues, Dr. Estes has been impressed with Augustana's interns. An internationally known leader in the study of gastrointestinal viruses and member of the National Academy of Sciences, she is the co-director of a top graduate program at Baylor College of Medicine (BCM), and that program has recruited three former interns from Augustana: Matt Pautz '09 and Mark Tanner '12, and last month Doug Peters '13 also interviewed for graduate school at BCM.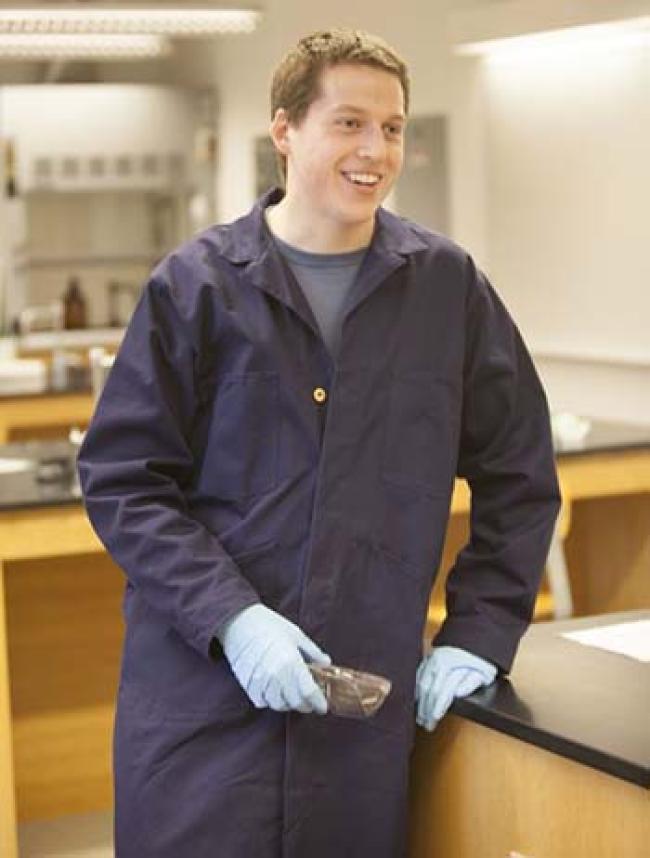 Win-win situation
At the same time Augustana students are attracting attention with their skills and work ethic, they are gaining hands-on experience in labs led by award-winning scientists and clinicians. In fact, the Texas Medical Center (TMC) is the largest medical complex in the world with 53 institutions on campuses encompassing 1,300 acres. MD Anderson Cancer Center, the top-ranked U.S. hospital for cancer care in the past six years, is the anchor institution and has been the destination for many Augustana students.
The summer before her senior year, Sophia Willer '08 was an intern at MD Anderson. That experience influenced where Willer finds herself today, and forged a mentoring relationship that has guided her through medical school and now her residency.
Willer graduated from medical school last spring and currently is an emergency medicine resident physician in Chicago. To this day, she feels fortunate she was selected to participate in Augustana's TMC internship program. "I benefited from everything," Willer said. "It was very helpful for medical school applications because I already had research experience but none as intense and well known as TMC. I became great friends with my mentor Dr. [Constance] Albarracin. She wrote a letter of recommendation for me for medical school as well as for my residency applications. I still email her today."
"I was in the pathology department at MD Anderson, so in that respect it was very different from what I do now," Willer explained. "Pathologists don't see any patients. Instead they examine slides and tissues. However, I also worked in the intraoperative gross lab with the pathologists, and that helped me realize how much I loved procedures, which eventually helped me select my specialty of emergency medicine."
Life-changing experiences and relationships are the hallmark of Augustana's internship program at the Texas Medical Center.
Christopher Carter '13 studied medical ethics while working in the Center for Medical Ethics and Health Policy at Baylor College of Medicine last summer. Although his office was at Baylor, he spent most of his time at Methodist Hospital where he researched brain death and participated in ethics consultations, and worked on policy review committees and transplant committees.
"I had no 'average' day as each varied greatly, from coming early in the morning to staying late at night," said Carter, a neuroscience, pre-medicine and biology major. "I attended rounds with physicians, nurses and other members of the healthcare team in many of the intensive care units where I identified patients that fit the criteria of my research project."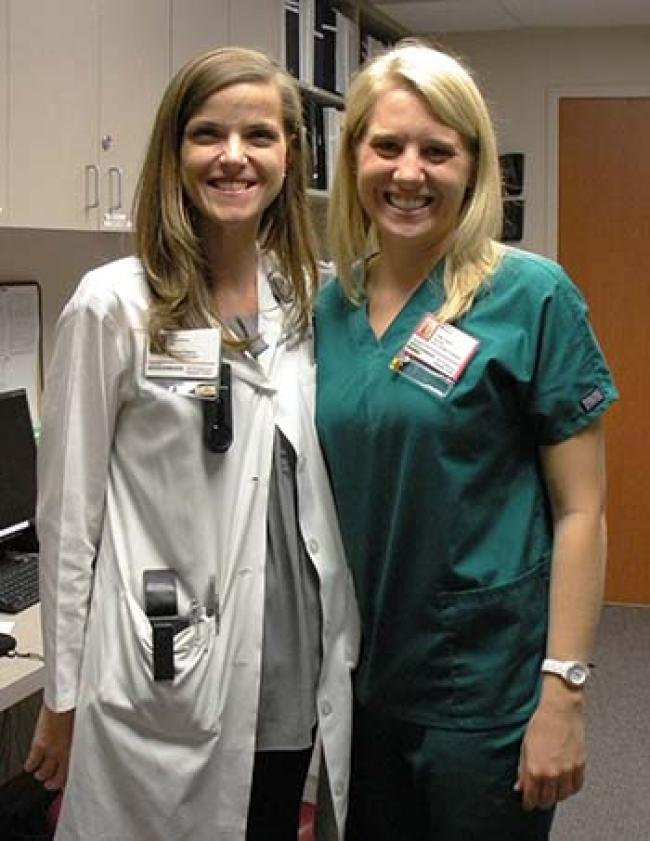 Carter specifically evaluated ethical concerns as they relate to brain death and the process of declaring brain death in a clinical setting. Once he identified patients, he tracked their neurological health, interactions between medical staff and the family, and other areas of ethical concern until brain death was declared. The data he collected was then analyzed to create a practical algorithm on the declaration of brain death that is now being used at Methodist Hospital.
"This internship exposed me to a fascinating field that incorporates medicine, law and philosophy," Carter said. "Before going to Texas, medical ethics was a vague topic in academia, and now I plan to pursue a Ph.D. in bioethics and become a clinical ethicist."
One of Carter's fellow TMC interns last summer, Catherine McDermott '14, shadowed and volunteered at Texas Children's Hospital. Her area of research was examining the role of the β2-adrenergic receptor in the development of asthma. Through shadowing and volunteering in the emergency room at Texas Children's Hospital, she could see firsthand the applications for her research.
"When I saw children whose asthma was so severe that they needed to be hospitalized, my heart ached for them, but I was also excited because I saw hope on the horizon," said McDermott, a biology and pre-medicine major.
"While I learned that I need and crave patient interaction, I appreciated and enjoyed the research," she added. "Because of this experience I will look for medical schools that have active research departments and incorporate research into their curriculum."
Sweet success
Dr. Heidi Storl, the founder and director of Augustana's internship program in Texas, is excited to see what McDermott, Carter and the other 2012 TMC interns will achieve in the coming years. She keeps in touch with many of her interns after they leave Augustana.
She recently has heard from Amanda Saraf '07—a first-year pediatrics resident at Phoenix Children's Hospital; Kristina DeRycke '10 — a 3D medical animator for a New Jersey company; and Katrina Jensen '11 — a speech pathology graduate student at the University of Arizona. From her internship work at the Texas Medical Center, Jensen was listed as the third author for her contributions to an article in the professional journal Head & Neck in 2012.
"I can't tell you how exciting this has been," Dr. Storl said. "To see these students work so hard to take advantage of this amazing opportunity is incredible. And the reputation they have earned means more opportunities for students in the years ahead."
At a glance:
10-week summer program at one of the Texas Medical Center's institutions in Houston following a student's junior year.
All majors can apply; half of the 60 participants have had one-on-one mentoring relationships in clinical or research medicine, areas of allied health, psychology, neuroscience and veterinary research. Other interns have worked in areas such as human resources, health care economics, medical illustration, pastoral care, finance and law.
About 50 applicants each year; 10-15 students are chosen, depending on available funding.
Participants receive $3,500 for housing and a small stipend; $2,000 in Augie Choice funding may be used for expenses related to this program.
Two required spring seminars prepare the students to think about their gifts and skills in ways that nurture the "whole self." Three follow-up seminars are held to discuss the vocational and ethical aspects of their summer training.