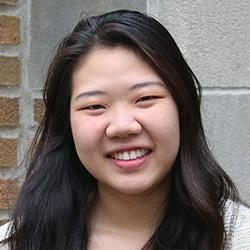 More Than I Imagined
Seniors reflect on accomplishments and look ahead
Rachel Heah
Graduation year: 2019
Hometown: Penang, Malaysia
Majors: Engineering physics, neuroscience
Activities: Varsity swimming, Augustana Symphony Orchestra, Chi Alpha Pi sorority
Internship: Texas Medical Center program, design engineering internship with QAV automation
Post-grad plans: I was offered a research position at Baylor College of Medicine with the lab where I interned through Augustana's Texas Medical Center program.
Why Augustana?
Augustana has both neuroscience and engineering physics programs, and I was able to major in both disciplines. Augie also has a swim team where I could continue my swimming career. The music department here at Augustana is also built in such a way that a non-music major is able to participate in ensembles.
Are you where you thought you would be when you came to campus

?
Yes and no for various reasons. I knew through the college experience that I would grow, attain knowledge and build friendships. But what was more of a surprise was how much self-discovery I made throughout my four years here.
Who helped you get to where you are now?
My professors helped me when they saw the potential in me when I was not confident in myself, and of course my family, who is always behind me, by sending me support from quite literally across the globe.
Peak experience?
My peak experience has got to be winning the concerto competition and being able to perform a piano concerto with the Augustana Symphony Orchestra. Every classical musician's dream is to perform concertos, and I never thought I would ever have the chance to do a concerto with the orchestra, especially since I am not even a music major/minor. This experience meant a lot to me and will always hold a special meaning in my heart.
What surprised you?
I have always been a very busy and involved kid even before college, and I didn't think I would be able to successfully handle all my involvements in college and still do well. But what I learned about myself that surprised me was that I am capable of things bigger than I thought I was capable of.
How did you use Augie Choice?
I used my Augie Choice for my Texas Medical Center internship program as I spent a summer in Houston.
What will you miss the most?
Definitely the people. My friends, teammates, professors and all the familiar faces that you always see, but never actually said hi to. Augustana has definitely become a home away from home.
Advice for the Class of 2023?
Challenge yourself. Be intellectually curious and seek answers. But also take days to reflect, de-stress and love yourself.
"Rachel is a very gifted pianist, but she flew under the radar when she came to Augustana. She came to our attention through the help of another faculty member, her violin teacher. I was so thrilled when she won concerto competition! It was wonderful to see how her fellow students supported her along the way, truly a sign of just how easy it is to like her. It has been wonderful to see her come in Bergendoff and my studio always with her great charisma and smile. I will miss her next year, but maybe it's better that the rest of the world now gets to benefit from her talents."