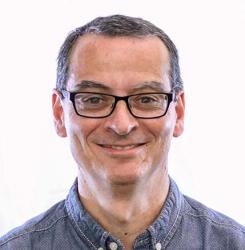 Mariano J. Magalhães
Professor of Political Science
I can pinpoint the moment I knew what I wanted to be "when I grew up." It was an evening in late February of 1981. At the time I was 13 years old and had accompanied my father to his job. My father is a university professor and for whatever reason I went with him to one of his classes that night. I still have extremely vivid memories of that night: of my father standing in front of the class explaining the material, of students raising their hands and asking questions, of the friendly atmosphere that permeated the room.
And I remember the content. That evening my father talked about Langston Hughes and he wrote on the board the poem that became imprinted on my brain: 
"Hold fast to your dreams, for if dreams die
Life is a broken-winged bird that cannot fly"
I had fallen in love. At that moment, I knew, beyond a shadow of a doubt, that I wanted to be a teacher. Unlike so many adolescents I had experienced something that would define my career later in life.
The above experience happened while in Brazil, a country where I lived for almost ten years, during, as I like to call them, my "formative years." Not only was it in Brazil that I defined my life's professional ambition, but also where I encountered the subject that most fascinates me and that drives my teaching and research.
I lived in Brazil during most of the country's lengthy transition from military rule to democratic government (from 1979 to 1988). I came of age watching new political parties forming to compete for political office, politicians arguing over the content of the new constitution, ordinary people (myself included) taking to the streets when it appeared that the military would renege on it promises to bring democracy to Brazil.
I will always remember the day Brazilians witnessed the election of the first civilian president since 1960. It was a Monday afternoon in late January of 1985, and the whole country stopped to watch members of the National Congress cast their votes in an indirect election for president. I remember watching each member of the National Congress walk to the podium and cast his or her vote.
The concepts of democracy and democratization form the core of my scholarship, and more and more over the past few years have helped structure and refine the content of many of my courses, in which democracy is the core theme around which all other material revolves.
Specializations: Latin American politics, Comparative politics, Political culture, Decentralization, Brazil