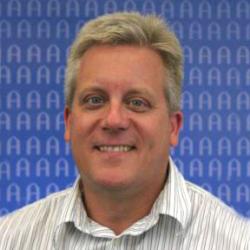 David W. Crowe
Professor of English, Dorothy J. Parkander Professor in Literature
David Crowe has been a member of the English department for more than 20 years, and has been its chair since 2002.
He is a graduate of Luther College and earned his M.A. and Ph.D. at the University of Minnesota, with a specialty in the American writers who lived in Paris during the 1920s. These days he is more interested in the history and literature of the Vietnam war, traveling twice to Vietnam, and is currently finishing a book on John Updike and his sense of faith as described by the existentialist thinker Soren Kierkegaard.
Dr. Crowe has taught in Augustana's honors programs for many years, including interdisciplinary team-taught courses with professors of biology and mathematics. He has taught and helped lead study abroad trips to continental Europe (Rome and Paris specifically) and Vietnam. He and his family also lived in Norway during the 1999-2000 school year as Dr. Crowe taught and studied as a Fulbright scholar at the University of Bergen.
Specializations: Vietnam war, Hemingway, American literature
Education
B.A., Luther
M.A., Ph.D., Minnesota