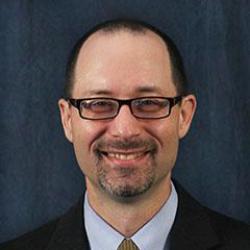 David L. Ellis
Professor of History
Originally from Tennessee, David Ellis received a B.A. in History and German from Wake Forest University. 
As part of his undergraduate experience, Ellis studied at the Free University of Berlin for a year and witnessed the opening of the Berlin Wall in 1989, which played an important role in his decision to pursue graduate study in German history.  
He received his doctorate from the University of Chicago, and he has taught at Augustana since 2001. 
In the classroom, Ellis encourages students to develop skills of historical thought and expression that enable them to critique both primary documents and scholarly accounts of the past, and he urges students to elaborate their own evidence-driven and self-critical analyses of the past.  
Ellis offers courses that address modern European history, modern Germany, revolutions in comparison, and women in Europe.  
Ellis also teaches in the first-year liberal arts sequence. Many of his courses incorporate both traditional approaches to scholarship and the pedagogy of Reacting to the Past, which leads students to engage with broader concerns of the liberal arts through extended role-playing simulations in specific historical scenarios.  
Ellis is a strong advocate of the value of foreign study, and he has led Augustana students on foreign terms, teaching in Rome, Paris, Wittenberg, Leipzig, and Berlin.  
Several of his students have received the Geifman Award, which is given annually for the best response to the Holocaust. 
Ellis' research interests lie at the intersection of politics, religion, law, and culture. He is particularly intrigued by the nineteenth-century Awakening, a trans-Atlantic revivalist movement that occurred in both Protestant and Catholic areas.  
Most of Ellis' publications address various aspects of the Awakening (die Erweckungsbewegung) in the German-speaking lands. Several focus on exploring the notable tension between Awakeners' theological egalitarianism and the stalwart defense (by many Awakened leaders) of social and political hierarchy.  
 
Education
B.A., Wake Forest
M.A., Ph.D., Chicago