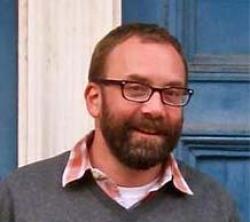 Adam R. Kaul
Professor of Anthropology, Sociology and Social Welfare
Anthropology uses a holistic perspective to examine culture(s), it teaches us to question our own cultural assumptions, to read complex texts, to write constantly, and to ask The Big Questions. These are invaluable skills in any career and most certainly in our rapidly globalizing world.
It is key for students to be engaged with research as undergraduates, and to be taught by faculty who actively conduct their own research. In the anthropology program at Augustana, all students carry out their own ethnographic projects in their senior year. We guide students through ethnographic fieldwork on topics as diverse as an ethnography on the impacts of tourism on traditional Gombe dance troupes in Bermuda to studies on local refugee populations right here in the Quad Cities.
Likewise, it is valuable for students to be taught by research-active faculty because in your classes you will hear about the latest ideas and concepts coming out of the discipline.
I am a socio-cultural anthropologist who studied folklore and archaeological hoaxes for my master's degree. My doctoral work was a long-term ethnographic study of the impacts of tourism on the performances of traditional Irish music in pub sessions in a small village called Doolin on the west coast of Ireland. I lived there for over a year, and have returned almost every year since then to carry out more research projects and to visit my friends there.
I've written a number of articles and book chapters about traditional music, commodification, and tourism in Ireland, as well as a book entitled Turning the Tune: Traditional Music, Tourism, and Social Change in an Irish Village (Berghahn 2009, republished in 2013). From 2005 to 2008, I was an honorary Research Associate with the Department of Anthropology at the University of Durham in England. In 2014, I was a Research Fellow at The Moore Institute at the National University of Ireland at Galway where I carried out ethnographic fieldwork with street performers.
I am also working on co-editing a book tentatively entitled Leisure and Death: Lively Encounters with Risk, Death, and Dying, and I am also carrying out long-term ethnographic fieldwork on tourism, heritage and sustainability issues in a northwest Illinois community called Bishop Hill.
I have former students who have gone on to do graduate work in anthropology, archaeology, biological anthropology, and museum studies at top-tier programs at Cambridge University (UK), The University of Wisconsin at Madison, The University of Colorado at Boulder, and elsewhere. Students from Augustana's anthropology program have also gone on to work as applied anthropologists in the private sector, social work, and in non-governmental organizations as well.  
Publications
American Cultural Anthropology and British Social Anthropology, "Connections and Differences," Anthropology News, January 2006
"Music on the edge: Busking at the Cliffs of Moher and the commodification of a musical landscape," Tourist Studies
"TURNING THE TUNE: Traditional Music, Tourism, and Social Change in an Irish Village,"  Berghahn Books, New York, Oxford
"The limits of commodification in traditional Irish music sessions," Journal of the Royal Anthropological Institute, 2007
Specializations: Traditional Irish music, Ireland, Globalization, Cosmopolitanism, Midwest, British Isles, Tourism, Popular culture, Ethnography, Sustainability, Heritage, Buskers, Sociology, Anthropology, and Social Welfare
Education
B.A., Minnesota State - Moorhead
M.A., Northern Illinois
Ph.D., Durham