Augustana offers a major and minor in French, and a major in teaching French.
Careers and internships
Knowledge of French culture, language, and literature is useful and marketable for people pursuing many careers — from education to medicine to business in the global marketplace.
At Augustana, many students of French choose to double-major; recent combinations have included art history, economics, international business, mathematics, pre-medicine and philosophy.
Recent graduates
Here's a sampling of what recent graduates are doing:
Jenny Vanderpool '15 is a neurosurgery physician assistant at Ascension in Milwaukee.
Rukmini Girish '15 is an audience outreach associate with the Steppenwolf Theatre Company.
Hannah Bohn '14 is an impact coordinator at Effect Partners in Minneapolis.
Zain Dada '12 is a technical solutions engineer at Google.
Leslie Nellis '11 is associate archivist for Digital Initiatives & Records Management at American University in Washington, D.C.
Distinctions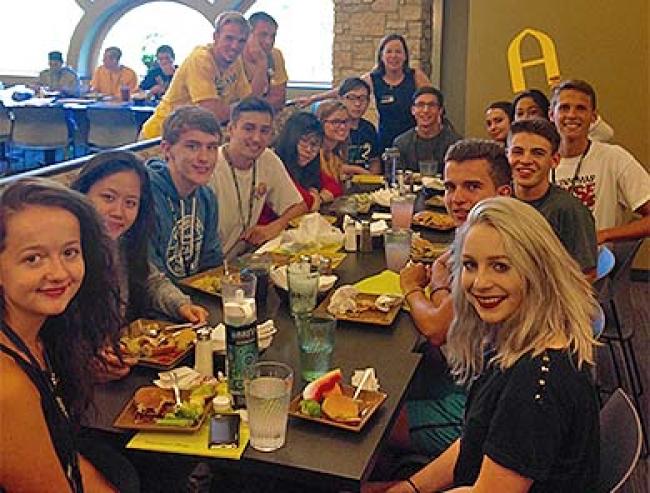 Augustana's French department has maintained a strong language and literature program that is highly favorable with students. The program offers an array of courses at the advanced level, as well as beginning courses.
The faculty all have a Ph.D. and a wide range of complementary specializations, including the expanding area of Francophone studies. Through study, international travel and family origin, the combined faculty also have experience with German, Spanish, Italian, Latin, Greek and Arabic languages.
Students have plenty of opportunity to practice their skills outside class, at French Club, the Table Française discussion group, and by attending the French Film Series. At the Soirée Française at the end of every term, students of French practice their public speaking and perform a reading, monologue, or short dialogue for an audience.
Many students of French use their Augie Choice $2,000 to study abroad in one of the college's programs in France or Francophone countries, with options available every year. During a six-week summer program with Université de Bourgogne in Dijon, students focus on intensive study of French language and culture with other students from all over the world. All classes are taught by native French speakers, and students also have the possibility of a home-stay with a French family.
What students say
Kevin Carton '10, French, communication studies and Africana studies; now careers and internships coordinator, Augustana College
"You can tell from your first encounter with a French professor at Augustana that they are passionate about what they teach. They understand that students enter their department at different levels and are more than happy to work one-on-one with you. This was especially helpful for me as I did not discover my passion for the language until my later years in high school and consequently, had some catching up to do.
"The faculty are outstanding in that they not only pushyou to perfect your grammar skills, but are also extraordinarily knowledgeable in French literature and Francophone culture. It's exciting to be a part of a community that pushes you to view French literature in a new lens while also strengthening your understanding of the history of France."
Lizeth Tamayo '16, French, biochemistry and biology/pre-medicine
"What I want to do with my combination of majors is to work with Doctors Without Borders eventually. This way I won't need a translator. I'll have that real patient-to-patient contact."
Megan Bystol '14, French, anthropology and international business
"When I came to Augustana, I didn't know I wanted to be a French major. So I figured I'd take a couple of classes because I didn't know what I wanted to be. I fell in love with the department and how everyone is so engaged in what they do, and you can tell that the professors really love what they are teaching. And all the literature and poetry are about love, sex and death, so you won't get bored!"
Sandrine Chomereau-Lamotte '13, French-secondary education; now a French teacher, Lake Forest (Ill.) High School
"Attending Augustana College as a French education major prepared me for a competitive and tough job market. Having an island heritage certainly gives me an edge in the French field, but my additional studies in the French department enhanced my knowledge and ability to relate material within several different cultural contexts. With my background in grammar and French literature, poetry and even folklore, I have been able to provide enriching experiences for my students.
"I always looked forward to my French classes during the day, and that reinforced it as my passion in life. The more I learned at Augustana, the more I shared with others. At my current position at Lake Forest High School, I look forward to seeing my class every day, and I know I am where I have wanted to be. French truly makes me happy."