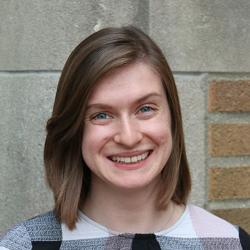 More Than I Imagined
Seniors reflect on accomplishments and look ahead
Kathryn Boyle
Graduation year: 2021
High school: Metea Valley High School
Hometown: Naperville, Ill.
Majors: Communication sciences and disorders (CSD), French
Activities: Augustana Concert Band, French Club, Zeta Phi Kappa sorority
Internship: Augustana Speech, Language, and Hearing Clinic
Post-grad plans: I will be attending graduate school at Purdue University to get my master's in speech-language pathology!
Why Augustana? 
I chose Augustana because of the amazing things that I heard about the CSD department. When I visited for the first time, I found that Augie was a place that felt like home to me and where the professors cared deeply about all of their students. I really value the personal connection with my professors and supervisors, and I definitely found that here!
I also chose Augustana because I had the opportunity to continue doing all of the things that I love, such as playing trumpet and learning French.
Are you where you thought you'd be when you first came to campus?
I am nowhere near where I thought I would be. I have taken opportunities, such as joining the crew team my freshman year, that I never thought would be available to me when I first came. The amazing opportunities that I have had helped me to explore different areas and interests that I never had the chance to do before and have really shaped my journey here at Augustana and now beyond!
Who helped you get to where you are now?   
My advisors, Dr. Kalas and Dr. Haskill, have been a large part of my support system since I arrived on campus and have helped to guide and encourage me in both academic and personal areas over the last four years.
My trumpet lesson teacher and band director, Dr. Lambrecht, has also been someone who has always been there to listen to me and has encouraged me in working toward achieving my dreams since I was a freshman.
This year, I had the chance to work closely with my clinical supervisor, Ms. Williams, and professor, Dr. Jakielski, who are both huge inspirations to me in the field of speech-language pathology due to their knowledge and passion for the field. They have helped me to explore my interests in the field, given me constructive feedback on clinic and my research, and have been there to support me through my monstrous Senior Inquiry project!
Peak experience?    
My peak experience is happening right now as I work through my Senior Inquiry project! Through my clinical experience and the guidance of Ms. Williams and Dr. Jakielski, I have been able to design a Senior Inquiry project that not only involves the area of speech-language pathology that I am extremely passionate about but also has given me the opportunity to conduct my own research in this area as well.
What surprised you?   
The most surprising thing about the past four years is how much I was able to do at the same time and not have to give anything up. I was able to try new things while still being able to play my trumpet in a concert band setting and have two majors in two completely different areas! I was able to follow all of my passions at Augustana.
What will you miss the most?    
I will definitely miss my professors and supervisors the most. I was able to make so many great connections with and learn from so many amazing professors who have had such a large impact on my life. It will be hard to move on to a new university without them next year, but I have no doubt that we will keep in contact.
Advice for the Class of 2025?
Sign up for as many clubs and activities as you can and try all of them at least once. More than likely, you'll be surprised with what you end up loving and how that ends up shaping your Augustana experience.
"I've had the extreme fortune of being Kate's clinical supervisor and Senior Inquiry advisor. Kate is an intelligent, dynamic and compassionate student — qualities that supported her ability to thrive clinically. She demonstrated great insights into the understanding of the many etiologies of communication disorders and thought critically, thoroughly and creatively about service provision. She was an empathetic student clinician who changed the life of her client in two semesters by facilitating his acquisition of communication. Kate will attend Purdue for a master's in speech-language pathology, and their program is beyond fortunate to be gaining Kate as a scholar and clinician."