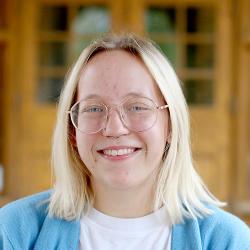 More Than I Imagined
Seniors reflect on accomplishments and look ahead
Abigail Johnson
Graduation year: 2023
High school: Boylan Central Catholic High School
Hometown: Rockford, Ill.
Major: Teaching French
Minor: Art history
Activities: French Club, French Table
Internships: Student teaching at Pleasant Valley Junior High and Pleasant Valley High School
Post-grad plans: Teaching French at Pleasant Valley Junior High and High School
Why Augustana?
Honestly, I did not put a lot of effort into finding my "dream school." I initially applied to Augie because a lot of people from my hometown ended up here and had only good things to say.
Once I got here I was struck by how beautiful the campus was, especially in the fall. I still love taking walks through campus. I also was impressed by the small class sizes. It made connecting with classmates and professors a lot easier. I always felt like an actual person in my classes, not just a number.
Are you where you thought you'd be when you first came to campus?
Kind of! In terms of academics, I had always planned to major in French. However, I wasn't entirely sure what I wanted to do with it when I first got to campus. I had a feeling I would find my way to the education department, but it took me a while to commit to it. I also did not anticipate finding a minor, but after taking an art history course my sophomore year, I knew I had to keep going with it.
Overall, in my four years here, I have grown A LOT personally, academically and professionally.
Who helped you get to where you are now?
I am incredibly grateful for my family and friends, who have never stopped encouraging me to follow my passions.
Dr. Kiki Kosnick has done so much for me and has helped me grow so much, both academically and personally. Being able to work alongside them and explore gender-inclusive French language has been one of my most valuable life experiences. Their continuous support, positivity and genuine concern for all students, while still prioritizing learning, is something I hope to take into my classroom.
Dr. Taddy Kalas has never stopped challenging me to improve my written and spoken French. She is so passionate, and it's definitely contagious. Her classes have motivated me to always work hard and have given me confidence in my abilities.
The education department helped me define my teaching philosophy and gave me the tools to be an effective teacher.
Jill Nielsen at the Brew has been my emotional support for four years. I don't know what I would've done without her listening to me rant about life.
Peak experience?
Helping out Dr. Kiki Kosnick with their presentation/workshop on non-binary and gender-inclusive French on Symposium Day my junior year and continuing to work with them to create materials that encourage the use of gender-inclusive French.
It was amazing to see people at the workshop (some of whom had no French experience) work with these inclusive forms and use them in context. It was also cool to see our gender-inclusive materials (i.e., an emoji emotions poster) come to life and be displayed.
What surprised you?
The amount of vastly different opportunities I have been given have certainly been surprising. Most notably I would say working with Dr. Kiki Kosnick and other students in the French and art departments, working in the Augustana Teaching Museum of Art, being a a peer tutor of French and a student supervisor at the Brew. The variety of opportunities at Augie is amazing.
How did you use your Augie Choice?
I'm using my Augie Choice to help fund my study abroad trip to Dijon, France.
What will you miss the most?
Probably the Brew. I have been working there since I was a freshman and have made so many great friends and memories there. I am especially going to miss seeing and chatting with Jill every day.
Advice for the Class of 2027?
Prioritize yourself and your well-being. There is always so much happening on campus, and it is easy to get caught up in academics, extracurriculars, work and maintaining a social life. Remember that you deserve to rest. Make sure to take time to relax and recharge both physically and mentally. :)
"Abby has been a wonderful addition to the French program since the day she arrived, and her work has gotten more incisive and interesting with each passing year. I will very much miss her insightful contributions to class discussion. It has been a joy to oversee her Senior Inquiry project in French (which may be the longest one in department history!). As much as I hate to see her leave, I am very excited to send her off to start a teaching career for which she is so well-suited."