News
Hoffmann '15 wins Fifty for the Future award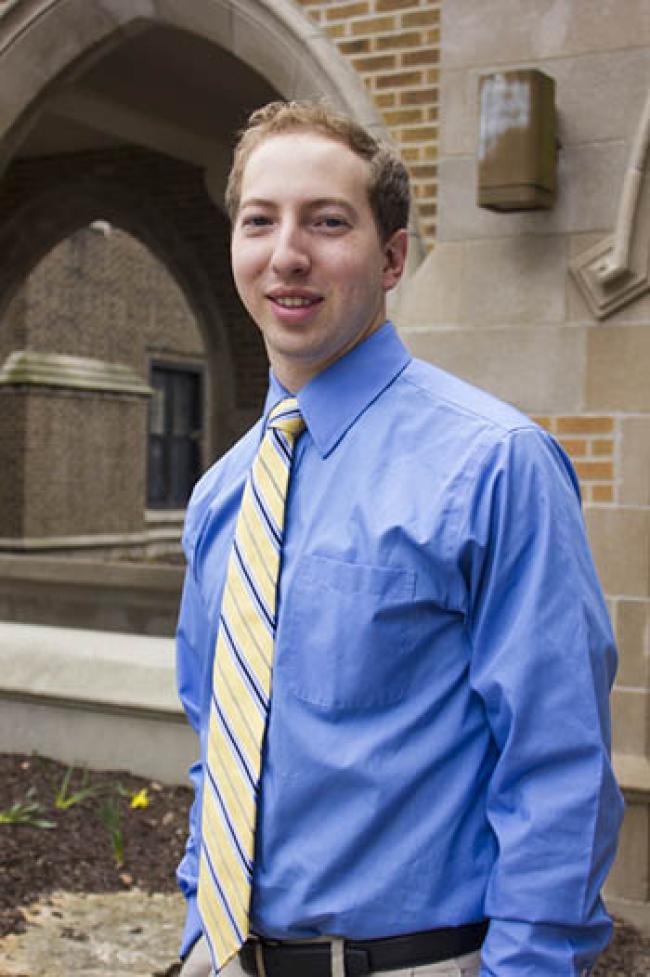 Augustana senior Mark Hoffmann has been selected as a winner of the Fifty for the Future award by the Illinois Technology Foundation.
He is a native of Lansing, Ill., majoring in pre-medicine and engineering physics and minoring in mathematics and computer science. He plans to attend North Carolina State University for a masters of science in analytics
Fifty for the Future encourages higher education and industry to support students across Illinois who aspire to achievement in the field of technology. Faculty are invited to submit nominations for individual students; Dr. Forrest J. Stonedahl, Augustana assistant professor of mathematics and computer science, nominated Hoffman.
"Winning the Fifty for the Future award is a great honor that I could have only done with the support and help of my professors and classmates at Augustana who pushed me to want to always continue bettering myself in and out of the classroom," Hoffmann said.
"I believe that having the ability to understand and develop new technologies will be of utmost importance in the future for helping better mankind. My eventual goal is to make some sort of noticeable impact on the world by means of new technologies and ideas."
Hoffmann and other winners were honored at the recent Fifty for the Future celebration in Chicago. Each student, as well as the faculty member who nominated him or her receives a $1,000 scholarship to Directions Training's extensive catalog of offerings.
"Mark struck me as a student with strong entrepreneurial potential in the area of technology; he has the right combination of technical computer science skills, soft skills, business savvy, and self-confidence," said Dr. Stonedahl.
"Furthermore, he is never afraid to jump into something new and learn about it on his own, so his abilities go beyond textbook depth. The capacity to quickly pick up new software and computer languages is a central part of the skill set for tomorrow's technology leaders."
He added that he also nominated Hoffmann because he is pursuing graduate work in "data science," which combines computer science skills with mathematical/statistical analysis, visual design skills and business knowledge.
In 2014, Hoffmann was named a Rossing Physics Scholar and received a $10,000 scholarship from the Evangelical Lutheran Church in America Foundation through the Thomas D. Rossing Fund for Physics Education Endowment.
Hoffmann has been actively involved in research since he started at Augustana. His first project as a first-year student was on nuclear physics research. In the summer of 2012, he conducted data analysis at Augustana on a nuclear physics experiment that previously took place at Michigan State University, and later presented his research at the National CEU Nuclear Physics Conference in Los Angeles.
During an internship at a local engineering firm, he worked on a project to minimize cost and maximize efficiency for air-handling units. He then presented his work to engineers in the company.
In 2014, he worked on an optics project with Dr. James van Howe, associate professor in physics. Part of the project required him to write a simulation that would propagate an electromagnetic wave through space. As continuation of that work with Dr. van Howe, Hoffman has been setting up new undergraduate quantum optics labs for physics students at Augustana this year.
Last summer, he had a project at MD Anderson Cancer Center in Houston, Texas, where he performed data analysis on patient records who underwent radiation treatment for breast cancer.
Augustana senior Jake Self also received the Fifty for the Future award, nominated by Dr. Greg Tapis.