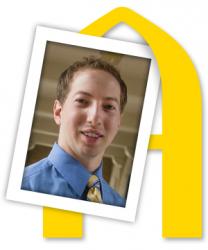 More Than I Imagined
Seniors reflect on accomplishments and look ahead
​Mark Hoffmann
Graduation year: 2015
Majors: Pre-medicine, engineering physics
Minors: Mathematics, computer science
Internships: Nuclear physics research with Dr. Nathan Frank; engineering internship; and radiation physics research at University of Texas MD Anderson Cancer Center
Post-grad plans: Attend North Carolina State University for a masters of science in analytics
Why did you choose to attend Augustana?
I chose Augustana because I liked the small-school feel and the connection students can have with professors. There are so many opportunities available when you have the chance to be more personable.
Are you where you thought you'd be four years ago?
No way. I originally considered majoring in music performance. Then I thought I wanted to be a doctor, and now I am more on the analytical side of things.
Who helped you get to where you are now?
My professors were always willing to put in the extra time to help with things I needed. They weren't just interested in me taking their class. They were interested in helping me find my passions as well. My parents were also huge in supporting me and encouraging every choice I made. I also could not have gotten to where I am now without all of my friends here at Augustana. They really made my experience here worthwhile and memorable.
A peak experience?
I feel like I've had so many that it's hard to put a finger on just one. It would have to be being an active member of Phi Omega Phi and involved in the Office of Student Life. Both of those opportunities really pushed me to grow in many ways unimaginable before coming to Augustana.
What did you learn about yourself in these past four years that surprised you?
I learned that I have so many interests that the real constraint for me is finding the time to fit in everything I enjoy while still sleeping. I also learned the value of a well-rounded education and communication skills.
How did you use your Augie Choice?
I used my Augie Choice as part of my stipend for the Texas Medical Center trip after my junior year. I had an internship at MD Anderson where I worked in radiation physics doing research.
What will you miss the most?
I'll miss constantly being around all of the people I have had the pleasure to meet here at Augustana. From my fraternity to clubs and sports to residence halls, the people I have met have really been the main influence in who I am today.
Advice for the Class of 2019?
Keep an open mind in everything you do and try your hardest to break out of your comfort zone as fast as you can. Also, don't take life too seriously. Work hard, but everything will fall into place.
"Mark fully invests and succeeds in his academic pursuits both inside and outside of class. His ability to work and complete a variety of research projects sets him apart from his classmates. He has presented these research projects at local and national conferences. It is clear that he enjoys making sense of the world around him, which is why I think he is pursuing a graduate degree to study 'big' data."