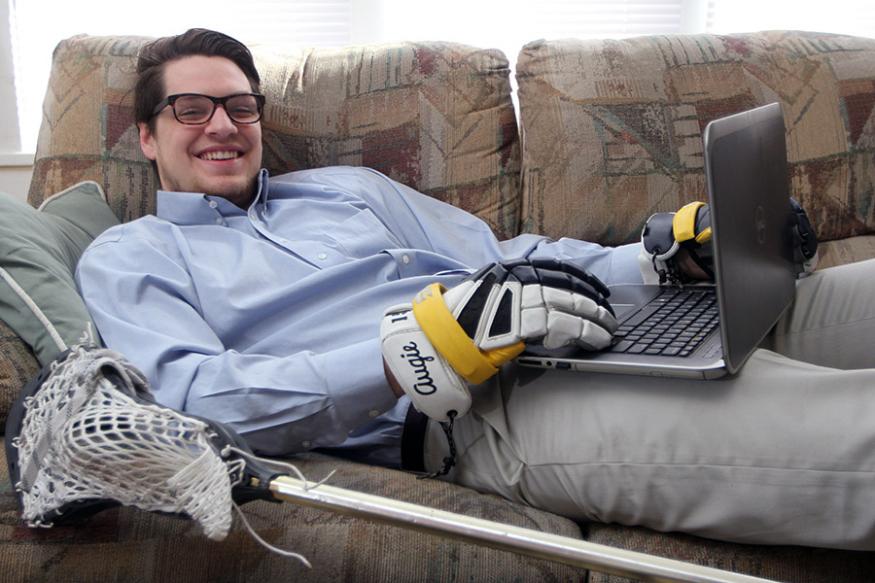 News
Jake Self-MIS
(Editor's note: After two years at Deere, Jacob Self is now a risk consulting auditor at Crowe Horwath in Chicago.)
After he graduates from Augustana in May, Jake Self will immediately go to work for Deere & Company.
Self will work his way into a highly specialized and coveted certification in accounting and computer security systems.
But less than two years ago, he was sitting in a friend's suburban Chicago basement filled with doubt and uncertainty after a promising internship opportunity disappeared.
In 2011, Self arrived at Augustana after growing up along the Pacific Ocean in southern California. He didn't know much about the Midwest, Illinois or Rock Island before enrolling. But his desire to play college lacrosse more than offset the 1,900-mile trip from home.
"Lacrosse is a very East Coast sport," Self said. "This was actually the closest place I could play to home that was good academically. I started looking at schools, made a recruiting video. Coach (Kyle) Hart saw the video and invited me out for an overnight visit.
"I don't know if it was because it was first or what, but I fell in love with the school."
'This is where it gets weird'
An Advanced Placement high school course primed Self to pursue an economics major. One early Augustana pre-requisite course, Principles of Accounting I, caught his interest and spurred him to take Business Statistics I and II.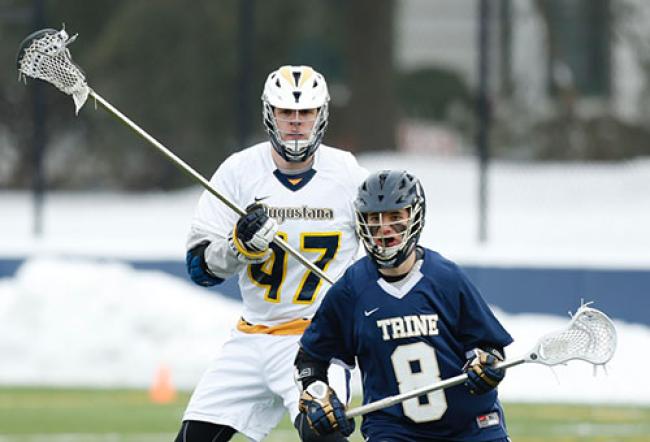 Like a growing number of Augustana students, Self aimed to get early business experience and attended the spring ProFair event in 2013. He interviewed with a Midwestern financial company and was told he had an internship in a Chicago office that summer.
While he awaited his placement in one of the company's Chicago offices, Self made temporary arrangements to stay in the basement of the parents of lacrosse teammate Jeremy Gottardo in northwest suburb Algonquin.
Self waited but word of his internship placement never came. Emails and calls went unanswered, and he was now a full 2,000 miles from home.
"I was like, wow, this is really not good," he said. "So I just started cold emailing as many analytics places as I could. I thought about the business stats course.
"I kind of had an interest, and I was pretty good at it. Let's give this a shot."
Eventually, Self received a response from Reid Karabush, president of Decision Systems, a technology consulting firm based in Northbrook, Ill. Self tagged along to a two-day analytics trade show, and Karabush hired him as a contractor.
Self spent the rest of the summer doing analytics work out of the Gottardo basement.
Expanding his skillset
As a junior, Self returned to Augustana still set on his double-major in accounting and economics.
He attended the fall ProFair feeling more confident coming off the internship. But when he talked to the John Deere accounting recruiters, Self learned that his accounting coursework to that point wasn't enough.
Ever determined, Self headed over to talk to Deere's information technology/computer science recruiters.
"They saw that I had this analytics background and said, 'Wow, this is something we don't see often,' " he said. "It was crazy how it happened—bang, bang, bang.
"Next thing you know, I have an internship at John Deere."
Before Self started at John Deere Information Systems in East Moline, Deere asked him to build some specific classes into his schedule. Until this point, Self hadn't considered taking a computer course and wasn't aware of Augustana's business major concentration in management information systems (MIS).
Finding a mentor
MIS encompasses electronic systems in business from payroll to the production cycle of a tractor. Like pretty much all technology-related careers, MIS jobs are plentiful.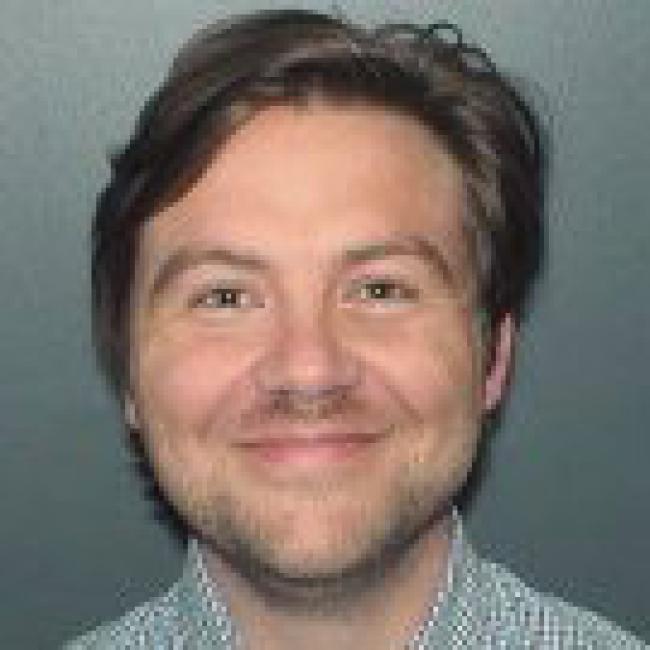 Back in 2007, Augustana's MIS courses captured the interest of Steve Jones, who was pursuing business to complement a communication studies degree he had previously earned at Iowa.
After a few years working in the MIS world, primarily with product lifecycle software Windchill, Jones began teaching MIS courses at Augustana in 2013.
One of his first classes as an instructor featured Self as a student. It didn't take long for Self to connect his analytics and accounting background with the concepts in Jones' courses.
"Something I've really noticed a lot with all the professors I've had here is they really push the importance of what the class is going to do for you in the professional world," Self said. "Especially with Steve. He was encouraging and was pushing me to a place I didn't know I would ever go."
Problem-solving and critical thinking are at the core of Jones' courses, as it is throughout Augustana. But it doesn't come at the expense of leaving out tangible skills needed on the job.
"It doesn't always scream 'liberal arts education' in business, but there's a lot in the requirements that lead to a good, well-rounded approach," Jones said. "They're getting a better grasp on what they want to do.
"There's going to be hurdles and roadblocks. Having to figure out each of the steps along the way is what it's all about."
A different combination
While MIS and computer science are a frequent marriage of majors, Self had other plans. Already leaving behind economics in favor of MIS, Self stuck with the accounting path that first got him talking with Deere.
Associate professor John Delaney, accounting department chair, recognized the importance of Self's two majors and emphasized the relative scarcity of such skillsets.
Last fall's Accounting Systems class really drove that home for Self. The course, taught by assistant professor of business Greg Tapis, emphasized the importance of auditing business computer networks for enhanced security.
Tapis previously worked as a security consultant for a New England accounting firm and holds certification as a Certified Information Systems Auditor (CISA). That direct fusion of accounting and information systems spoke to Self, and a CISA exam was being offered in Chicago that December.
"I had never studied for a professional exam and probably put in close to 60 hours studying for this test," Self said. "The week leading up to it was so intense. I had to tell my lacrosse coach, 'Hey, I got this test. I'm not going to be able to come to lacrosse this week.
'I'll be in the library if you need me.' "
Although he will need five years of work experience for full CISA certification Self passed the exam, something Tapis says less 1 percent of undergraduates achieve.
Tapis also nominated Self to the Illinois Technology Foundation's Fifty for the Future recognition, which ultimately named Self one of the 50. Augustana senior Mark Hoffman, an engineering physics major, also earned these accolades this year.
"The technical skills are instrumental, but you can't have those alone," Tapis said. "What positions us in liberal arts, with MIS in business working alongside accounting, is that one part of working in security is a notion of healthy professional skepticism. We're teaching students from their first year to think critically.
"It's being able to question how would somebody get into our system and why they would want access."
Like Schroeder (see below), Self will enter Deere's Early Development Program this summer, ideally in the internal audit program.
From there, he's eyeing more certification and specialization.
"I feel like I've gotten over the hump, and pathways are going to show themselves," Self said. "Maybe it's just how I was raised, but I just don't think of myself as some awesome guy that's really good. Sometimes my girlfriend and my parents have to tell me that what I'm doing is really awesome.
"It's not over yet, and I have more to do."
Good company
At the same time as his MIS immersion, Self was taking Deere-encouraged classes in computer science, despite having no background or known interest in programming. Computer development and information systems are a natural combination and one favored by many Augustana students.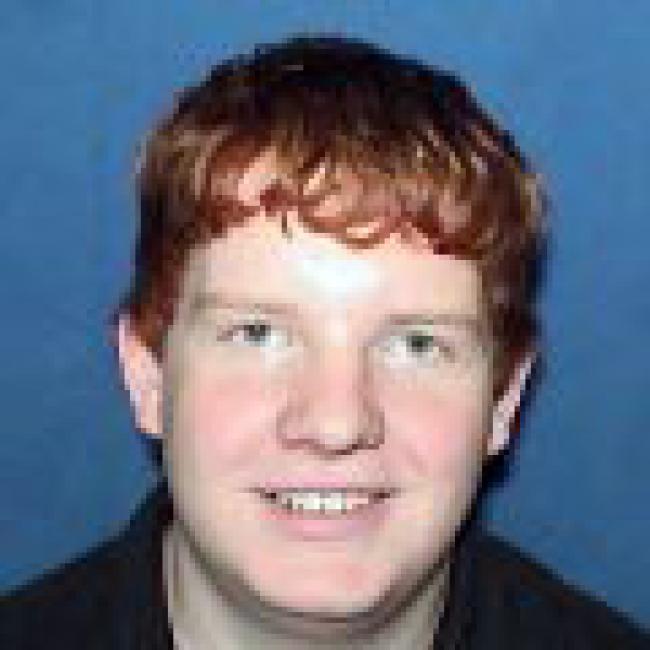 Senior Christian Schroeder is a double major in computer science and MIS. A few years earlier, he watched his sister, Alyssa (Schroeder) '10 Miller, get a job with Deere out of Augustana. He figured he could do the same.
Christian Schroeder has worked part-time at John Deere since his sophomore year, checking for computer server issues that might affect production across the world. He's learned skills on the job and found meaning behind the work through his classes.
"It's great to get these instructors with real-world experience," Schroeder said. "It's definitely put me in a great position. I was looking at other schools, and that was the main worry, would I be able to get a job."
In fact, Schroeder will continue with Deere, transitioning this summer into the company's full-time, 36-month Early Development Program. Schroeder will spend 18 months working at one Deere location before transitioning to another. After three years, he expects to have a great deal of choice about where he will land.