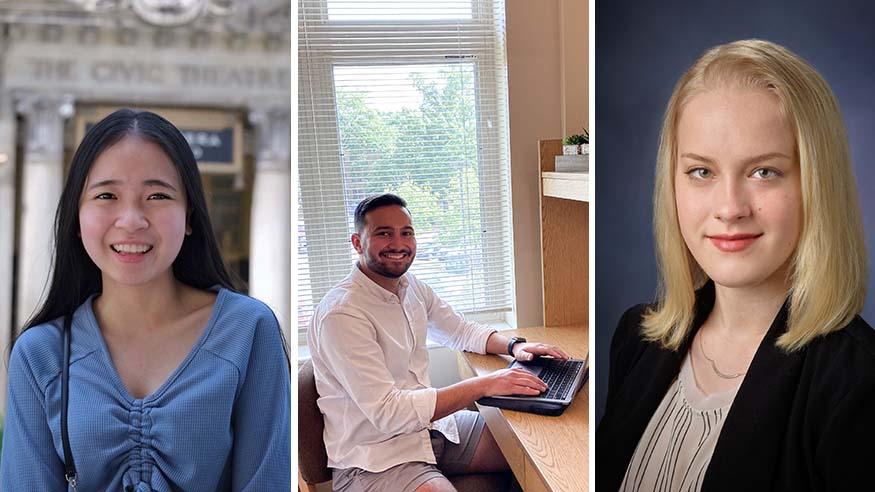 News
An entrepreneurial spin on summer internships
It was a summer like no other for EDGE Center interns — in a good way.
Augustana's EDGE Center is a hub of entrepreneurial activity in a room dotted with computers, vintage toys and PEZ dispensers. 
Most days you can find a handful of students working on projects for real clients — usually local organizations needing web development, marketing, graphic design and more. In a normal summer, director Doug Tschopp and assistant director Andy Shearouse '15 have 10-12 interns tackling backlogs and new summer projects. 
Summer 2020 was a different story. By late May, they had received 45 applications for a special summer intensive program and took "pretty much everyone who applied," Shearouse said.
"With COVID, many students who had summer internships lined up had them canceled by various organizations. They were looking at options, but there was little opportunity," Tschopp explained.
He started talking with some students about the possibility of remote internships with EDGE, "and then Andy took it and ran with it, developing a curriculum so that we could let many more students participate."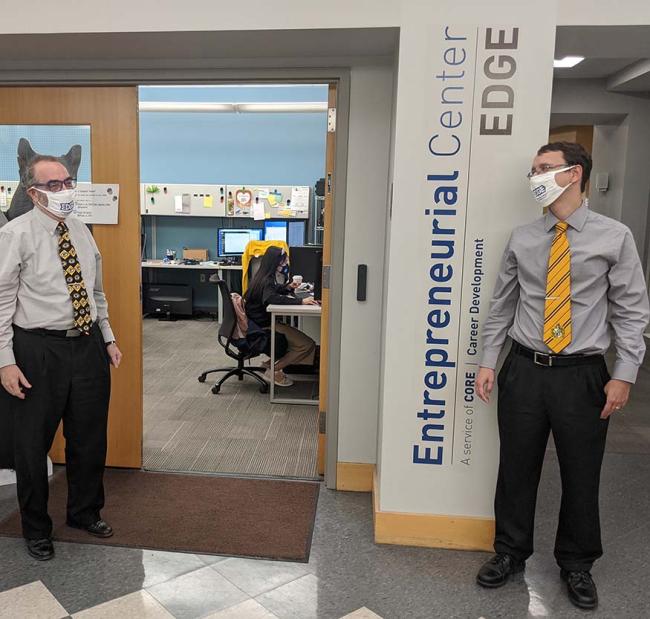 The five experienced EDGE interns who already were lined up for the summer became managers, each responsible for eight or nine interns. They were stationed in an adjoining computer lab, following social distancing measures, next door to Shearouse and Tschopp.
Courtney Wehmeier '21 was one of the summer management team whose internship with another company had fallen through. She had interned with EDGE the previous summer. 
"I knew I'd walk away with valuable skills and experiences," Wehmeier said. "This summer was a stellar summer for skill building." 
They started with the skills training, mostly through videos teaching them software and some basics of online marketing. 
In the second half of the summer, Shearouse said they "kicked up number of live Zoom workshops, with about two or three a week focusing on SEO (search engine optimization), social media management, strategic planning — kind of getting away from learning the software and 'Zooming' out to give them those overarching marketing tools." 
Andrew Mayszak '22 and Chi Vu '23 were two of the star interns. Mayszak worked from his family's home in Naperville, Ill. Chi couldn't return to her hometown of Binh Thuan, Vietnam, because of border restrictions due to COVID-19. She spent the summer in the Quad Cities at the home of one of her Chi Alpha Pi sorority sisters. 
Both are majoring in business administration, and Chi also has a communication studies major. She said the intensive marketing experience this summer "dramatically changed my whole life in terms of vocational exploration and soft skills."
Chi also is grateful for new technical skills, including using Adobe for web and logo design, and learning some coding. ("Coding was never my interest, but every meeting about coding led by Andy drew me into the coding world!") She appreciates the new perspective on her future career. The portfolio she designed at the end of the internship was an unexpected bonus.
Mayszak also is grateful for a portfolio to demonstrate his proficiency in "fundamental marketing, graphic design and social media management skills" as he pursues a career in marketing.
"With everything in the world being far from normal at the moment, I was initially worried about my job situation for the summer of 2020. Fortunately, Augustana's EDGE Center gave me the opportunity to fill the gap on my résumé with a unique experience."
Careers will happen soon enough, but first, it's a new and different year on campus.
Summer in the EDGE Center helped Wehmeier learn how to better prioritize her time, advocate for herself and "take risks." Embracing a leadership role this summer was one of those risks, "But I took that risk and it paid off big time," she said.
The interns plan to apply their new skills and mindsets to leadership roles in student groups this year. Mayszak is the marketing, PR and alumni outreach coordinator for Camp Kesem, and the social media coordinator for Rho Nu Delta fraternity. Both Wehmeier and Chi are involved in ADs (Advertising Developers) club.
As the club's director of internal communications, Chi plans to "make the best of this experience and help students, especially international students, get to know more about the EDGE Center as well as the ADs Club." She also wishes to create a diverse and inclusive environment for every student who participates in the club.
Tschopp thinks the 50-student intensive program in the EDGE Center may be unique, compared with how other colleges and universities around the country handled internships this summer. 
"I think it speaks to the quick adaptability of Augustana to fill a need for its students during COVID-19," he said.
It's an adaptability and future-focus that helps build success for students. Wehmeier, for example, is looking forward to facing challenges with her ADs team and, "whatever that may look like," playing bass clarinet with the Augustana Symphonic Band this year.
"And as terrifying as it seems," she pointed out, "I'm excited to see where life takes me."
A boost from EDGE alumni
During the second half of the summer, the interns were advised via Zoom by young alumni whose experiences in the EDGE Center influenced their career paths and stood out on their résumes:
• Kris Kizer '18 (communication studies, psychology, entrepreneurial studies) – Chicago, account executive at Cramer Kasselt
• Vuk Bojović '14 (economics, communication studies) – New York City, global new business director at Turner Duckworth
• Comet Blecha '18 (art, graphic design, art history) – New York City, head of studio at Any_ Studios