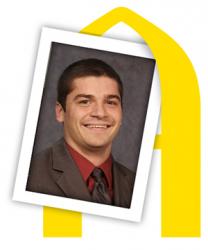 More Than I Imagined
Seniors reflect on accomplishments and look ahead
Vuk Bojovic
Graduation year: 2014
Major: Economics
Minor: Communication studies
Activities: Omicron Sigma Omicron fraternity, Advertising Developers (ADs) competition team
Post-grad plans: Remain in the States for at least a year to get experience in marketing and strategic planning for market research, hopefully on the East Coast.
Why did you choose to attend Augustana?
I chose Augie because I wanted more than just an exceptional education; I wanted a great experience at a small college where I would be more than just a number.
Are you where you thought you'd be four years ago? 
I made it farther than I thought I would. I came to Augustana from Serbia, not knowing what I wanted to study or how it would help me shape my future. My goal was to get comfortable with the American college culture and to experience everything that it has to offer. I got a degree in economics, a discipline whose models helped me grasp the behavior of the markets that are applicable in any field. I got to go to East Asia and learn about cultures that are different from both American and Serbian. Because of my experience, I will always be a big advocate of liberal arts education.
Who helped you get to where you are now?
Everybody that was a part of my education in any sense: professors, advisors, friends, colleagues and others. The best part about all this is that at a small school like Augustana, these people are rather connected than split in categories. Some of the people that I could classify as "all of the above" in previously mentioned categories are my international advisor Jane Tiedge, academic advisor Chris Marmé and Advertising Developers advisor Doug Tschopp. They all contributed to my college experience in a different, special way, and I cannot thank them enough for that
A peak experience? 
The experience that completely blew my mind with how much I learned and developed personally and professionally was East Asia Term in Japan and China. The directors of the program have been running it since the 1970s, and I am glad I got to be a part of that special experience. I got to go to so many different places and to meet some very special people that I would not have met otherwise.
What did you learn about yourself in these past four years that surprised you? 
That I am a true citizen of the world, and Augustana helped me realize that. Not that I am surprised by it, but the small campus/class size environment pushed for more interactions with others and exploration of self.
How did you use your Augie Choice?
I used my Augie Choice to do research in international finance, specifically analyzing how the depreciation of currencies on the foreign exchange currency markets affect trade balance of the Serbian stock market.
What will you miss the most?
Class discussions with people whose opinion differs from my own and Monday morning walks to class in Evald.
Advice for the Class of 2018?
Stay open-minded and experience Augustana the way you want!
"A student wanders into my office and says he is writing for 'Branding Magazine'...an hour later we are still talking about the power of brand in the marketplace. Vuk joined the Advertising Developers (ADs) competition team. At some meetings he is the idea guy rolling through some innovative marketing tactic; at the next meeting he may be the person that calls the group to task keeping the marketing plan integrated and audience-focused. I hope his future employers are ready for his focused marketing energy."