News
'Augustana made it possible' for Fulbright recipient
Last spring Stephie Benito '20 stopped by Dr. Mike Egan's office for advice on applying for a Fulbright grant.
"While I knew that earning a Fulbright is very challenging, and that the best students from the best schools across America compete for these awards, I knew that Stephie could match up with anyone," said Dr. Egan, Benito's advisor for four years.
He was right.
A year since that first meeting, Benito has been awarded a Fulbright English Teaching Assistantship (ETA) in Colombia, South America, for the 2020-2021 school year. The Spanish education major is set to leave in late July for placement in a university-level class to assist with teaching English.
"I never in a million years would have thought that I could be a Fulbright recipient, but Augustana really made it possible for me," Benito said. "Both the education and Spanish departments have always pushed me to strive for excellence and encouraged me to chase my dreams, even if they seemed like a long shot!"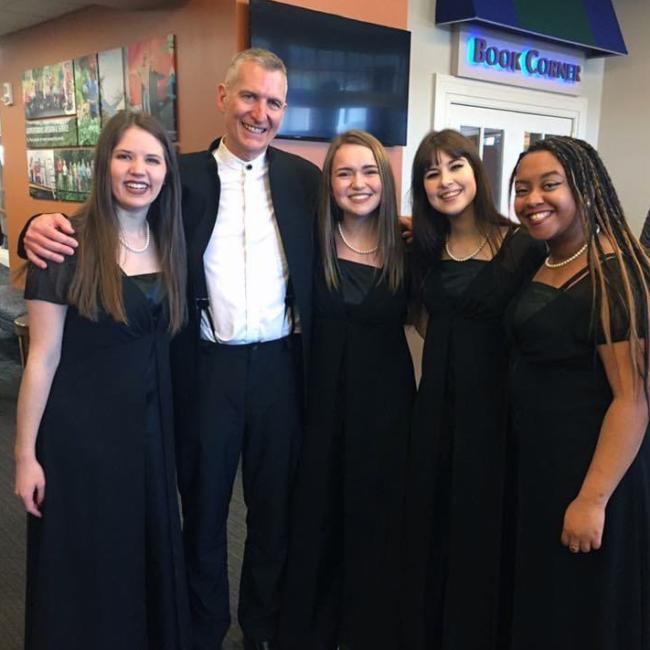 The Fulbright application process is intense. In addition to writing several essays, Benito was asked to outline a community involvement project for her host city. "I chose starting a youth choir as my project so that I could keep music in my life and help others experience it," said Benito, a member of the Augustana Choir. She is also involved in theatre and Chi Alpha Pi sorority, and works as a Spanish tutor for the Learning Commons.
For her application references, Benito asked three professors who know her very well—Dr. Ana Bordería García (Spanish), Dr. Michael Schroeder (education) and Dr. Sangeetha Rayapati (music). And as Benito sees it, "I absolutely would not have gotten this opportunity without their help!"
The Fulbright will make Benito's childhood dreams reality. Growing up, she spent her summers traveling to Spain and other countries to visit family. She knew early on she wanted to continue traveling and to be a teacher.
"The Fulbright allows me both to teach a foreign language and to get to live in a new country and immerse myself in a new culture," she said. "As a future Spanish teacher, living in Colombia for a year will help me be able to bring my experiences into my own classroom when I return to the United States."
Similar to his prediction for Benito's chances of receiving a Fulbright, Dr. Egan offers a second one.
"Stephie will devote her full energy to being the best English teacher she can be, and this, in turn, will lead to other amazing opportunities," he said. Those other opportunities could be grad school, continued international employment, returning to the United States to be a tremendous high school Spanish teacher, or some other wonderful thing no one can predict.
That's the beauty of a Fulbright.