Swenson Center Faculty Research Stipend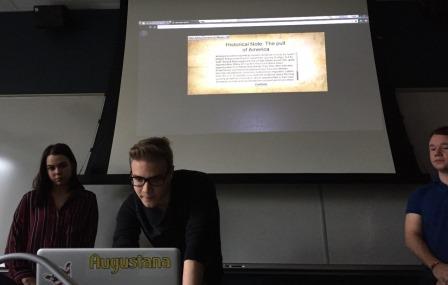 Applications due May 15, annually
The Swenson Center wishes to increase access to and use of its materials by faculty and students at Augustana College. One of the Center's goals is to promote original research and information literacy skills in students through partnerships with Augustana faculty. We hope that by providing faculty with the time, resources, and a modest stipend ($600) to explore the materials available at the Center, faculty will then incorporate Center resources into new or existing courses, or into their personal research projects. 
The Swenson Center will provide one-on-one assistance for the faculty member (of any rank) to conduct one week of in-depth research at the Swenson Center. Center staff will offer continued support for creating class projects and promoting student learning. 
Recipients of the stipend will be expected to provide the Center with a brief report within 1 month of their visit that outlines what they found at the Center and how they intend to use these sources in their teaching or personal research. This report may be published in the Swenson Center's journal, Swedish American Genealogist, website, or in Digital Commons. 
Collections
The Swenson Center's collections consist of library materials, archival materials, maps, photographs, music recordings, sheet music, newspapers, microfilm, and more. To gain a better understanding of the resources available at the Swenson Center, and to get ideas for projects and topics, see the Collections page and Academic Research Assistance & Topics page. 
Depending on your area of research, you may encounter resources in the Swedish language. However, most of our more recent records are in English. About 41% of our library materials are in English and 77% of our archival collections are at least partially in English.
Contact the archivist/librarian for more information or assistance.
To Apply
Augustana faculty members interested in applying should submit a 1- to 2-page proposal and a current curriculum vitae to the Swenson Center. The proposal should include:
Identification of specific collection materials you are interested in examining;
Description of the course/class project these materials might support; OR a description of your personal research project;
Proposed dates for research (can be approximate). 
Applications will be evaluated on the basis of their potential to engage students with the Center's resources. Applications for projects that support a faculty member's individual research will be considered, but priority is given to those that will impact students. Applications will be reviewed by Swenson Center staff and the Swenson Center Advisory Committee. 
The deadline for applications is May 15, annually. 
Applicants will be notified of the decision by June 15. 
Past Recipients
2019
Dr. Brian Leech
Associate Professor of History
The Environmental History of Swedish America
Dr. Oleski Miranda Navarro
Visiting Assistant Professor of Spanish
Latin America and the Swedish diaspora: the case of Cuba and Argentina
2018
Dr. Kimberly La Palm
Assistant Professor of Scandinavian Studies
Finding Teaching Inspiration at the Swenson Center
2017
Dr. Forrest Stonedahl
Assistant Professor of Computer Science
CSC Software Development class creates "Swedish Immigrant Trail" video game
2016
Katie Hanson
Assistant Professor of English and Education
Exploring the Collection of Swedish-American Children's Literature
2015
Dr. Christopher Strunk
Assistant Professor of Geography
Influence of Swedish immigrants on the historical geography of Moline